Aqaba is het gezellige vakantieplaatsje van Jordanië, gelegen aan de Rode Zee. Heb je ergens al gelezen je er vooral moet zijn als je wil duiken, snorkelen en met je luie krent op het strand liggen? Lees dan vooral verder, want – je weet dat we dol zijn op lijstjes – hier komen 5 dingen om te doen in Aqaba. En ja, duiken, snorkelen en zonnen hoort daar zeker bij, maar er valt ook nog veel ander leuks te beleven.
Kon je hier al lezen waarom je dringend eens naar Aqaba moet – en je bent wellicht als de bliksem vertrokken, niet? – dan wil je misschien ook wel weten wat je er allemaal kunt doen eens je er bent.
1. Een beetje luxe
Misschien wil je de grauwe, Belgische winters ontvluchten en droom je ervan om een weekje lekker te genieten van zon, zee en strand, en dat alles liefst overgoten met een luxueus sausje? Of je wil een rondreis maken door Jordanië en je wil het er voor en na gewoon rustig aan doen. genieten. Dan heb je er heel goed aan gedaan om Aqaba als jouw zonnige hide away te boeken.
In 2000 werd Aqaba aangesteld als Special Economic Zone, met de bedoeling het slaperige stadje een boost te geven en de economie te stimuleren, naar voorbeeld van Dubai en Sharm El Sheik. Het ambitieuze plan van koning Abdoellah II heeft gewerkt, want vandaag is het slaperige stadje getransformeerd in een plek waar zowel de zakenwereld, de industrie en het toerisme elkaar vinden. Neen, zo waanzinnig over the top als Dubai is Aqaba beslist nog lang niet, maar de stad heeft zich op korte tijd wel flink ontwikkeld. Als gevolg daarvan openden ook een resem internationale luxehotels er de deuren. Je vindt ze aan de North Beach, en er is keuze zat. Kempinski, Mövenpick, Radisson, InterContinental, Double Tree by Hilton, Oryx… alle 5-sterrenhotels tekenen present, en er staan er nog vele andere op de planning.
Wij verbleven in het Kempinski Hotel Aqaba en we waren heel erg in onze nopjes met de infinity pool, de luxueuze kamer met zeezicht, het uitgebreide ontbijt en het strand. Ware het niet dat er tijdens onze week Jordanië nog heel wat andere activiteiten in de rest van het land op de agenda stonden, we hadden onze hub wellicht nooit verlaten.
2. Duiken, snorkelen en chillen op een boot
Aqaba ligt aan de Rode Zee, en duikers beginnen nu al te watertanden bij het idee om daar het zilte sop te mogen verkennen. En we kunnen het hen niet kwalijk nemen: Aqaba is een echt duikparadijs, behorend tot de mooiste ter wereld. Het water is er kristalhelder, de koraalriffen prachtig en er zwemmen duizenden kleurrijke vissen rond. In Aqaba is duiken bovendien extra leuk want er liggen verschillende wrakken verborgen onder het water, zoals enkele gezonken militaire tanks, de Libanse tanker Cedar Pride (gezonken in 1995 en ondertussen aan een nieuw leven begonnen als de meest populaire duikstek van Jordanië).
Wij gingen in zee met de sympathieke Sinbad Dive Club en zij brachten ons met de boot naar The Japanse Garden, een duikplek die haar naam te danken heeft aan de prachtige flora en fauna van de onderwaterwereld.
Nu had ik nog nooit gedoken en vond ik wat rondhangen op de boot al chill genoeg (het was dan ook een erg leuke boot), maar goed, ergens vond ik dat het wel eens tijd was voor een eerste echte duik. Was ik meteen duik-maagd af, en geef toe: het staat best stoer als je nonchalant kunt laten vallen dat je wel al eens gedoken hebt. Ik moet wel toegeven dat ik duiken altijd wel een beetje eng vond. Het idee dat je gewoon kunt ademen onder water, dat ging er bij mij toch niet helemaal in. Maar goed, onze dive masters zagen er allemaal bijzonder joviale kerels uit die wisten wat ze deden. En ze antwoorden heel gewillig op alle idiote vragen van de newbies (wat als je moet overgeven onder water? of moet hoesten en niezen? wat als je flauwvalt?), dus besloten we dat we toch maar de sprong te wagen.
Of het een beetje meeviel? Ja en neen. Ja omdat dat ademen onder water echt een piece of cake bleek. Gewoon dat ding in je mond stoppen en blijven ademen zoals je je hele leven al doet. En neen omdat mijn oren helemaal niet akkoord bleken met dat duikgedoe, het leek wel alsof iemand met een mes mijn trommelvlies wou uitboren. Tja, verkouden zijn én duiken: duidelijk een slechte combinatie. In elk geval, die verkoudheid is ondertussen goed en wel achter de rug en zodra ik de gelegenheid zich voordoet, ga ik voor een herkansing (en hopelijk ook in Aqaba, waarom niet?).
Niets dan lof overigens over het team van de Sinbad Dive Club. Ik wou al langer eens die eerste duik wagen en mede dankzij deze dive masters was het een toffe ervaring. En de zonsondergang op zee aan het einde van de dag was de perfecte afsluiter van een echte topdag.
Tip: heb je niets met duiken, maar wil je toch die wondere waterwereld eens van dichterbij aanschouwen, dan kun je met zo'n boot met een glazen bodem uitvaren. Minder stoer dan duiken misschien, maar je hebt tenminste wel visjes gezien.
3. Clubbing in de Berenice Beach Club
Heb je tip 1 opgevolgd, dan lig je waarschijnlijk al lang te genieten aan het zwembad of het strand van je luxehotel. Maar misschien koos je voor een hotel zonder privéstrand, of misschien wil je wel eens een ander zicht dan dat van je je dagelijkse strand (first world problems hé), dan is Berenice Beach Club de plek waar je heen moet.
Zoals de naam al doet vermoeden, is Berenice veel meer dan zomaar een strand. Het is zowel een strand, als een zwembadcomplex, een heuse beachclub met bars en restaurants, een duikcentrum en een watersporthotspot. Het enige wat van jou verwacht wordt, is dat je een beetje lekker geniet van je dag.
En dat betekent: wat hangen aan het zwembad, een beetje slenteren langs het strand, iets eten, iets drinken en allerhande watersporten (surfen, jetskiën, suppen…) uitproberen. En belangrijk voor de duikers: wil je de beroemde Black Rock & Cedar Pride scheepswrak op je CV zetten, dan is dit je vertrekpunt.
Mijn leukste moment tijdens mijn bezoek aan de Berenice Beach Club was tijdens de vroege avond, toen de zon achter de bergen onderging en de lucht en zee alle schakeringen van oranje, rood en roze kreeg. En de timing zat mee want een stel verliefde koppeltjes slenterden erg relaxed voor mijn lens. Heel erg Instagramwaardig.
Fun fact: neen, de naam Berenice is niet genoemd naar één of andere hippe beachbabe, maar naar de oude naam van Aqaba. De stad kende doorheen de geschiedenis immers verschillende namen: de oude Grieken noemden haar Berenice, de Romeinen kozen voor Aila of Aelana. Ook Elena, Haila, Ailath, Elath en Wayla zijn oude namen van Aqaba.
4. Naar de soek en de markt
Aqaba is een tax-vrije zone en daardoor zijn veel zaken hier goedkoper dan in de rest van het land. Heb je iets nodig? Spendeer je Jordaanse Dinars dan eerst en vooral hier, je zal veel meer waarde voor je geld krijgen. Verwacht je evenwel niet aan een overweldigend aanbod: Aqaba is geen shoppingparadijs zoals Dubai of andere grote steden, al zijn er wel een aantal shoppingmalls waar je aan je koopwoede kunt toegeven.
Heel erg leuk is natuurlijk om de soek te bezoeken. Opvallend is dat je hier geen soeks vindt zoals in andere Arabische steden; het gaat hier vooral om gezellige winkelstraten waar je – dat dan weer wel – de typische souvenirs kunt kopen zoals zilveren en gouden sierraden, waterpijpen, glazen lampen in alle kleuren en flesjes met zand. Leuk om weten is dat de lokale bevolking aangemoedigd wordt souvenirs te maken op de traditionele manier, zonder het milieu schade te berokkenen.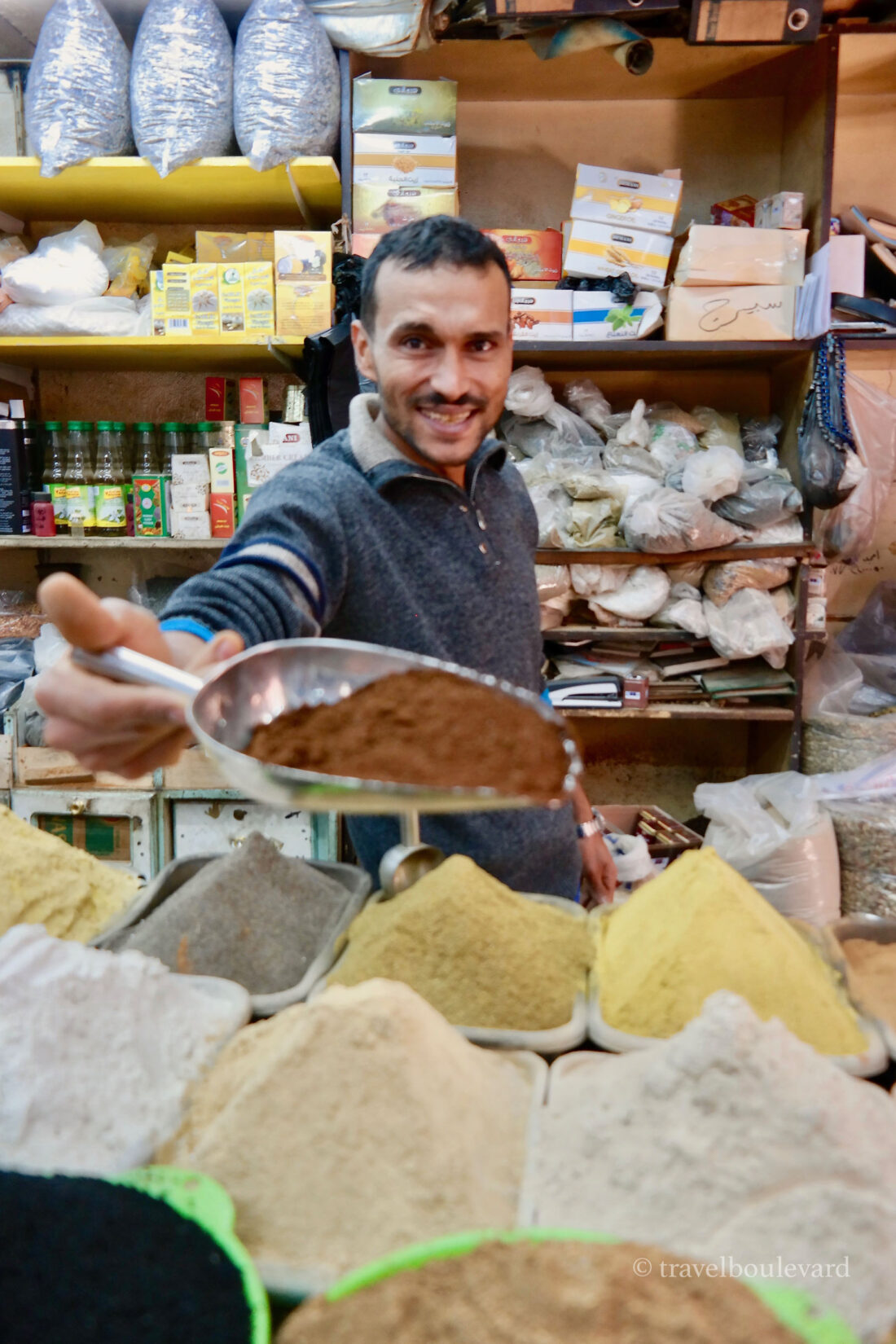 Tip: kruiden kopen doe je op de foodmarkt in Aqaba, in de oude stad dicht bij Raghadan Street. Verwacht je aan een gezellige drukte van winkeltjes en straatverkopers die er hun waren aanprijzen. Niet zo groot en een beetje rommelig – zoals dat hoort – maar wel heel erg leuk om te doen. En je vindt er kruiden die je nergens anders vindt; handig om thuis mee uit te pakken tijdens een etentje.
5. Genieten van een bijzondere spa ervaring
Deze is er eentje speciaal voor de dames, want de Jana Spa & Fitness is er enkel voor vrouwen, en dat mag ook wel eens, niet? Het was Henriëtte van Travelaroundwithme die mij deze tip gaf en hoewel ik geen tijd meer had om er zelf even te gaan genieten, ben ik er wel eens binnen gesprongen voor een korte babbel. Het was al wat later op de avond en de spa was eigenlijk al gesloten, maar ik mocht toch nog even binnen. Binnen zat een bruidje in vol ornaat te wachten tot haar feestje begon en ze zag er geweldig uit; ik dacht eerst zelfs dat het een pop was, zo fijn zag haar huid en make-up er uit.
Bij Jana Spa & Fitness ben je heel wat uurtjes zoet. Je kunt er terecht voor een heerlijke schoonheidsbehandeling of een deugddoende wellness-ervaring, er is een bijhorende fitnessruimte en, interessant voor wie naderhand nog wat wil bekomen van zoveel wellnessgeluk, een gezellig theehuisje enkel voor vrouwen. Overigens is er ook een heuse kindercrèche aanwezig waar je je pagadertjes kunt dumpen (nou ja, ze hebben er wel de tijd van hun leven hoor) terwijl je zelf lekker even gaat ontspannen. Check it out want dit vrouwenclubje is een geweldige gelegenheid om vriendinnen te maken in Aqaba.
Extra tip: de vlaggenmast bekijken
Oké, we geven toe, naar Aqaba hoef je echt niet speciaal te gaan om naar een vlaggenmast te kijken, en daarom geven we deze even mee als extra tip. Want deze is echt wel indrukwekkend en hij staat er toch, je kunt evengoed weten waar je jezelf aan het vergapen bent.
De Aqaba vlaggenmast is de hoogste vlaggenmast van het land en de 5de hoogste ter wereld. Het ding is maar liefst 137 meter hoog, en de vlag zelf meet 20 bij 40 meter. Je ziet de vlag wapperen vanuit de omringende landen Israel, Egypte en Saoedi Arabië. En opgelet: de vlag betreft niet deze van Jordanië (lijkt er wel heel erg op, alleen de witte ster ontbreekt), maar wel deze van de Grote Arabische Revolutie in 1916 (waar ook de epische Lawrence of Arabia een rol speelde). De leider van die revolutie was Sharif Hussein Bin Ali, de overgrootvader van koning Adboellah II, de huidige koning van Jordanië. De vlag fungeert als het symbool voor de vrijheid van de mensen in Jordanië, vandaar wellicht ook de enorme afmetingen van de vlag.
Alle info op de site van de dienst toerisme Aqaba en Visit Jordan.
Meer lezen over Aqaba?