Aqaba voor foodies: de leukste adresjes om te eten (en te drinken)
Hou je van lekker en veel eten, dan zit je in het Jordaanse badplaatsje Aqaba alvast goed: de keuken is er rijk en overvloedig en er zijn tal van verrassende plekjes waar je een gezellige hap kunt eten.
Iets drinken is misschien want moeilijker; in Jordanië is het wel even zoeken naar je frisse pintje of volle wijntje. Wat niet wil zeggen dat je er je hele vakantie met een colaatje moet doorbrengen. Er zijn wel degelijk leuke plaatsen waar je een wijntje of een cocktail kunt proeven. Waarheen dus als je lekker wil eten en drinken? Ziehier wat ik allemaal achter de kiezen stak tijdens de Aqaba-reis.
Fast food en zo. Maar op de wijze van Aqaba
In het bedrijvige kleine centrum van Aqaba kun je de gebruikelijke Westerse fastfoodtenten als Burger King en KFC, indien je daar behoefte aan zou hebben. Echter, dat zou zonde zijn want in Aqaba kun je veel en vooral smakelijk eten. Om bij de snelle hap te blijven: proef de verse falafel die je her en der in kleine eethuisjes en op straat kunt kopen. Ze zijn echt heerlijk en lekker vers.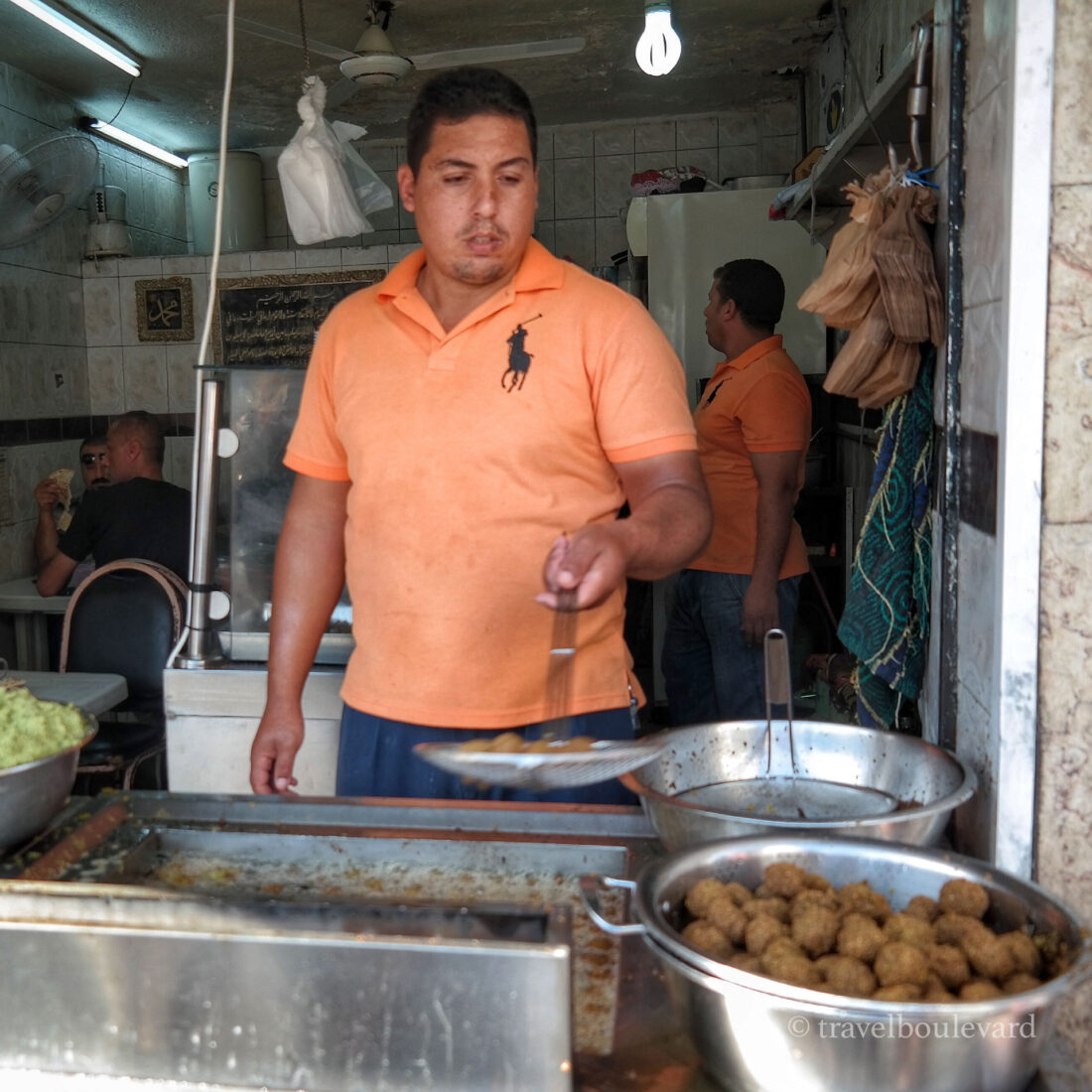 Voor wie het (nog) niet zou weten: falafel is een typisch gerecht uit het Midden-Oosten en bestaat uit gefrituurde balletjes van kikkererwten. Je vindt ze ook bij ons in talrijke shoarmazaken, al smaken ze nooit zo goed als ter plekke zelf; in dit geval dus een eethuisje in de buurt van de soek.
Het lekkerste gerecht van Aqaba proeven
En dat is sayadieh, een gerecht dat de huismoeders er al sinds Ottamaanse tijden klaarmaken. Het gerecht zou oorspronkelijk uit Libanon komen maar wordt eigenlijk in heel het Midden-Oosten bijzonder gesmaakt.
In Aqaba noemen ze het in elk geval hét gerecht van de regio, en zijn ze er dol op. Sayadieh vertaalt zich losjes als 'vissersgerecht', dus je kunt al vermoeden welke het hoofdingrediënt is: vis natuurlijk.
Ik begrijp in elk geval waarom de locals er zo dol op zijn: tijdens onze passage in de Berenice Beach Club werden we uitgenodigd in de keuken van het restaurant voor een korte workshop koken.
Nu heb ik wel bijzondere interesse in eten allerhande – en des te meer als het om lokale gerechten gaat – maar minder in het koken zelf. De kok van dienst sloofde zich uit om iedereen de fijne kneepjes van het sayadieh-koken bij te brengen, maar meer dan "heel veel uien, exotische kruiden, rijst, vis en hup, de boel laten stoven" is mij niet bijgebleven (en bizar genoeg bleek de vis niet lokaal maar ingevoerd). Over de smaak van dit typische gerechtje kunnen we kort zijn: om duimen en vingers bij af te likken en onvergetelijk om alle goede redenen. Ben je dus op vakantie in Aqaba en je ziet in een restaurantje sayadieh op het menu staan: proeven die handel!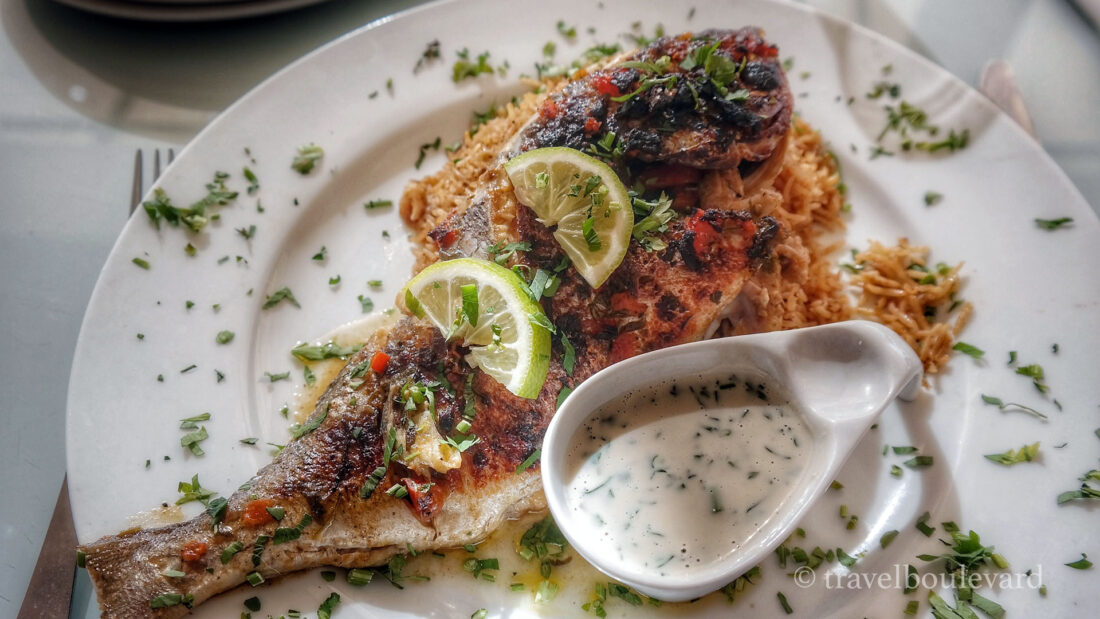 Sfeer troef in het populairste restaurant van Aqaba
Een leuk adres voor een avondje uit is het restaurant Rakwet Kanaan, een bruisende plek met een tof terras en een rooftop restaurant.
We hadden al gehoord dat Rakwet Kanaan op dit moment één van de meest populaire restaurants van het moment is. De zaak zit dan ook afgeladen vol, en terecht: het is er heerlijk! Je vindt er behalve de typische schotels uit het Midden-Oosten ook internationale gerechten. Maar hoewel het er heel erg lekker is en de schotels – zoals gewoonlijk in Jordanië – overvloedig, kom je hier vooral voor de sfeer.
Elke donderdag en vrijdagavond zorgt een bandje voor muziek en dat vinden de locals bijzonder leuk; de tent droop van een enthousiaste ambiance. Het publiek is er heel erg gevarieerd: toeristen, heel veel locals, koppeltjes en groepjes vrienden en vriendinnen. En allen laten ze volop verschillende schotels aanrukken, zingen ze mee met de muziek, roken ze waterpijp en genieten ze volop van hun vrije avond. Uitgaan in Aqaba blijkt vooral heel erg gezellig.
Rakwet Kanaan, Sa'adeh street, hotel area, Aqaba, Jordanië
De kers op de taart: de bijzondere ijsjes van Bakdash
Ijsliefhebbers zullen in hun nopjes zijn wanneer ze de creaties van het Bakdash ijssalon proeven. Bakdash ijs is heel erg populair in het Midden-Oosten en moet je gewoon geprobeerd hebben, al was het maar omdat er een bijzonder verhaal bij hoort. Mohammed Hamdi Bakdash opende in 1895 zijn eerste ijssalon in het hartje van de soek in Damascus, Syrië. Zijn ijsjes worden niet gemaakt op de manier zoals wij die kennen; het gaat om 'gestampt' ijs met een bijna elastische textuur, gemaakt met melk en mastiek. Het ijs groeide uit tot een toeristische attractie en raakte beroemd over heel de Arabische wereld.
Meneer Bakdash stierf in 1966 maar zijn zonen, kleinkinderen en achterkleinkinderen namen de zaak over en zorgden ook voor uitbreiding met onder andere vestigingen in Jordanië. Voor Syriërs die de oorlog in hun land ontvlucht zijn, is het proeven van een Bakdash ijsje een zoete herinnering aan vroegere tijden.
Bakdash, Sa'adeh street, hotel area, Aqaba, Jordanië
Met de voeten in het water
Een andere plek waar het bijzonder gezellig is om te dineren, is het Aqaba House, gelegen aan het stukje openbare strand waar de locals graag komen, Al-Hafayer. Een deel van dat strand is voorbehouden voor de restaurantjes, die er hun terras tot bijna in het water geplaatst hebben. Vooral tijdens het weekend is het hier gezelligheid troef, met kinderen die vrolijk in het water ravotten terwijl de ouders rustig van hun maaltijd genieten. Bijzonder is ook dat je aan de overkant van het water de lichtjes van Eilat in Israël kunt zien fonkelen.
Het oogt allemaal een beetje rommelig en je zit op plastieken stoelen in het zand, maar dit is echt niet te missen als je op zoek bent naar een plek om samen met de locals van een gezellige avond te genieten. Opgelet: de tafeltjes staan echt héél dicht bij het water. Toen een bootje passeerde zorgde de golfslag er voor dat we meteen tot aan de enkels in het water zaten!
Aqaba House Beach, Al-Hafayer, Aqaba
Uitgaan (of toch een beetje)
Laten we eerlijk zijn: in Aqaba zal je niet tot een kot in de nacht kunnen feesten tot je helemaal brak bent. Wel vind je er een heleboel toffe restaurantjes waar je niet alleen lekker kunt eten, maar waar ook muziek gespeeld wordt en waar je met de locals een gezellige babbel kunt houden. Alcohol zul je er echter niet vinden, daarvoor moet je in de grote internationale hotels zijn. En laten die net leuke rooftop bars hebben.
De Diwan The View Rooftop Lounge bijvoorbeeld is een rooftopbar helemaal boven op het dak van The Double Tree Hilton, in hartje stad. Je hebt er – uiteraard – een geweldig zicht op de stad, er worden internationale en lokale gerechten geserveerd, cocktails (mét alcohol) en snacks. Behalve het zicht is ook de prijskaart hier een enorme meevaller: cocktails starten aan 6 JOD (omgerekend zo'n 8 euro).
Diwan The View Rooftop Lounge, Al Hammamat Al Tunisyya Street – Doubletree by Hilton Aqaba, Aqaba
Geen fan van rooftopbars? Kunnen wij ons niet inbeelden, maar goed: Rovers Return in de Gateway Complex (het grootste shopping- en ontspanningscentrum van Aqaba in hartje stad) is een Britse bar/restaurant waar je een pintje en een steak kunt krijgen, terwijl je ondertussen naar voetbaluitzendingen kunt kijken op één van de vele TV-schermen die er opgesteld staan. Het cliënteel bestaat vooral uit Westerse toeristen die snakken naar wat alcohol, maar al bij al is dit een leuke plek voor een toffe avond. Wij hebben er overigens een lokaal wijntje geproefd (jawel, in een land waar doorgaans geen alcohol geschonken wordt, kun je wel streekwijnen vinden); ons glaasje rode Mount Nebo-wijn bleek zowaar een aangename verrassing!
Rovers Return, The Gateway Complex, Aqaba
Ken je zelf nog leuke adresjes waar je lekker kunt eten en drinken in Aqaba? Tips zijn altijd welkom!
Meer lezen over Aqaba en Jordanië:
Info over Aqaba en Jordanië: Aqaba Tourist Information Center en Visit Jordan.