Een weekend in Hannover: over hippe rooftop bars en spectaculair vuurwerk
Omdat het niet altijd Londen, Parijs of Barcelona moet zijn: ik ben gaan citytrippen in Hannover. En dat je maar beter ook asap je koffers moet pakken om te ervaren welke onverwachte dingen deze Duitse stad allemaal te bieden heeft. Omdat ik weet dat je me niet zomaar gelooft (en omdat lijstjes zo makkelijk lezen): ziehier de 9 to do's die ongelooflijk leuk waren tijdens mijn eerste bezoek aan Hannover.
Niemand die wauw achteroverviel toen ik zei dat ik een weekendje ging citytrippen in Hannover. Verbaasde blikken, dat wel. Want Hannover, dat kennen we hooguit als tussenstop onderweg naar Berlijn, of van de kerstmarkten misschien. Nu ik er zelf twee dagen heb doorgebracht weet ik wel beter: Hannover is, zoals het cliché wil, een goed bewaard geheim. Ik was zonder veel hoge verwachtingen vertrokken, en keerde bijna mokkend naar huis terug omdat er nog zoveel te beleven viel en ik nog lang niet genoeg had van de stad. Hannover is gewoon heel erg cool, zo is dat.
Het hoofddoel van de trip was het bijwonen van het Internationaal Vuurwerkfestival, iets wat ze in Hannover behoorlijk ernstig nemen (en terecht want het was meer dan de moeite waard). Het Hannover Vuurwerkfestival behoort tot de meest prestigieuze ter wereld waarbij de beste pyrotechnici (want zo heet een 'vuurwerkmaker' dus) van verschillende landen letterlijk een knallende show geven. Maar straks meer hierover, laten we beginnen bij het begin.
Op onze eerst dag in Hannover werden we opgewacht door Elke, onze Duitse gids die verbazend goed Engels bleek te spreken. "Mijn ouders waren Duitsers maar weken uit naar Amerika", legde ze uit. "Ik ben daar geboren en bracht er mijn kindertijd door, tot we verhuisden naar Duitsland." De liefde heeft haar uiteindelijk in Duitsland gehouden en dat vonden wij prima want Elke is een bijzonder enthousiaste en aangename gids die ons bezoek aan Hannover nog interessanter maakte. Wat ze ons allemaal heeft bijgebracht? We lijsten het even voor je op.
1. Het Neues Rathaus brengt je 'straight to the top'
Eén van de absolute hoogtepunten – letterlijk en figuurlijk – is een bezoek aan het Neues Rathaus, het nieuwe stadhuis dat eigenlijk helemaal niet zo nieuw is.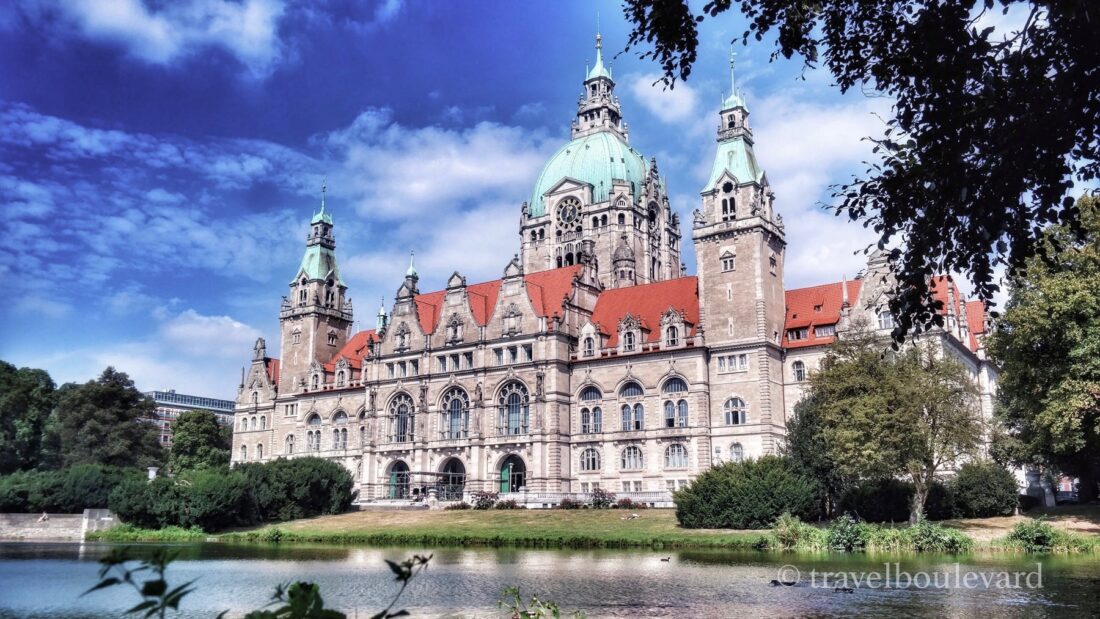 Het Neues Rathaus werd gebouwd begin 20ste eeuw en lijkt een beetje op een kasteel, met een wirwar van torentjes en kanteeltjes. Naar verluidt zijn hedendaagse architecten niet zo dol op het gebouw, vanwege geen eenduidige stijl. Nogal snobistisch vinden wij, de uitbundige pracht spreekt in elk geval tot onze verbeelding.
Het Neues Rathaus herbergt bovendien een hele leuke attractie: de lift die je helemaal naar de top van de koepeltoren van het gebouw brengt. De lift is op zich overigens al een hele ervaring: die gaat schuin naar boven (want gebouwd rond de koepel) en je gaat er vanzelf een beetje wankel van staan. Om het geheel nog amusanter te maken, is het plafond en de vloer van de lift voorzien van glas, waardoor je het mechanische in alle glorie kunt bewonderen.
Bovenop de uitwijkplatforms heb je een prachtig 360° panorama over Hannover. Van Hannover wordt gezegd dat het de groenste stad van Duitsland is, en dat kun je van hierboven heel goed zien: de stad wordt omringd door een immense lap groen, en in het centrum zelf duiken hier en daar groene oases op.
Terug beneden is het een goed idee om ook even de verschillende maquettes te bekijken die op de begane vloer opstelt staan. Ze tonen hoe Hannover er door de eeuwen heen uitzag. Vooral de maquette over Hannover na de bombardementen tijdens WOII: één grote puinhoop, het is wonderbaarlijk hoe de stad opnieuw opgebouwd is kunnen worden tot haar huidige staat.
Tip: loop even rond het Neues Rathaus heen, richting park. Je hebt er een mooi zicht op het gebouw, met idyllische water (het Maschsee meer) op de voorgrond al.
2. De Egidiuskerk: de klok die over vrede doet nadenken
Als je van het station naar het centrum wandelt, kom je er wellicht toch voorbij dus kun je er evengoed eens een kijkje gaan nemen. De Egidiusker stamt uit de 14de eeuw maar werd in 1943 bij luchtaanvallen door bommen helemaal verwoest. Alleen de buitenmuren staan nog overeind. Het koor en de toren werd later gerestaureerd, de rest bleef zoals het was. Veel meer dan een kerk is dit nu een monument ter nagedachtenis aan de slachtoffers van oorlog en geweld.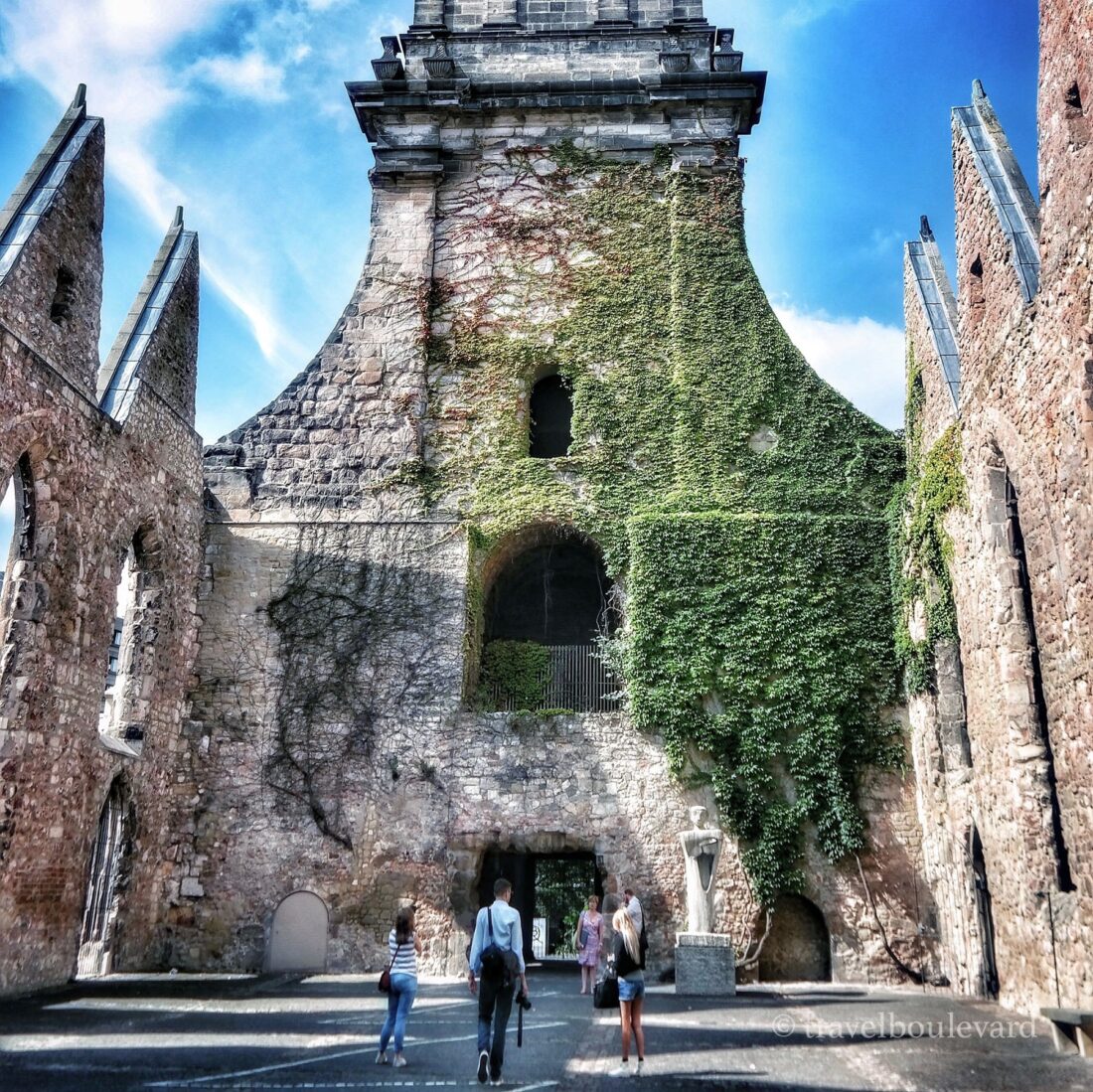 Je vindt er ook een klok: de Friedensglocke (Vredesklok), een cadeautje van partnerstad Hiroshima. Elk jaar op 6 augustus, de dag dat de atoombom op Horshima viel, wordt de klok aangeslagen als aandenken.
Tip: in Hannover kun je de 'rode draad' volgen, letterlijk een rode lijn die op het voetpad geschilderd werd. Deze rode draad is een wandeling die je langs de belangrijkste bezienswaardigheden en wijken van Hannover brengt. Makkelijk, en je kunt nooit verdwalen.
3. Je buikje rond in de Buik van Hannover
De Market Hall is een beetje een combinatie van een overdekte markt en een hippe foodhall zoals je tegenwoordig vaak in andere steden ziet opduiken, alleen authentieker. De Market Hall is gelegen in het hart van de stad en wordt ook wel eens de 'Buik van Hannover' genoemd omdat het de uitgelezen plek om fruit, groenten, brood, vlees, internationale specialiteiten en veel meer in te kopen. Locals bezoeken er graag de vele eethuisjes voor een hapje en een drankje met een gezellige babbel, vooral rond lunchtijd.
Tip: rep je naar de bovenste verdieping. Daar bevindt zich een shop van Bahlsen, de bekendste koekjesfabriek van Duitsland. Denk: torenhoge stapels koekjes in alle soorten en maten!
4. Kuieren door de Altstadt
Hoewel Hannover tijdens WOII zwaar gebombardeerd werd, is het in de oude stad, of Altstadt goed toeven. Veel gebouwen werden heropgebouwd in de oorspronkelijke stijl, waardoor je nooit zou kunnen vermoeden dat de oude stad eigenlijk niet zo heel erg oud is.
De Altstad heeft heel wat te bieden voor shoppers (je vindt er veel kleine en elegante boetiekjes) en je struikelt er over de gezellige pubs en restaurantjes.
Doen: een Lüttje Lage (proberen te) drinken
Het typische drankje van Hannover heet de Lüttje Lage maar ondanks de koddige naam vergt het best wat moeite en handigheid om de drank naar binnen te werken. De Lüttje Lage bestaat namelijk uit een glas donker bier en een shotglaasje Kornbrand, iets wat op wodka en snaps lijkt. Hou het kleine glaasje boven het bierglas en kieper beide zo naar binnen.
Onmogelijk? Helemaal niet. Benjamin, onze gastheer van Visit Hannover, offerde zich op (nou ja) en gaf een kundige demonstratie over hoe je precies tewerk moet gaan. Toeval wil ook dat er tijdens onze terraspauze net een bruiloftstoet passeerde; en ja hoor, ook de bruidegom beheerste de kunst van het Lüttje Lage-drinken als geen ander (waarna hij beloond werd met een kus van zijn bruid). Cheers!
5. Kunst en kitsch kopen op de vlooienmarkt
Het hele jaar kun je op zaterdag lands de Leine rivier bij de oude stad over de Flohmarkt – de vlooienmarkt – struinen.
De markt staat er al 45 jaar en is een vaste waarde voor als je op zoek bent naar leuke en originele spullen tegen een prijsje. Van vintage kleren over oude boeken en grootmoeders servies… je vindt het er allemaal. Leuk om even tussen al die oude schatten te snuisteren en heel sfeervol, vooral met mooi weer.
6. Een cocktail drinken met de voeten in het zand… bovenop een autoparking
Tropische sferen in Hannover? Het zal wel wezen! Wij sloten onze eerste geslaagde dag af met een paar cocktails onder de palmbomen, terwijl we met onze voeten in het zand genoten van een prachtige zonsondergang en een subliem zicht over de daken van Hannover. O ja, en had ik je al verteld dat we ons bovenop het dak van een parkeergarage bevonden?
Elke zomer wordt op dit dak een zomerse popup bar geïnstalleerd, en dit is echt the place to be om een zomerse dag in de stad af te sluiten. Eén ding: je moet wel wéten dat de bar er is, want op de begane vloer lijkt dit echt maar een gewone parking.
De rooftop bar heet heel toepasselijk 360 Grad, Schön Aussichten. De parkeergarage heet Parkdeck Röselerstrasse 7 en is gelegen bij het centrum van de stad. Neem daar de lift naar de zesde verdieping.
7. Dierenplezier en naar andere continenten reizen in de Erlebnis Zoo
De Hannovers zijn dol op hun zoo, en dus was het logisch dat ook wij daar een kijkje gingen nemen. De zoo dateert uit 1865 maar werd gedurende de jaren uiteraard grondig gerenoveerd. Vandaag is het een moderne zoo die ingedeeld is in verschillende werelddelen met bijhorende dieren.
Neen, de dieren zitten er niet in akelige kooien maar kunnen zich vrij uitleven in grote tuinen die zo gebouwd werden dat het op hun natuurlijke habitat lijkt. Giraffes, poolberen, apen, olifanten, tijgers… ze laten zich met plezier aan de bezoekers zien.
Tip: tijdens een bezoek aan de zoo ben je al vlug een volledige dag kwijt, zoveel is er te zien en te ontdekken. Wij namen het bootje dat langs de belangrijkste bezienswaardigheden van de zoo vaart, heel erg toeristisch maar wel leuk en charmant om te doen. Bovendien krijg je zo op korte tijd een mooi overzicht van waar de zoo voor staat, en is het makkelijker om je naderhand te oriënteren.
8. Romantisch wandelen in de Herrenhäuser Gärten (en genieten van vuurwerk)
Zeg niet zomaar 'tuintje' tegen de Herrenhäuser Gärten. Dit park behoort tot de mooiste van Europa en bevat een schat aan botanische pareltjes, barokke ornamenten, tal van waterpartijen en een absolute blikvanger: de reuzegrote fontein.
Ook al ben je geen liefhebber van het 'genre', dan nog is een bezoek aan deze tuinen beslist de moeite waard; de tuinen lijken wel één grote, groene feestzaal.
Vergeet beslist een bezoek aan de Grotto van Niki de Saint Phalle niet. In een zijgebouwtje van de tuinen, waar de aristocratie op warme dagen verkoeling zocht, toverde de kunstenares toverde 3 kamers om tot een waanzinnig pareltje van moderne kunst.
Niki de Saint Phalle is ereburger van de stad, en behalve deze grot zal je in en rond Hannover nog meer verwijzingen naar haar kleurrijke werken opmerken.
Vuurwerk met de Belgen
Elk jaar vormen de tuinen het decor voor het Internationaal Vuurwerkfestival van Hannover, één van de grootste en meest prestigieuze vuurwerkevenementen ter wereld. Verschillende landen nemen het (op 5 verschillende data) knallend tegen elkaar op en hopen alle als winnaar uit de bus te komen.
Dit jaar was ook België geselecteerd om deel te nemen. Vlak voor de show kregen we een kleine rondleiding achter de schermen en mochten we Cliff Hooge (33), zaakvoerder van HC Pyrothecnics even ontmoeten voor een kort gesprekje. Hij vertelde dat het niet makkelijk was om het volledige park te integreren in zo'n show, en hij vond het sowieso een grote eer om bij de geselecteerden te zijn (achteraf bleek dat Cliff inderdaad het festival zou winnen, daar zijn we best trots op).
En de show zelf? Die was knallend natuurlijk: een combinatie van vuur, rook en muziek, en een massa mensen die ademloos toekeek. Wie ooit de kans heeft om dit festival bij te wonen, moet die zeker grijpen. Kaartjes kopen op voorhand is noodzakelijk (dat kun je hier), maar wees er vlug bij want de shows zijn immens populair en in één-twee-drie uitverkocht (we zagen voor de show mensen die hoopten op de zwarte markt nog een kaartje te scoren, precies of het betrof een rockconcert!).
9. Zoveel redenen om terug te keren naar Hannover
Het leuke aan Hannover? Dat er zoveel te beleven valt dat we er beslist nog eens terug moeten. Tijdens de zomer is het Maschee Festival bijvoorbeeld een aanrader (een festival vol muziek, eten en drinken dat maar liefst een maand duurt), er zijn tal van indrukwekkende musea om te bezoeken, hippe wijken te ontdekken (Linden, waar de kunstenaars en vrijdenkenders rondhangen). Het uitgaansleven is er bruisend en hip, en we moeten er zeker nog gaan shoppen (behalve de grote winkelstraat waar alle bekende winkels aanwezig zijn, kun je er bijzonder veel knusse en hippe boetieks vinden), we willen de stad nog met de fiets ontdekken en een de kano over de rivier varen… En wat ik alvast al bovenaan mijn to do-lijstje gezet heb, is het bezoeken van de immense kerstmarkt, die eind november van start gaat, zeker weten!
Laten we het even officieel mededelen: Hannover is een bruisende en gezellige stad met hippe winkels en bars, toffe musea en verrassende dingen om te ontdekken. Bovendien kijken ze er niet op een festivalletje meer of minder. Hannover ligt in Niedersachsen op amper 4 uurtjes sporen met de trein (of een dik uur met het vliegtuig) vanuit België, je bent er in no time en ook dat is een extra troef.