King's Cross, Londens booming wijk (10 x dingen om te doen)
Tip voor je volgende trip naar Londen: de wijk King's Cross heeft zich de laatste decennia ontpopt van een verloederde en te mijden buurt tot zowat de meest opwindende hotspot van Londen. Wil je absoluut naar toe, ook al omdat je van de Eurostar stapt en meteen ter plekke bent. Geef toe, makkelijker kan bijna niet. En met onderstaande 10 tips is het verkennen van deze wijk helemaal a piece of cake.
Het kan verkeren. Ooit was King's Cross, gelegen ten noorden van het centrum van Londen en deel uitmakend van de wijk Camdem, het epicentrum van de Londense industrie. Het stond er volgebouw met daverende fabrieken enorme loodsen, én het was een druk knooppunt voor trein (en later ook de metro). Veel bedrijvigheid dus en er werd flink wat poen geschept, maar fraai was het niet.
Toen na verloop van tijd de fabrieken één voor één de deuren moesten sluiten, verloederde de wijk sloten tot een plek waar alleen hoertjes, drugsverslaafden en daklozen nog durfden komen. King's Cross De was lange tijd absolute no go. Je kwam er alleen als het niet anders kon. Omdat je er een afspraak had met je dealer, of om beroep te doen op de 'diensten' van een goedkoop straathoertje. Had je geen van beide van doen, dan maakte je je hier zo snel als mogelijk uit de voeten.
Maar niets blijft duren, en ook deze hellhole kon uiteindelijk het stof en de viezigheid van zich afschudden. Net zoals in veel andere grote steden zijn het immers net die plaatsen met een kwalijke reputatie die uitgroeien tot hippe hotspots, veelal met dank aan artiesten en kunstenaars die als dergelijke wijken met succes reanimeerden. Zo ook King's Cross, al verliep de wedergeboorte ervan niet organisch maar was deze nauwgezet en doordacht gepland. De voorbije decennia werd er flink geïnvesteerd en een vooruitstrevende en gedurfde stadsplanning maakt dat King's Cross vandaag de nieuwe groene en creatieve hub voor de jonge Londenaars. Bovendien trekt de wijk ook heel wat vooraanstaande bedrijven aan: Google besloot er al z'n hoofdkwartier te vestigen, net als de Britse krant The Guardian, mediagigant Havas, Universal Music en luxebedrijf Louis Vuitton. En onnodig te vermelden dat er flink wat restaurants en shops zijn om het trendy volkje te bedienen. Kortom, nu heb je als toerist ook voldoende reden om eens wat langer in King's Cross halt te houden.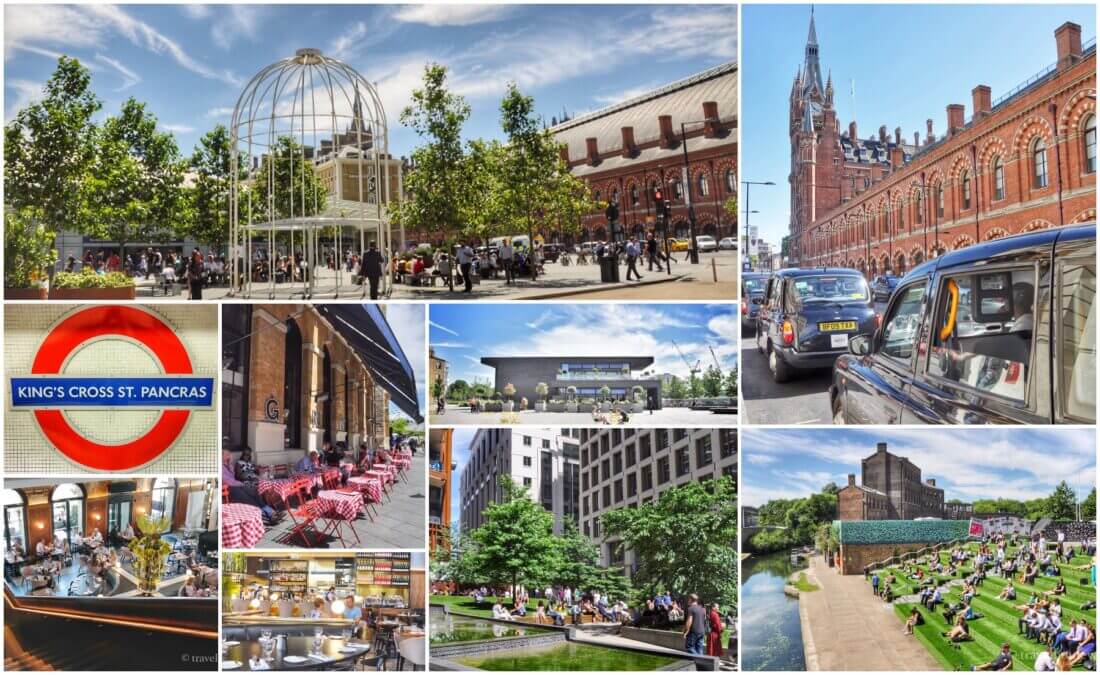 Wil je zelf King's Cross verkennen, dan zijn onderstaande 10 tips beslist de moeite waard.
1. Het St. Pancras
Het station St. Pancras International, waar je met de Eurostar Londen binnenrijdt, is op zich al heel erg indrukwekkend. Harry Potterfans kennen het station uiteraard van het platform 9 3/4, waar Harry Potter de trein neemt naar Zweinstein (niet te missen, er staat steevast een lange rij liefhebbers aan te schuiven om een foto te nemen aan het zogezegde platform).
Maar behalve treintjes kijken en het knappe interieur bewonderen, kun je er uitgebreid shoppen (er werd een heus winkelcentrum bijgebouwd) én aanschuiven aan de langste champagnebar van Europa (de St Pancras Grand Champagne Bar, goed voor 110 zitplaatsen. Er is zelfs een 'press for champagne'-knop, zodat je nooit dorst hoeft te hebben.
Info: stpancras.com
2. Naar het bezoekerscentrum
Wil je King's Cross grondig verkennen, spring dan even , bezoekerscentrum binnen. Je vindt er alles wat je moet weten over het verleden, heden en toekomst van de wijk. Het bezoekerscentrum situeert zich in de Western Transit Shed in Stable Street (op wandelafstand van het station). Je kunt er ook een gratis rondleiding met gids boeken (update: het bezoekerscentrum krijgt binnenkort een nieuwe locatie, check out de website).
Info. kingscross.co.uk
3. Granary Square
King's Cross kent heel wat leuke openbare pleinen Granary Square, gelegen aan de oevers van Regent's Canal, moet wellicht het allerleukste zijn. Dit kloppend hart van de wijk is de plek waar vroeger goederen geladen en gelost werden. Tegenwoordig dansen er meer dan 1.000 fonteinen, altijd goed voor een leuk spektakel (vooral 's avonds wanneer het water mooi verlicht is).
Cranary Square is ook de plek waar de wereldberoemde kunstacademie Central Saint Martins onderdak vindt, in gerenoveerde graanloodsen. Dat deze locatie tijdens de Londense Fashionweeks bijzonder populair is om catwalkshows te organiseren, hoeft niet te verbazen: sfeer en architecturale schoonheid in overvloed.
Op en rond het plein vind je verschillende – heel erg hippe – restaurantjes en bars waar het gezellig toeven is, ook omdat er veel kunststudenten rondhangen.
4. De Skip Garden
Je moet een beetje geluk hebben met deze tuin. De Skip Garden verandert namelijk nogal eens plaats. Deze tuin gebruikt afgedankte bouwcontainers als tuinserre en kun je vinden daar waar er nog volop gebouwd moet worden. Zodra de werken klaar zijn, verhuist ook de Skip Garden mee naar een volgende bouwwerf. Buurtbewoners onderhouden de tuin en je kunt er mee aan tafel schuiven om lekkere gerechten te proeven, uiteraard met groenten en kruiden recht uit de tuin.
5. Wandelen in een urban natuurpark
Wat ooit een industriële grijze zone was, is nu een oase van groen in de stad. King's Cross beschikt over 26 hectare aan nieuwe parken en open ruimtes, en er komen er nog steeds bij.
Aan de oevers van Regent's Canal kun je helemaal tot rust komen in het Camley Street Natural Park, een urban natuurreservaat en een oase van groen midden in één van de dichtst bevolkte delen van Londen. Het natuurreservaat is een thuis voor tal van vogels en vlinders, en nodigt uit voor een deugddoende wandeling (update: het park is momenteel gesloten vanwege de bouw van een nieuw bezoekerscentrum, geplande opening voorzien ergens in 2020).
Een andere van onze favorieten is Regent's Canal, dat door het hart van King's Cross loopt. Deze negen mijl lange waterweg slingert zich elegant door de hoofdstad, en is een absolute aanrader bij mooi weer. Nog steeds wonen er mensen langs het kanaal, en de mix van aanlegsteigers, monumentale gebouwen en de natuur is goed voor een charmante wandeling.
6. Gasholder No. 8 bezoeken
Tijdens de industriële bloeiperiode stonden er flink wat gashouders in King's Cross. Met de nieuwe stadsontwikkeling, is er nog maar eentje overgebleven: Gasholder No. 8, het exemplaar dat al meer dan 150 jaar de skyline van de wijk domineert. In plaats van de gashouder af te breken, werd besloten om er een feature van te maken, een soort kuntwerk waar je door kunt wandelen, met een park erbij. En dus kun je nu Gasholder Park bezoeken, een groene zone met als blikvanger Gasholder No. 8. De nabij gelegen (luxe)appartementen werden overigens in de stijl van een gashouder gebouwd. Vonden wij alvast bijzonder mooi om te zien. Je kunt er zalig verpozen, en in het park worden er regelmatig yogasessies georganiseerd.
7. Een beetje cultuur meepikken
Kunst en cultuur zijn nooit ver weg in King's Cross; het loopt er sowieso al vol met kunststudenten van de Academie. Zelf kun je je culturele honger stillen in heel wat toffe en unieke musea en cultuurhuizen. Leuk is bijvoorbeeld het House of Illustration, 's werelds eerste openbare galerij gewijd aan de kunst van illustratie in al zijn vormen (advertenties, animatie, politieke cartoons, mode-ontwerpen… het komt allemaal aan bod). Ook kun je even binnen springen in de British Library, gelegen op 5 minuutjes wandelen van Pancras Station; je vindt er de meest belangrijke manuscripten uit de Britse literatuur, waaronder van grote kleppers als Jane Austen, Lewis Carrol en Shakespeare!
8. Proeven van al het lekkers
Met zoveel hippe mensen die King's Cross bevolken, kan het niet anders of er zijn flink wat lekkere en trendy adresjes waar je lekker kunt eten. Het aanbod is teveel om alles op een weekend te proeven, maar deze zou je toch even moeten proberen:
– Caravan: een industriële eetkamer met open keuken in een oude graanschuur uit de Victoriaanse tijd. Met eigen koffiebranderij en terras op Granary Square. (caravan.co.uk)
– Grain Store: een innovatieve bistro van de Franse Michelin chef Bruno Loubet. Een eclectisch menu waarbij groenten de hoofdrol spelen. Bij warm weer kan je lunchen op Granary Square. (grainstore.com)
– Plum + Spilt Milk: een elegante brasserie in het Great Northern Hotel, het eerste stationshotel in Londen. Het nestelt zich tussen King's Cross en St Pancras International en serveert klassiekers van de hand van Britse sterrenchef Mark Sargeant. (plumandspiltmilk.com)
– The German Gymnasium: oorspronkelijk het allereerste gebouw in de UK dat gebouwd werd om om te sporten, opgetrokken in opdracht van The German Gymnastics Society en de Duitse gemeenschap in Londen. Vandaag een hippe plek waar je de dag rond de lekkerste – Duitse! – gerechten vindt. (germangymnasium.com)
9. Slapen in The Great Northern Hotel
Een weekendje rondhangen in King's Cross voelt een beetje apart aan: enerzijds voel je jezelf ondergedompeld in een hip, trendy en vooruitstrevende ambiance, anderzijds kleeft de geschiedenis er onvermijdelijk aan je voetzolen. The Great Northern Hotel is daar onder andere een mooi voorbeeld van. Gelegen recht tegenover het St Pancras station (op amper 25 meter) slaap je er in prachtige designkamers, waarvan sommige verwijzen naar knusse treinslaapwagon. De bijhorende bar en het restaurant zijn toppers, en alles straalt er luxe en comfort uit. Hier te kunnen slapen, is toch wel bijzonder want het hotel heeft een lange geschiedenis achter de rug.
The Great Northen stampt uit 1854 en was het eerste luxe 'stationshotel' in de UK. Het was een hotel met aanzien, en er kwam vooral rijk en exclusief cliënteel over de vloer.
Toen de buurt verloederde, ging het ook bergaf met het hotel. Van luxehotel verviel het naar een duistere plek dat niet meer was dan het 'werkterrein' van prostituees. Uiteindelijk stond het zelfs 12 jaar helemaal leeg. Ondertussen, na een grondige facelift en enorme investering, is The Great Northern aan een tweede, glorierijk, leven bezig en mag het zich één van de allerbeste boetiekhotels van Londen noemen.
Info: gnhlondon.com
10. Ontdek de IFO, de Identified Flying Object
De gigantische 'vogelkooi' op Battle Bridge Place is het kunstwerk IFO (Identified Flying Object) van Jacques Rival. De kooi is 9 meter hoog en de tralies zijn breed genoeg zodat mensen er doorheen kunnen lopen; er hangt een schommel binnenin de kooi, bedoeld voor zowel kinderen als volwassenen. Zeker eens proberen want tried & tested en het is gewoon leuk om temidden een druk plein een paar minuten te schommelen in een kunstwerk. 's Nachts komt het kunstwerk echt tot leven dankzij de schitterende neonverlichting. De IFO staat meestal stevig op de grond, maar bij speciale gelegenheden wordt de installatie in de lucht gehesen om zo de nachtelijke hemel te verlichten. De IFO ligt op korte loopafstand van het station Kings Cross St Pancras, op Battle Bridge Place.
Ook zin om King's Cross te ontdekken? De wijk is heel erg eenvoudig te bereiken: spoor met de Eurostar naar Londen, en zodra je in het Pancars station uitstapt, ben je eigenlijk al ter plekke. Vanuit Brussel ben je op 2 uurtjes in hartje Londen (vanuit Rijsel zelfs op 1u20). Er zijn tot 11 verbindingen per dag tussen Brussel en Londen. Zeker doen!