Alentejo werd lange tijd het grootste geheim van Portugal genoemd maar dat laatste jaren lijkt de regio in sneltempo aan populariteit te winnen. En terecht: Alentejo blinkt uit in adembenemende vergezichten met kurk- en olijfbomen, gouden heuvels en oogverblindende witte stadjes als Evora en Monsaraz. Maar bovenal staat Alentejo voor 'genieten', en dat bedoelen we met alle zintuigen.
Alentejo is makkelijk te bereiken: vliegen doe ik van Brussel naar Lissabon, en van daaruit is het amper anderhalf uur rijden vooraleer ik in het hart van Alentejo ben. En ik snap meteen waarom deze regio zo bejubeld wordt: de natuur is prachtig, de dorpjes schitterend wit en stil, de rust overweldigend. Lange tijd passeer ik geen ander voertuig, alsof de bewoonde wereld heel ver weg ligt.
Alentejo is één van de dun bevolkte regio's van West-Europa. Hoewel het gebied bijna zo groot is als België, leven er slechts 750.000 mensen. Geen wonder dus dat het hier zo rustig is.
De naam 'além do Tejo' betekent letterlijk 'over de Taag'. Alentejo wordt in het noorden begrensd door de Taag, in het oosten door Spanje, in het westen door de Atlantische Oceaan en Lissabon en in het zuiden door de Algarve. Een enorme regio dus met een verscheidenheid aan landschappen, gaande van de ruwe Atlantische kust met ongerepte stranden over eindeloze dorre vlaktes, groene heuvels en een enorm uitgestrekt meer.
Dat Alentejo de Provence of Toscane van Portugal zou zijn, gaat evenwel niet geheel op: Alentejo is veel rustiger en hier naartoe reizen, is alsof je 50 jaar terug in de tijd stapt. Het tempo is er traag, hier neem je de tijd.
Lijkt het nu alsof je schrik moet hebben van al die rust en stilte? En dat er niet veel te doen is? Geen nood: er is meer dan genoeg te beleven en Alentejo is zo verscheiden dat je er zelfs steeds opnieuw naar terug wil.
Deze post is een verslag van een rondreis langs enkele van de hoogtepunten van Alentejo:
Ontspannen en genieten van lekker eten: de culinaire troeven van Alentejo
Levendige tradities: drie bijzondere dorpen
Het meer van Alqueva
Middeleeuwse stadjes: mooi Monsaraz ontdekken
Stargazing: de mooiste sterrenhemel van Europa
Wijn proeven: de lekkerste wijnen van Portugal
Unesco Wereld Erfgoed: naar Evora
Het Stonehenge van Portugal
Hoe authentiek ook verrassend trendy kan zijn
1. Ontspannen en genieten van lekker eten: de culinaire troeven van Alentejo
Mijn eerste stop in Alentejo is het slaperige dorpje Odivelas, waar ik de nacht zal doorbrengen in hotel O Gato. Het hotel is eenvoudig maar netjes en comfortabel en bijzonder charmant. Maar het is vooral het zwembad dat het hart sneller doet kloppen: wat een uitzicht!
Het is bewolkt maar wel warm en liefst zou ik meteen het water in willen duiken om af te koelen, maar dat zal voor later zijn: er moet eerst gegeten worden!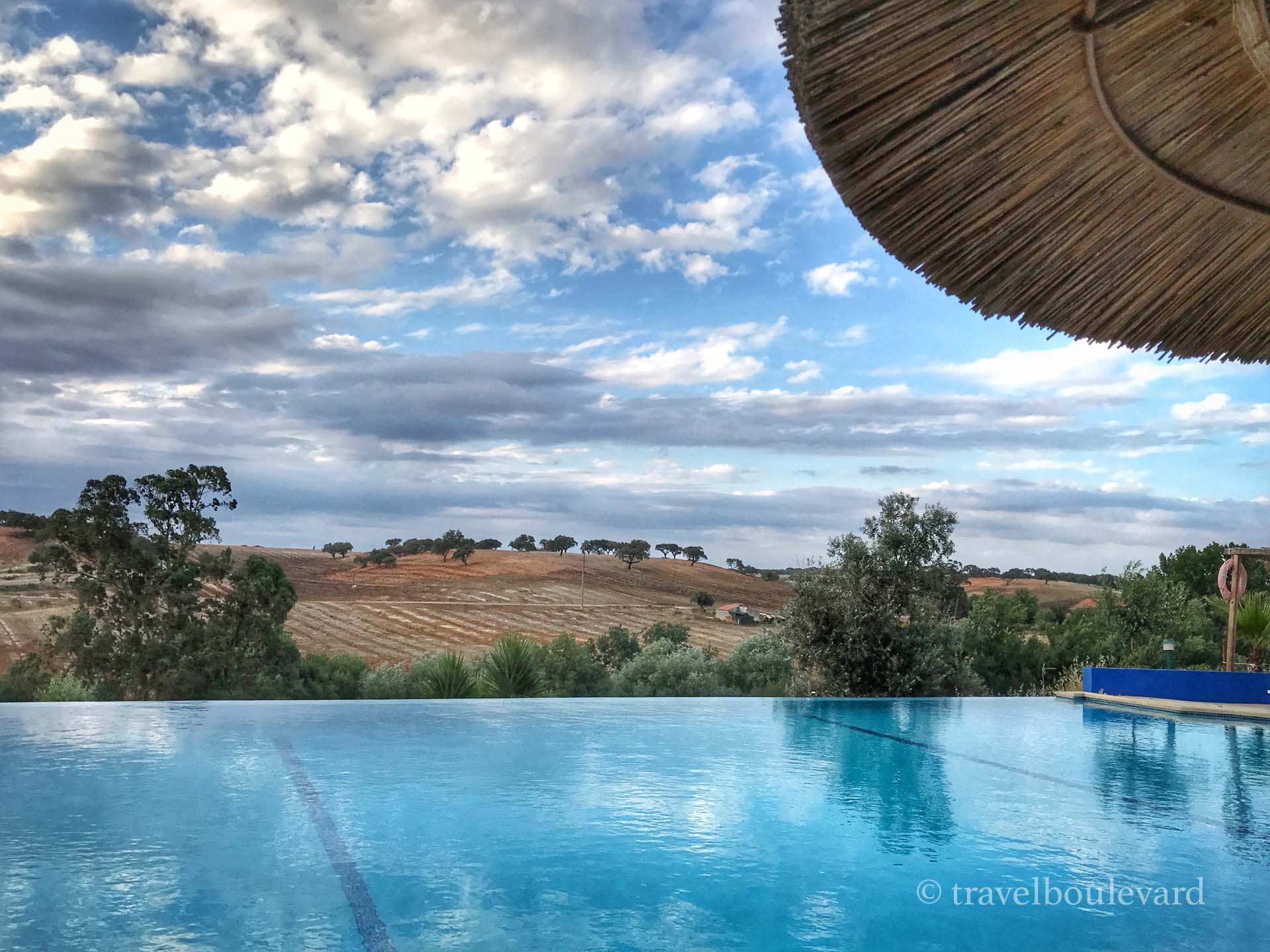 Toeval wil dat ik een paar maanden voor mijn reis naar Alentejo een rondreis door de Algarve maakte. Dat ik een paar weken later opnieuw naar Portugal zou reizen leverde daar steevast dezelfde reactie op: "Naar Alentejo? Wat zal je daar lekker eten en drinken!" Na ettelijke keren de lofzang te moeten aanhoren over de culinaire wonderen van Alentejo – dat je er de lekkerste wijnen ter wereld vindt, en dat de restaurants er werken met eeuwenoude recepten – was ik natuurlijk bijzonder nieuwsgierig naar wat er op mijn bord ging belanden.
Alentejo werd tot de jaren '80 ook wel de graanschuur of broodmand van Portugal genoemd, vanwege de eindeloze graanvelden. Toen de boeren doorhadden dat wijn meer opbracht dan brood, ruilden veel landbouwers de tarwe in voor wijngaarden, waardoor de regio nu kan uitpakken met enkele topwijnen.
De kaart van het O Gato-restaurant is in elk geval al een mooie afspiegeling van wat Alentejo op culinair vlak zoal te bieden heeft: hier geen ingewikkelde moderne gerechten met indrukwekkende namen maar eerlijke en eenvoudige gerechten die met liefde gemaakt worden. Versgebakken brood, olijven, paddenstoelen, varkensvlees, gezouten kabeljauw, de lekkerste kazen en heel veel wijn natuurlijk. Ik kies voor een Açorda à Alenteja, een traditioneel gerecht bestaande uit broodsoep met bacalhau (kabeljauw), eieren, koriander, look en olijfolie . Een eeuwenoud armengerecht dat nog steeds bijzonder populair is. Ruben, mijn gids, vertelt dat de mensen het hier altijd met weinig moesten stellen maar dat ze wel graag van het leven genieten en dat lekker eten gewoon heel erg belangrijk is. Zelfs met heel weinig en eenvoudige ingrediënten moesten ze dus lekkere gerechten bedenken en creatief zijn. Missie geslaagd want de broodsoep smaakt overheerlijk!
Dat lekker eten in Alentejo gewoon heel erg belangrijk is, zal ik de rest van mijn reis nog mogen ondervinden: gezellig tafelen hoort er gewoon bij. Leuk is dat veel van dat lekkers organisch geteeld wordt (volgens oude landbouwtechnieken, lang voor het trendy was dus) en pure ingrediënten.
Voor de culinaire liefhebbers: onlangs werd de gids From Farm to Table uitgebracht waarin de mooiste culinaire routes van Alentejo gebundeld worden: 5 hoofdroutes en 17 reistrajecten brengen je naar producenten die vaak al generaties lang aan de slag zijn. En behalve proeven, kun je er ook tal van workshops volgen.
2. Levendige tradities: 3 bijzondere dorpen
⇒ De bellen van Alcacovas
Alentejo kent uitgestrekte weiden en het geluid van koebellen zal je er veelvuldig horen. Nu had ik koebellen altijd geassocieerd met Zwitserland, maar laat dat niemand in Alentjo horen. Daar lopen geiten, schapen en koeien met een chocalho rond, vrij vertaald: een koebel dus. Die worden met de hand gemaakt en dat nemen ze er heel ernstig. Dat merk ik de volgende dag meteen al, wanneer ik onderweg naar het stuwmeer Alqueva eerst even halt hou bij Chocalhos Pardalinho in Alcacovas, een klein bedrijfje waar chocalho's met de hand gemaakt worden.
Niet dat ik plots een dwingende belangstelling voor het maken van koebellen heb, maar de ambacht behoort tot het UNESCO werelderfgoed en dat wekt de interesse natuurlijk. Ze zijn er net druk bezig chocalho's te stemmen. "Elke boer herkent zijn schaap of koe namelijk aan de toon van de bel, en die toon moet precies goed zijn", leer ik. "Boeren komen dus regelmatig even langs om hun koebel opnieuw te laten stemmen."
⇒ Keramiek uit Sao Pedro do Corval
Alentejo ken nog meer dorpen waar traditionele ambachten belangrijk zijn. Tijdens mijn reis zal ik nog de Sao Pedro do Corval bezoeken, een dorp waar iedereen met dezelfde ambacht bezig lijkt, namelijk keramiek. Ganse families wijden hun leven aan het maken van potten in alle soorten en maten, je kunt ze zelf aan het werk zien en ook workshops volgen. Sao Pedro do Corval wordt ook het pottenbakkersdorp van Alentjo genoemd.
⇒ De wereldberoemde tapijten van Arraiolos
Ook Arraiolos is zo'n dorp met een diepgewortelde ambachtstraditie. Het dorp ligt aan de voet van een oud kasteel en wordt al eeuwenlang geroemd om zijn handgeknoopte tapijten. Al sinds de 12de eeuw knopen ze hier tapijten, en het lijkt wel alsof heel Arraiolos in dezelfde branche zit: wanneer ik door het dorp wandel, zie ik in deuropeningen mannen en vrouwen druk met hun tapijtenwerk in de weer. Niet alle tapijtenkloppers zijn happig op het nemen van foto's, uit angst dat deze gebruikt zullen worden om goedkope kopieën te maken. De patronen waarmee ze werken, zijn dan ook eeuwenoud en uniek en vooral in China bijzonder populair.
En ook heb je geen interesse in tapijten, dan nog is Arraiolos een bezoekje waard. Het is een schattig dorpje met een mooi plein en knusse straatjes. In de schaduw van de kerk zoeken oude mannen verkoeling. Ongetwijfeld bespreken ze zo dadelijks het wel en wee van hun dorp, zoals dat hoort in kleine plaatsjes als deze.
3. Het meer van Alqueva: watersporten en verdronken wijn
De reis gaat verder en ik rij naar het meer van Alqueva, met een oppervlak van 250km2 en een oeverlengte van 1200 kilometer één van de grootste kunstmatige stuwmeren van Europa.
Terwijl de omgeving hier vroeger dor en droog was, is dit nu een plek waar je kunt zwemmen en aan watersport doen. Interessant is dat je van hieruit Alentejo kunt verkennen vanop het water: met de boot bezoek je verschillende dorpjes en 's nachts slaap je gewoon op de boot, onder een prachtige sterrenhemel. Een vaarbewijs is niet nodig, de boten zijn zeer makkelijk te besturen.
Na een aangename lunch in het restaurant van Amieira Marine, met zicht op het meer, geniet ik zelf ook nog van een deugddoend boottochtje, zalig om rustig over het water te glijden en van de omgeving te genieten.
En waterrecreatie blijkt niet de enige troef van het stuwmeer te zijn. "Onder het water bevindt zich een echte schat", glundert gids Ruben. Hij is nogal een wijnliefhebber en ook deze 'schat' heeft met zijn lievelingsdrank te maken: op de bodem van het meer liggen vaten 'waterwijn' te rusten. Deze Conde d'Ervedeira wordt zo'n 6 tot 7 maanden in het water gelegd om te rijpen. En laat je niet misleiden door de naam: het waterwijntje smaakt allesbehalve waterachtig, het is een rode wijn die door de waterdruk een bijzondere smaak kreeg.
4. Middeleeuwse stadjes: mooi Monsaraz
De waterwijn wil ik wel eens proeven, en dus rij ik richting Monsaraz en waauw wat een prachtig stadje! Dit middeleeuwse vestigingsstadje bevindt zich op een heuvel – op heldere dagen kun je Spanje zien liggen – en is typisch voor de streek: witte huisjes, smalle slingerende straatjes en een middeleeuws kasteel dat over het stadje uitkijkt.
Groot is het niet maar het zijn vooral de huisjes, de vele doorkijkjes en schattige pleintjes die bekoren. Ook het omliggende landschap is behoorlijk spectaculair: aan de ene kant licht golvend met wijngaarden en olijfbomen, aan de andere kant schittert het blauwe water van het Alqueva meer.
Monsaraz is één van de oudste Portugese nederzettingen en het voelt het hier – opnieuw – alsof je hier een reis maakt terug in de tijd, alles oogt er nog authentiek en opvallend: er zijn nauwelijks toeristen.
Maar: ik wil de waterwijn proeven en in Monsaraz ben ik aan het goede adres. Middenin het dorp bevindt zich de Ervideira wineshop, een schattige winkeltje van de wijnfamilie Leal da Costa. Hier kun je niet alleen de befaamde waterwijn drinken maar ze ook hebben ze er een invisible wine, die oogt als water maar in feite een rode wijn is. Bezoek er zeker eens het dakterras: je kunt er van een lekker wijntje en hapje genieten en een mooi uitzicht over de omgeving.
5. Magische sterrenhemel: een avondje stargazing
's Avonds, nadat ik mij geïnstalleerd heb ik het fijne hotel Horta da Moura, rij ik opnieuw richting Monsaraz, al trek in nu niet het stadje in maar heb ik afspraak in het Observatorio do Lago Alqueva, om er naar de sterren te kijken.
Het gebied rond het meer van Alqueva is immers de ideale plek om miljoenen sterren te kunnen bewonderen. De lucht is hier nog vrij van lichtvervuiling en met een beetje geluk zie je er zelfs de Melkweg. De streek kreeg als eerste het certificaat Dark Sky Reserve of Starlight Tourism Destination en beslaat een oppervlakte van circa 3000 km2. Om de ervaring van het stargazen nog intenser te maken, wordt ook de verlichting in nabijgelegen stadjes en dorpjes gedempt.
Mijn gids Nuno van OLA geeft me eerst de nodige uitleg – want je wil toch weten wat je ziet – en vervolgens mag ik op de observatieplatformen zelf naar Jupiter en Saturnus kijken. Toegegeven: het doet toch iets om al die sterren en planeten te zien schitteren!
Tip: ook al is het warm overdag, 's avonds kan het behoorlijk afkoelen. Neem zeker een warme trui mee.
Speciaal voor sterrenjagers werd een route rond het meer van Alqueva uitgestippeld met plaatsen waar je de sterrenhemel het beste kunt bewonderen. Meer info over die route vind je op darkskyalqueva.com.
6. Diep in het glas kijken: de lekkerste wijnen van Alentejo proeven
Alentejo wordt ook wel eens het California van Portugal genoemd, vanwege de vele goede wijnen die ze er produceren. En hoewel ze er al wijn maken sinds Romeinse tijden raakte de wijnbouw door de eeuwen heen toch in verval. Recent echter werden heel wat verwaarloosde wijngaarden in ere hersteld en worden er opnieuw topwijnen geproduceerd. Deze wijnen hebben een uitgesproken karakter en behoren tot de beste van Portugal. Vinotoerisme is dan ook een troef die Alentejo graag uitspeelt; wijnliefhebbers kunnen er ettelijke weken vullen met het bezoeken van wijnhuizen en het volgen van verschillende wijnroutes.
Had ik eerder al kennis mogen maken met een invisible wijn en waterwijn, dan stonden er nog meer proeverijen op de agenda.
⇒ Herdade do Sobrosso
Na een quasi slapeloos nachtje (sterren kijken is geweldig, maar je boet wel wat aan slaap in) arriveer ik op het landgoed Herdade do Sobroso, en dat blijkt een enorme meevaller. Hier kun je niet alleen overnachten en een toffe vakantie beleven (ze organiseren er luchtballonvaarten, je kunt er kajakken in het meer, lekker eten en veel meer) maar ook bijzondere wijnen proeven.
De wijngaarden liggen in de brandende zon te stomen en dat is hier een goede zaak: de druiven hier hebben een dikkere schil en voelen zich prima bij hoge temperaturen. De smaak is navenant: ik proef een witte wijn die ronduit schitterend is. En goed om weten: behalve wijnen kun je ter ook zelfgemaakte producten als jam, olijfolie en honing kopen.
⇒ Monte da Ravaqueira
Een andere aanrader als het over wijn proeven gaat, is het immense en spectaculaire landgoed Monte da Ravaqueira, in Arraoilos. Ik kreeg er een rondleiding door de wijngaarden, een klein stukje weliswaar want het landgoed heeft een oppervlakte te vergelijken met de stad Porto. Per jaar worden hier dan ook 2 miljoen flessen gebotteld, sterk. Leuk om weten: het landgoed herbergt ook een klein koetsenmuseum, een liefhebberij van de eigenaar.
7. Naar Evora
Na heel wat dorpjes en kleine stadjes gepasseerd te zijn, kom ik eindelijk aan in iets wat een écht stad blijkt te zijn: het prachtige Evora. De stijlvolle stad met kronkelige straatjes en pleintjes staat bekend als een gastronomische topper en volgens gids Ruben is het gewoon onmogelijk om er een slecht restaurant te vinden. "Onbestaand", pocht hij. "Mensen komen er van heide en verre om er hun buikje rond te eten, en hoewel de prijzen er iets hoger liggen dan in de rest van Portugal, betaal je nog steeds heel schappelijk voor een uitgebreide maaltijd."
Maar Evora staat ook op de lijst van het UNESCO-werelderfgoed en dat wil zeggen dat er ook heel wat te zien is. Als eerste bezoek ik de Sao Francisco kerk en de lugubere Chapel of Bones, gebouwd in 1816 en volgepropt met 5000 schedels en beenderen van voormalige Monniken. Bij de ingang lees ik Nos ossen que aqui estamos pelos vosso esperamos. "Onze beenderen liggen hier, wachtend op die van jou", vertaalt Ruben. Wat ikzelf vrij interpreteer als: sterven zullen we allemaal, geniet dus nog maar wat van het leven.
Na de beenderenkapel trek ik naar de Romeinse tempel van Diana. Een beetje een misleidende naam want de tempel blijkt niet aan de godin van de jacht maar wel aan keizer Augustus opgedragen.
Naast de tempel ligt ook het paleis en de kerk van de familie Cadaval. Het is de hertogin zelf die mij rondleidt in het paleis; een bijzonder mooie plek, maar het is vooral het kerkje van het paleis dat mij met verstomming doet slaan: alle wanden zijn betegelt met azulejos, het ziet er prachtig uit!
8. Het Stonehenge van Portugal
Op zo'n 15 kilometer van Evora bevindt zich de Cromeleque dos Almendres bij Guadelupe, één van de grootste en oudste steencirkels van Europa. Dit is echt Alentejo off the beaten track, letterlijk want de weg ernaar toe is onverhard en met een gewone wagen is het niet aan te raden om vlugger dan 20 km/u te rijden. Al maakt het feit dat ik door een mooi landschap vol kurkeiken hobbel wel veel goed.
De twee steencirkels zijn 7.000 jaar oud (2.000 jaar ouder dan Stonehenge!) en bestaan uit uit 95 eivormige megalieten. Wellicht hadden ze een ceremoniële functie en werden ze gebruikt om de zonnewende te vieren. Een mystieke plek bovenop een heuvel met een prachtig uitzicht, een leuke plek om even te genieten.
9. Verrassend trendy
Het trage ritme en terug-in-de-tijd-gevoel waar je na een paar dagen in Alentejo zo aan went, staat in leuk contrast met de prachtige logiesadresjes die ik op mijn route vond. Sommige authentiek en charmant, andere heel erg modern en hip, zoals bijvoorbeeld het 4-sterren Ecorkhotel, waarvan het hoofdgebouw volledig bekleed is met kurk. Dit ecohotel beschikt over een ultramoderne Spa&Wellness, slapen doe je in privé bungalows met eigen patio.
Het hotel ligt op 14 minuten rijden van het stadscentrum van Évora en 70 minuten van de luchthaven van Lissabon. Hier sluit ik mijn rondreis door Alentejo af, en een beter einde van de trip had ik mij niet kunnen inbeelden.
Dit weekje rondreizen door Alentejo was er ééntje vol verrassingen en hoogtepunten. De regio is zo groot dat een bezoek aan de kust niet meer mogelijk was: meteen een to do voor onze volgende trip naar deze mooie regio in Portugal!
⇒ Benieuwd naar de bijzondere hotels waar ik tijdens de reis verbleef? Lees de post 7 x bijzonder overnachten in Alentejo.
De belangrijkste stops tijdens onze rondrit (in willekeurige volgorde):
Odivalas, verblijf in hotel O Gato
Alcacovas, bij de bellenmakers
Arraiolos, bij de tapijtenknopers
Amieira Marina, bij het meer van Alqueva
Het prachtige Monsaraz
Naar de sterren kijken
Herdado do Sobroso
Monte da Ravaqueira
Evora
Steencirkels
Ecorkhotel
Horta da Moura
Om Alentejo te bereiken, vlieg je best op Lissabon en neem je van daar de huurauto richting binnenland. Je bent al op een klein anderhalf uur rijden in het hart van Alentejo. De regio leent zich uitstekend voor een rondreis. Ook bieden verschillende touroperators vakanties aan in Alentejo.
Disclaimer: deze reis kwam tot stand in samenwerking met Visit Alentejo. Alle meningen zijn uiteraard de mijne.