Corsica, waar bergen en zee elkaar ontmoeten (8 tips voor een rondreis)
Corsica staat bekend als 'Ile de Beauté', eiland van schoonheid, en met zo'n ronkende titel kun je al vermoeden dat het er verdraaid mooi moet zijn. Wij gingen rondreizen in het departement Haute Corse, het noordelijk gedeelte van Corsica, en proefden er volop van de mediterrane cocktail van zon, zee, strand, ruige bergen en prachtige natuur.
Onze reis start al een dag op voorhand, wanneer we de trein nemen van Brussel naar Marseille. We reizen namelijk naar Corsica met de ferry en dat is een uitstekend idee: geen gedoe op de luchthaven maar comfortabel sporen naar Marseille en daar meteen inschepen aan boord van de Monte D'Oro, de ferry van Corsica Linea. We varen uit bij valavond, een ideaal moment want de zon zakt langzaam in de zee en dat zorgt voor een echte kleurenpracht.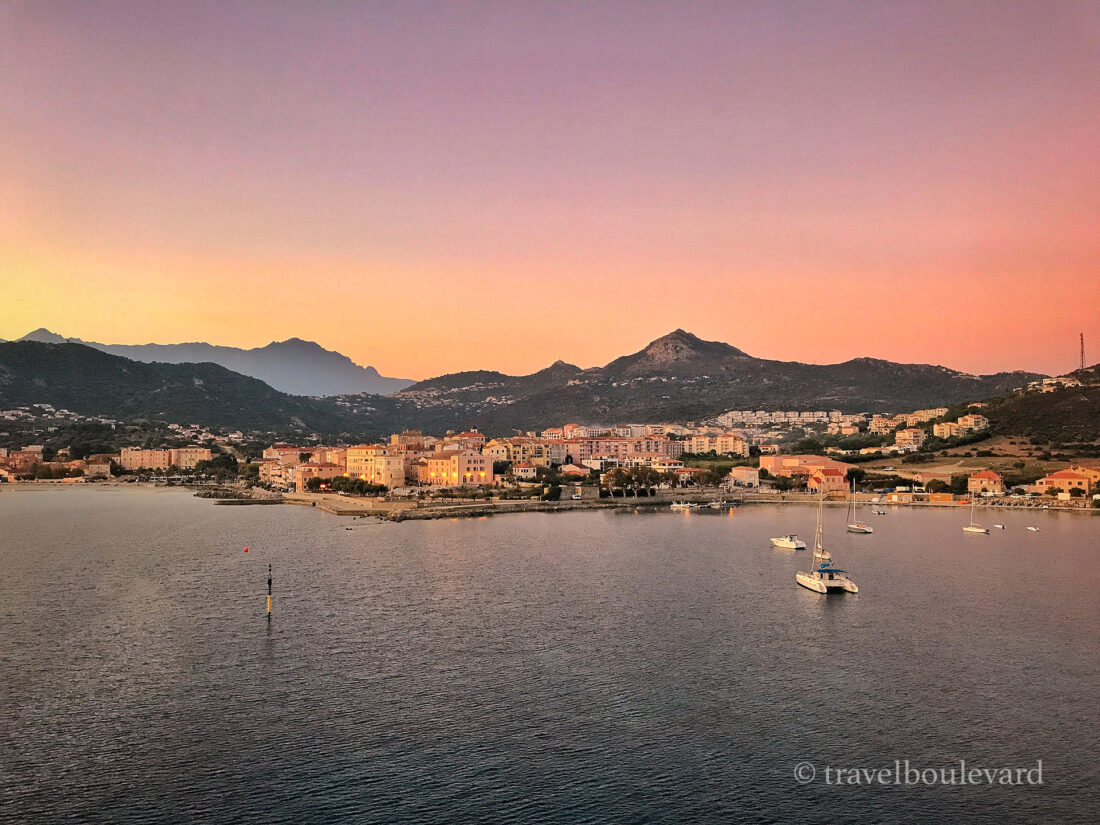 De volgende ochtend zien we bij het wakker worden Ile-Rousse, het stadje waar we onze rondreis door Haute Corsica zullen starten, al liggen. De zon komt op en ik laat het ontbijt voor wat het is om op het dek het zicht te bewonderen: de zonsopgang is prachtig en het eiland baadt in een prachtig roze licht. De eerste kennismaking met Corsica had niet mooier kunnen zijn.
In Ile-Rousse meren we aan maar een uitgebreid bezoek aan het stadje bewaren we voor later; onze wagen staat klaar en we trekken meteen het mooie binnenland in.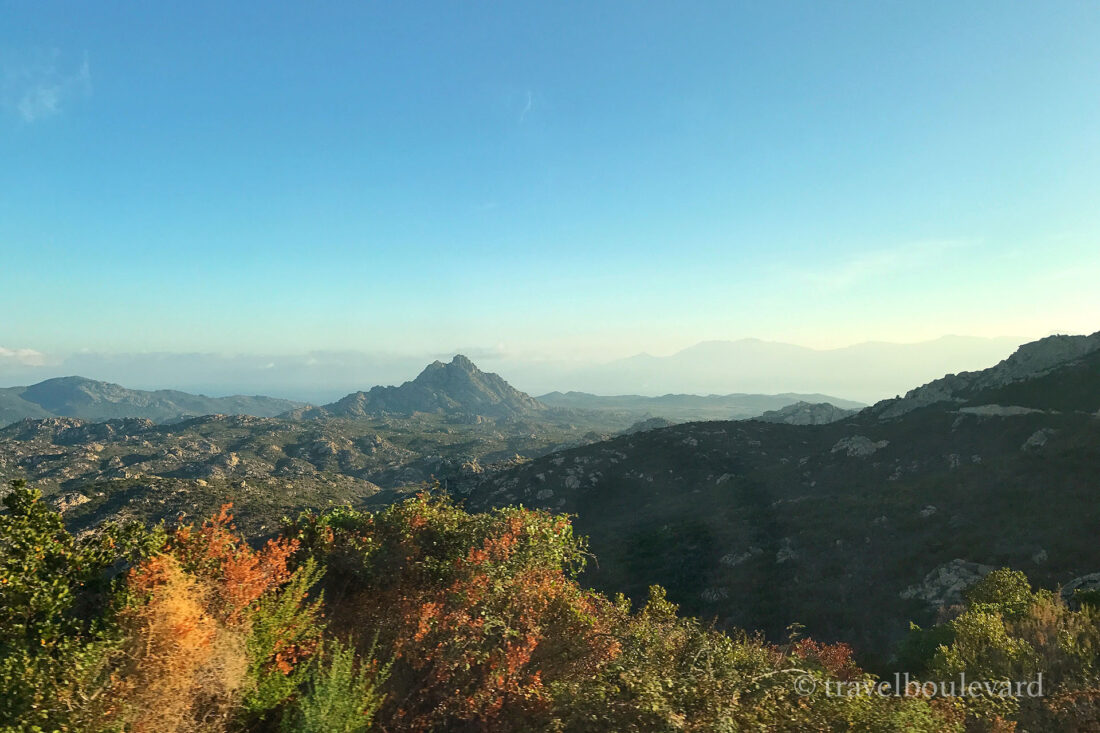 De eerste paar kilometer tijdens we langs de kust, maar al vlug trekken we het grillige binnenland in. Corsica kent bergtoppen die tot 2000 meter hoog reiken en stijl in de zee donderen. Het eiland staat dan ook bekend als 'een berg in de zee', en de combinatie van woeste bergen, mooie zandstranden en een azuurblauwe zee is een lust voor het oog.
1. Saint-Florent, speeltuin van de jetset
Via kronkelige wegen en een tocht dwars door het onherbergzame gebied désert des agriates – de enige 'officiële' woestijn van Europa bestaande uit woeste natuur, maquis en rotsen – bereiken we Saint-Florent, een klein havenstadje met een mooie baai vol plezierbootjes.
Het stadje is niet groot, je wandelt er zo door, maar de omgeving is charmant en de sfeer relaxt. Saint-Florent wordt ook wel eens het Saint-Tropez van Corsica genoemd, omdat het haventje een vaste stopplaats is voor de jetsetters die met hun jacht rond Corsica varen. We kunnen de jetset in geen ongelijk geven om hier aan te meren: het stadje is een plaatje, er zijn tal van leuke stranden in de omgeving en het binnenland is makkelijk toegankelijk.
2. Naar Bastia, de stijlvolle havenstad
Vanuit Saint-Florent rijden we verder naar Bastia, de charmant hoofdstad van Haute-Corse. Bastia is prima te verkennen te voet en beginnen doen we op de Place Saint-Nicolas, het met palmbomen en plantanen omzoomde plein waar je een mooi zicht hebt op de zee. Je kunt er ook het standbeeld bewonderen van Napoleon Bonaparte, de beroemdste inwoner van Corsica. Al moet je wel twee keer kijken om hem te herkennen; hij wordt er namelijk afgebeeld als een Romeinse keizer.
Via het plein wandel je zo naar de oude stad waar gezellige kronkelende straatjes, de schilderachtige oude haven, barokke kerken met prachtige façades en de citadel beslist een fotostop waard zijn.
Vooral de stijlvolle sfeer is er een aanrader: hoewel Bastia de tweede grootste stad van Corsica is, is het tempo hier gezapig maar met een duidelijke Italiaanse flair. Corsica was van de 13de eeuw tot de 18de eeuw bezit van Genua, werd daarna kortstondig een zelfstandige republiek en viel later onder Frans bewind. Die geschiedenis verklaart waarom je hier de zeldzame combinatie van La Douce France en La Bella Italia vindt, en die interessante mix maakt van Corsica een bijzonder buitenbeentje is, en eentje die nooit verveelt.
Tip: in huis Mattei, gelegen aan Place Saint-Nicolas, kun je Cap Corse proeven, als sinds 1872 het elixir van Corsica.
3. Corte, het hart en de ziel van Corsica
Corsica wordt geroemd om haar prachtige kustlijn, maar het ruige en bergachtige binnenland is beslist minstens even indrukwekkend. Dat merken we tijdens onze volgende stop: Corte, het stadje dat gelegen is hoog in de bergen en ook wel eens het hart en de ziel van Corsica genoemd wordt. Dat heeft alles te maken met Pasquale Paoli, de nationale volksheld van Corsica. Je kunt zijn naam maar beter goed onthouden; je zal hem nog geregeld zien opduiken tijdens een rondreis door Corsica en de Corsicanen zijn nog steeds dol op 'hun' Pasquale.
Pasquale Paoli leidde in 1755 het verzet tegen overheerser Genua en zorgde ervoor dat – een groot deel van – het eiland vrij was (tot de Fransen er de macht veroverden en Paoli in ballingschap moest). Paoli maakte van Corte de hoofdstad van Corsica en hij richtte er ook een universiteit op, tot op vandaag nog steeds de enige universiteit op het eiland.
Behalve het historische belang is het Corte ook een geweldige uitvalsbasis voor uitstappen in de regio. Het stadje is gelegen te midden bergen en valleien, aan de voet van de Monte Cinto en Monte Ritondu en is een droom voor wie van outdoor avonturen wil genieten: klimmen, raften, canyoning… you name it.
Zelf hebben we ons beperkt tot een wandeling door de stad, en ook dat is een aanrader. Corte is zo'n plek waar je met plezier in verdwaald, met kronkelende oude straatjes en steegjes, leuke huisjes en gezellige terrasjes. Het lijkt eerder op een dorp dan een stad, maar toch is er heel wat te zien, zoals de oude citadel – gebouwd in 1419 – en enkele kerken en musea. Ideaal om hier even halt te houden, wat rond te wandelen en op één van de vele terrasjes van een pastis te genieten.
Tip: het mooiste zicht op Corte heb je natuurlijk niet vanuit Corte zelf (want dan sta je er met je neus te dicht op) maar vlak voor je Corte binnenrijdt.
4. En dan is er… wijn!
De volgende dag staat Calvi op het programma, maar niet voor we halt houden bij domaine Alzipratu, een wijngaard die we elke wijnliefhebber kunnen aanraden.
Het domein ligt tussen berg en zee, aan de voet van de Monte Grossu en op zo'n 8 kilometer van Calvi. Die ligging – in combinatie met Corsicaanse druifsoorten – zorgt voor de bijzonder aromatische smaak van de druiven. Al sinds 1960 worden hier wijnen geproduceerd en tijdens de rondleiding merken we volop met hoeveel passie ze dat hier doen.
De omgeving is prachtig, de rondleiding interessant en vooral: de wijnen bijzonder lekker. Tijdens een uitgebreide lunch in openlucht – zalig, met zicht op de wijngaarden! – proeven we het ene lekkere hapje na het anderen, mét bijhorende wijnen.
Ben je in de buurt en hou je wel van een wijntje? Spring er zeker even binnen, de moeite waard.
5. Calvi: op zoek naar Columbus
Het pittoreske Calvi is een populaire badplaats maar de plek heeft meer te bieden dan alleen maar zon, zee en strand. Calvi heeft namelijk ook een citadel en die torent hoog boven het stadje uit. Ideaal voor een leuke rondwandeling én je wordt er getrakteerd op een mooi zicht op de binnenstad en de baai.
De Corsicanen geloven ook dat Calvi de geboorteplek van Christopher Columbus is, er is zelfs een huisje (eerder een ruïne) met een plaket waarop te lezen valt dat dit het geboortehuis van de ontdekkingsreiziger was. Voor de opmerkzame lezer die nu opmerkt dat Columbus uit het Italiaanse Genua kwam: van de 13de tot de 18de eeuw maakte Corsica deel uit van het Genua. Bij deze dus: dat de wereldreiziger inderdaad van Calvi was, is goed mogelijk, al blijft het bij speculaties natuurlijk.
Is de citadel een oase van rust, dan blijkt de Quai Landry een levendige boulevard langs de kust, boordevol restaurants en bars die wachten op klanten. Erg toeristisch, maar wij zouden het ons niet beklagen hier een weekje door te brengen, de charme spat ervan af.
6. Spookdorp bij zonsondergang
In de buurt van Calvi kun je het middeleeuwse spookdorp Occi bezoeken. Vanuit het dorpje Lumi loopt een wandelpad die je op ongeveer een uur naar het hoog gelegen dorpje brengt. Occi werd officieel verlaten in 1852 omdat het moeilijk toegankelijk was. Leuk om te bezoeken, al heb je wel stevige wandelschoenen nodig en is het pad soms steil. Ideaal ook om deze wandeling in de late namiddag te doen en in Occi hoog en droog van een mooie zonsondergang te genieten.
7. Met het boemeltreintje naar Ile-Rousse
In Calvi laten we de auto staan en reizen we met de trein naar onze laatste stop: Ile-Rousse, dezelfde plek waar we deze rondreis begonnen.
De trein blijkt een treintje , ééntje dat door de Corsicanen liefdevol Trinighellu (rammelbak) of TGV (train à grand vibration) genoemd wordt; het is in feite een stokoud boemeltje, gebouwd in de jaren '40 dat op een smalspoor rijdt. Langs de noordkust fungeert het treintje als een soort tram met veelvuldige stops langs de verschillende stranden. De passagiers vormen ook een bonte mix van oude vrouwtjes die de trein nemen om naar de markt te gaan en toeristen in vakantiemodus. Veel luxe hoef je verwachten: de Trinighelluet maakt verschrikkelijk kabaal, schudt en rammelt, er is geen airco en de inrichting is simpel, zonder comfort. En toch is het pure fun om dit treintje te nemen: lekker met de ramen open langs de prachtige kust sporen en mooie panorama's bewonderen, de rit van 45 minuten was zo voorbij!
8. De rode rotsen van Ile-Rousse
En dan zijn we terug bij onze beginpunt: het populaire Ile-Rousse, genoemd naar de rode rotsen waarop dit badplaatsje gebouwd is.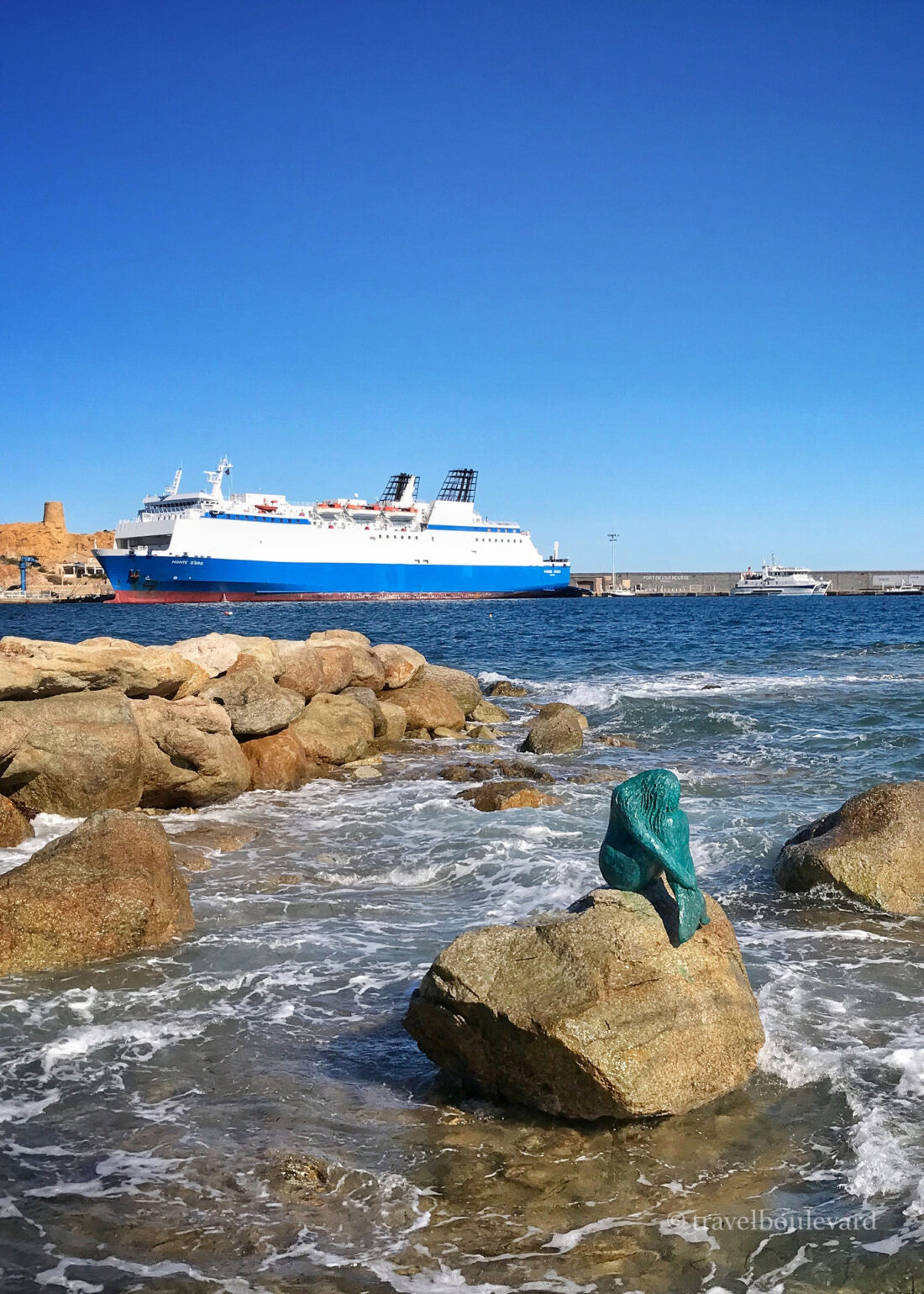 Ile-Rousse beschikt over prettige zandstranden en een gemoedelijk klein centrum met – uiteraard – een Pasquale Paoli-pleintje. Veel geschiedenis valt hier niet te rapen: Paoli stichtte het havenstadje in 1758 – hij wou een haven die niet in handen van Genua was – en Ile-Rousse is naar Corsicaanse maatstaven dan ook vrij jong. Veel is er niet te zien, maar het is er des te gezelliger: pleintjes met platanen waar oudjes petanque spelen, schaduwrijke terrasjes, een kleine markthal waar groenten, fruit, worstjes en stinkende kaasjes aan de man gebracht… Het geheel is één en al mediterrane gezelligheid.
Tip: in de buurt van Ile-Rousse kun je het mooie Park de Saleccia bezoeken, goed om urenlang rond te dwalen door prachtig aangelegde botanische tuinen.
Onze rondreis door het noorden van Corsica sluiten we af in stijl: met een etentje op het strand van restaurant La Siesta. Nog een laatste keer genieten van de Corsicaanse keuken, en dan terug de boot op, richting Marseille. Tijdens de afvaart worden we – hoe kan het ook anders – nog eens getrakteerd op een mooie zonsondergang, picture perfect, net zoals Corsica zelf.
De rondreis – praktisch
Ile Rousse
Saint-Florent
Bastia
Corte
Domaine d'Alzipratu
Calvi
Occi
Parc de Saleccia
Slapen & eten:
Hotel Dominique Colonna in Corte: een prachtig viersterrenhotel met een buitenzwembad en aangename buitenlounge. Te midden de bergen, zalig om hier tot rust te komen.
Hotel Revellata in Calvi, een driesterrenhotel met zowel een buiten- en binnenzwembad. Comfortabele en ruime kamers, het hotel ligt op wandelafstand van het strand.
Interhome biedt tal van prachtige vakantiehuizen, appartementen en villa's aan op het eiland, voor elk budget.
Bastia: Le Café Casale, gelegen in de oude stad. Een gezellige bistro met een leuk terras en een vlotte en sympathieke bediening. Zo gezellig dat je er uren wil blijven zitten.
Corte: restaurant l'Annexe. Lekker buiten tafelen bij de fontein, heerlijke Corsicaanse specialiteiten. Heel erg geschikt voor romantisch dineren bij kaarslicht.
Calvi: A Piazzetta, bedrijvig restaurant waar ook veel locals komen.
Ille-Rouse: a Siestaa Beach , zalig lunchen met zicht op zee, heerlijke zeevruchtenschotels.
Heen en terug:
Wij namen de trein vanuit Brussel naar Marseille. TGV Brussel-Frankrijk rijdt 3 keer per dag rechtstreeks naar Marseille. De snelste reistijd bedraagt 5h10. Tickets kun je kopen op www.b-europe.com/TGV. Je kan deze thuis printen of uploaden via de mobile app van b-europe.
Vanuit Marseille bracht Corsica Linea ons naar Ille Rousse (de maatschappij vaart vanuit Marseille ook nog naar Bastia, Porto Vechhio en Ajaccio). Alle info: www.corsicalinea.be.
Om Corsica ten volle te beleven, reis je er best rond met de huurwagen.
There are no posts to show right now.