Een beetje strandliefhebber voelt zich op Curaçao beslist dolgelukkig: het eiland telt bijna 40 stranden, waarvan er een aantal tot de mooiste ter wereld gerekend worden. Sommige stranden zijn groot en levendig, met een waaier aan beachbars en strandanimatie. Andere liggen verscholen in kleine baaitjes, helemaal op maat van de paradijszoekers op zoek naar rust en natuurschoon. Hoe dan ook zijn alle stranden op Curaçao postcard perfect, en wij brengen de mooiste even in kaart.
Met een lengte van amper 61 kilometer en een breed die varieert tussen de 5 en 14 kilometer, is Curaçao een droom voor beach lovers: de kust is immers nooit ver weg op zo'n eiland. Op sommige plaatsen zie je zelfs links én rechts een strookje kust. Maar hoe klein Curaçao ook mag zijn, toch is het aanbod paradijselijke stranden heel erg verscheiden. Altijd handig om te weten aan welke kant van het eiland je precies moet zijn om het strand van je dromen te vinden.
Aan de zuidkust bevinden de stranden zich in idyllische baaien en inhammen. Hier hebben ook de meeste resorts zich neergepoot. Omdat de stranden van de zuidkust beschermd liggen tegen de noord-oosten wind, is de zee hier erg rustig waardoor het er aangenaam en veilig toeven is.
De westkust van Curaçao kan uitpakken met langgerekte witte zandstranden en kristalhelder blauw water. Hier bevinden zich enkele van de meest beroemde stranden van Curaçao.
De ruige en rotsachtige noordkust is prachtig om te zien maar de woeste golven, harde wind en kalkstenen rotsformaties nodigen niet meteen uit tot een dagje luieren aan zee. Een bezoek aan de noordkust kunnen we anderzijds wel aanrader: het is er dramatisch mooi en de ruwheid steekt mooi af tegen de rest van het eiland.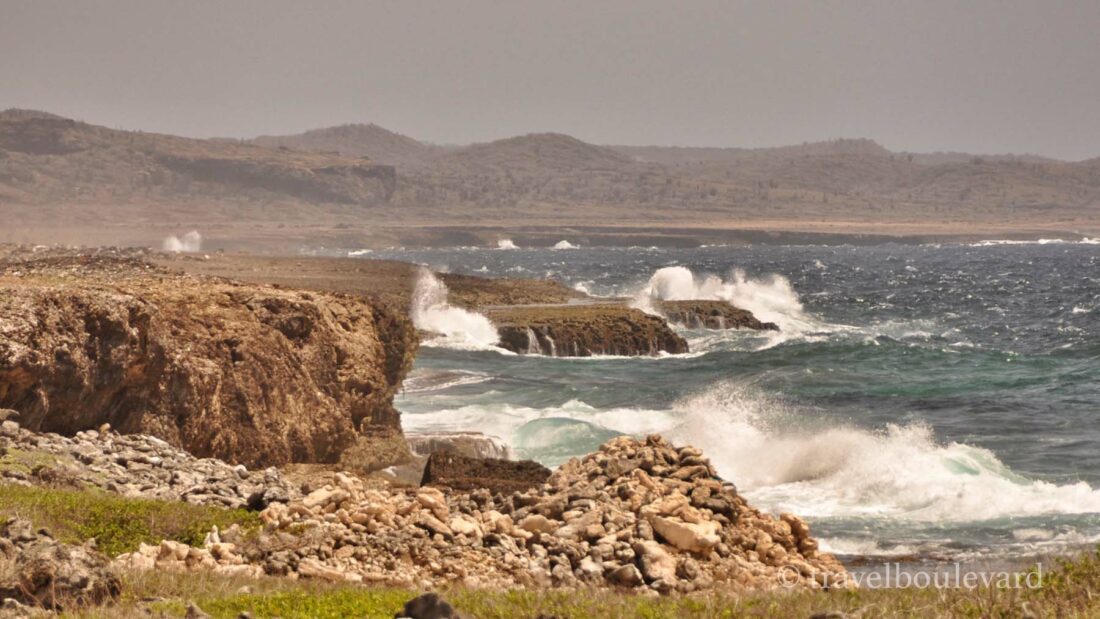 De oostkust tenslotte bestaat uit kleine inhammen met enkele resorts. Het grootste gedeelte is privé-eigendom.
Goed om weten: op flink wat stranden dien je een kleine entree te betalen. Veel stranden worden immers uitgebaat door beachclubs en resorts en zijn voorzien van tal van extra's, zoals ligbedjes, parasols, eten en drinken, toilet, douches. Vaak worden er op die stranden tijdens het weekend ook live optredens verzorgd. Ook de parking kan al eens betalend zijn. Anderzijds zijn er ook nog veel stranden die vrij toegankelijk zijn, hier zal je dan ook geen extra voorzieningen vinden. Het is maar wat je zelf verkiest.
1. Playa Kalki
Playa Kalki is een prachtig zandstrand omringd door kalkstenen klippen (vandaar de naam), met het blauwste water dat je ooit gezien hebt. Het rif bij Playa Kalki wordt ook wel eens Alice in Wonderland genoemd; het koraal groeit er op zo'n manier dat er een onderwater doolhof ontstaan is. Wij vonden dit beslist één van de meest wonderbaarlijke plekjes op Curaçao, heel erg idyllisch.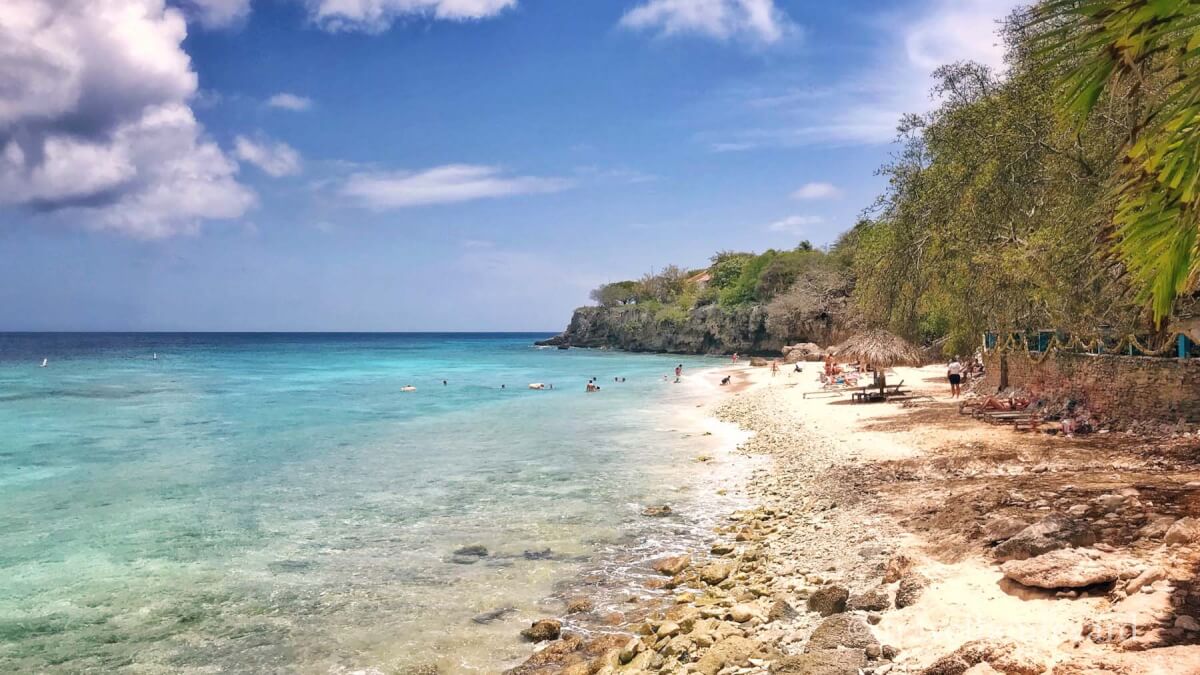 Vanwege de verscheiden onderwaterwereld, is Playa Kalki een uitstekende plek om te snorkelen en te duiken. Op het strand is ook een professioneel duikcentrum aanwezig. Playa Kalki is gratis te bezoeken, er zijn een aantal (betalende) ligbedjes aanwezig, een snackbar en een kleine, gratis parkeerplaats.
Op het strand leidt een trap naar boven; volg je die, dan kom je uit in het hotel Kura Hulanda Lodge, ideaal om hier te lunchen tijdens je dagje strand. Je hebt er ook een heel mooi panoramisch zicht op het strand.
Tip: wandel even door de tuin van de Kura Hulanda Lodge (je komt er vanzelf als je het paadje naar boven volgt) en neem een kijkje in de grot; het zonlicht schijnt er mooi naar binnen, leuk voor een fotostop.
2. Playa Grandi/Piskado
Ooit was dit een eenvoudig vissersstrandje en een geliefde 'geheime' plek onder locals. Sinds het strand op de radar van de social media kwam, is het er een stuk drukker geworden. Hier kun je namelijk zomaar tussen de zeeschildpadden zwemmen, en dat is altijd leuk meegenomen natuurlijk.
Waarom Playa Grandi een hotspot voor zeeschildpadden is? Vanwege de vissers! Playa Grandi is een echt vissersstrand; de vissers maken er hun gevangen vis ter plekke schoon, gooien het afval terug in de zee en dat is een echt feestmaal voor de schildpadden die er in grote getale op afkomen.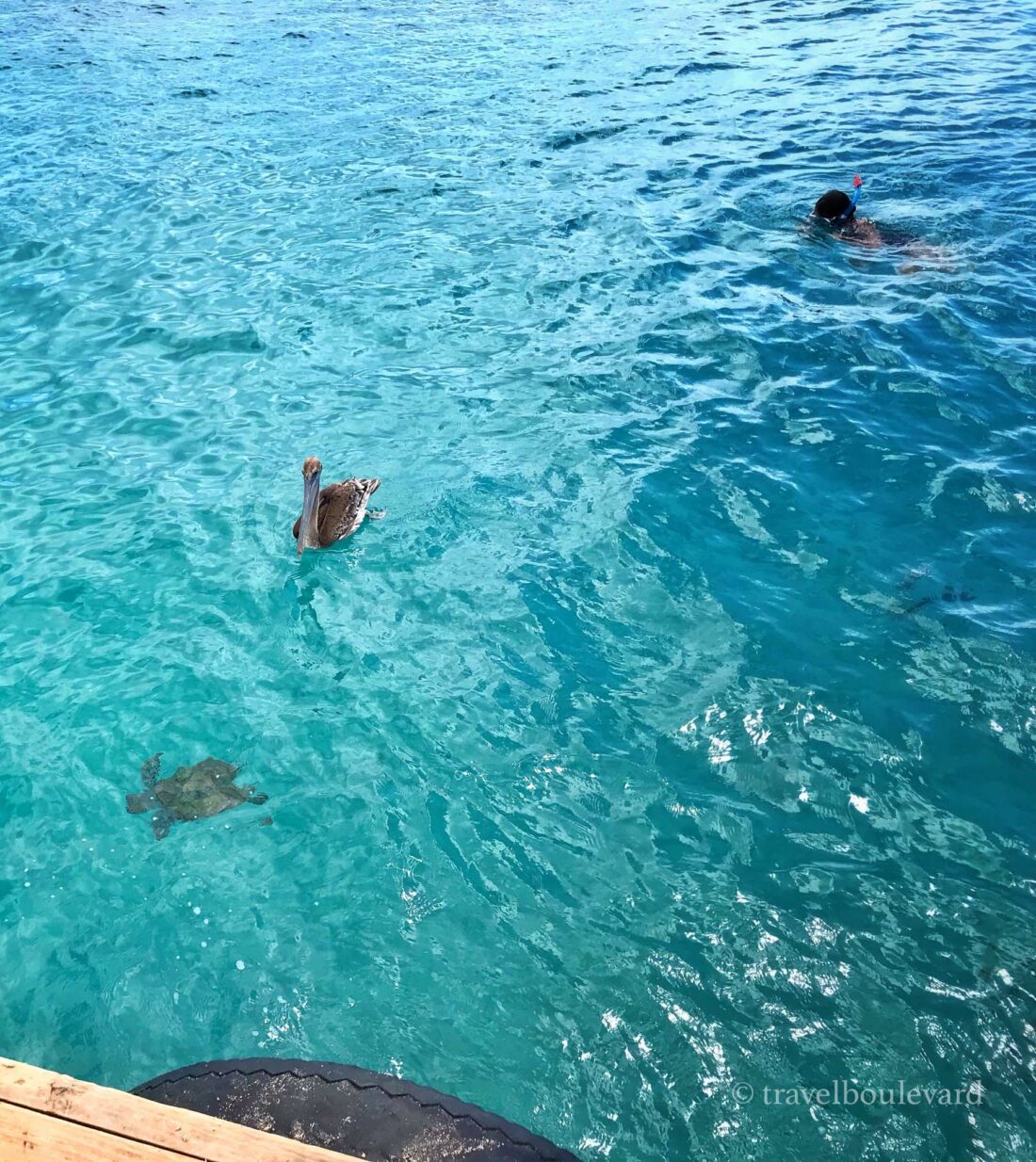 Wij zijn een beetje per toeval op dit strand beland en ik had helaas mijn onderwatercamera niet bij, maar geloof ons: de zeeschildpadden zijn groot én nieuwsgierig, ze zwemmen als het ware spontaan naar je toe. Je hoeft ook nauwelijks moeite te doen om ze te zien; gewoon het water in en hopen op een ontmoeting, wat meestal wel het geval is. De diertjes aanraken, is wel niet aan te raden. Bedoeling is dat ze rustig voor het strand kunnen blijven zwemmen, zonder dat wij ze storen. Handig is wel om strandschoenen mee te nemen, er liggen nogal wat keien.
Playa Grandi is een leuk strand om de lokale vissers aan het werk te zien (en zelf een stukje vis te kopen) en kennis te maken met de zeeschildpadden. Het strand is gratis.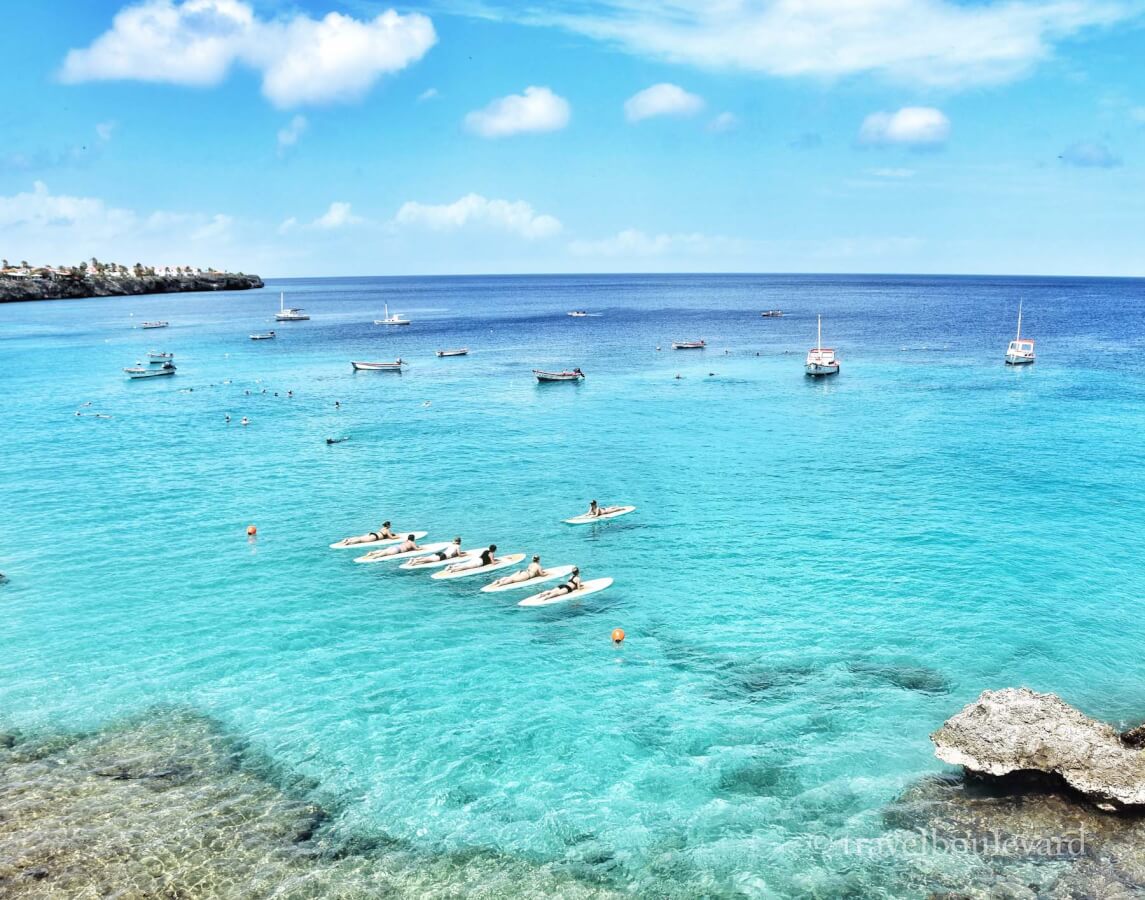 Tip: op dit strand hebben we ons aan sup yoga gewaagd; yoga op een supplank dus. Ik bracht er eerlijk gezegd niet veel van terecht (het was al een prestatie om te blijven liggen op de dobberende sup) maar vond het wel zalig om doen. Wie het ook eens wil proberen: inschrijven kan bij Dushi SUP. Aanrader!
3. Playa Forti
Playa Forti is zo'n strand waarbij je twee keer met de ogen moet knipperen om te zien of het wel echt is. Het strand ligt op het westelijk puntje van het eiland en is een plaatje om te zien. Er zijn een paar snackbars en een restaurant, maar voor de rest is het er vrij sober. Playa Forti is vooral gekend omdat je hier van een 10 meter hoge rots in zee kunt springen, een spektakel om te zien. Het water is er kalm en warm, ideaal dus om te snorkelen.
Vanuit het restaurant op de klif, Boka Largo Café, heb je een prachtig zicht over de Caribische zee. Ik heb er zelf niet gegeten maar heb me wel laten wijsmaken dat het er verrassend lekker is.
Opvallend: het is één van de weinige stranden met grof bruin zand. Ook hier is het aan te raden strandslippers te dragen, er liggen vrij veel kiezels.
4. Playa Kenepa Grandi (Grote Knip)
Het beroemde strand Grote Knip, gelegen bij Westpunt, ligt ingekapseld tussen rotsen en is een streling voor het oog. Het strand werd door Unesco uitgeroepen tot het mooiste strand van de Caribbean, en dat wil al wat zeggen. Grote Knip is dan ook een droom van een strand, met een parelwit zand en azuurblauw water, precies zoals het hoort. Geen wonder dat dit het meest gefotografeerde strand van Curacao is.
Grote Knip is bijzonder populair bij locals, als toerist moet je er je dagje strand delen met Curaçaose families, wat voor extra sfeer zorgt. Heel vaak halen ze tegen het einde van de middag de barbecue boven, om de dag af te sluiten met een gezellig etentje op het strand.
Op het strand zijn er niet heel veel faciliteiten, maar je kunt er wel iets eten en er is een toilet. Tijdens de weekends is het er vaak heel druk, op weekdagen kun je het strand bijna voor jezelf hebben. Het strand is ook gekend omdat je er van de rotsen in het water kunt springen. Alleen voor wie durft.
5. Playa Kenapa
Playa Kenepa Chiki (of Kleine Knip) is het kleine zusje van Grote Knip. Het is een klein strand gelegen tussen rotsen en net als Grote Knip erg geliefd bij locals. Het water is warm, helder en kalm, heel erg aangenaam om te zwemmen. Er zijn niet veel faciliteiten, dus breng zelf je eten en drinken mee. De sfeer is er heel gemoedelijk en lokaal, leuk om eens weg te zijn van de drukke toeristische stranden en je onder de locale bevolking te mengen.
6. Cas Abao Beach
Een heel populair strand met tal van voorzieningen, en dus niet gratis. Het strand werd genoemd naar het landhuis Cas Aboa, dat ooit deel uitmaakte van een grote plantage. Als je het bord richting strand hebt ingeslagen, is het nog een paar kilometer langs een kleine weg vooraleer je het strand bereikt. Er is een ruime parking voorzien. Er zijn strandbedjes en parasols, toiletten, douches, een massagesalon en een bar/restaurant voor de kleine en grote honger en dorst.
Het strand zelf is vrij uitgestrekt en ook hier kan het tijdens de weekends vrij druk zijn, al zal je altijd wel een plekje vinden om er zelf ook lekker te chillen.
Voor de liefhebbers: er is een duikwinkel op het strand aanwezig en je kunt er kajakken of andere watersporten beoefenen. Het strand heeft een heel goede reputatie, en is ook erg populair bij zowel locals als toeristen. Tijdens het weekend wordt er vaak live muziek gespeeld.
7. Porto Mari
Een heel mooi wit zandstrand aan de westkust, met water zo helder dat je de vissen zo ziet zwemmen. Het strand bevindt zich op de privé gronden van de Plantages PortMari en is betalend. Uiteraard zijn ook hier alle mogelijke faciliteiten (ligbedden, kleedkamers, douches, toiletten…) aanwezig. Er is een gezellige beachbar/restaurant en je kunt er een massage boeken. Een leuke plek voor een namiddag aan het strand. Op zondagnamiddagen wordt er live muziek gespeeld.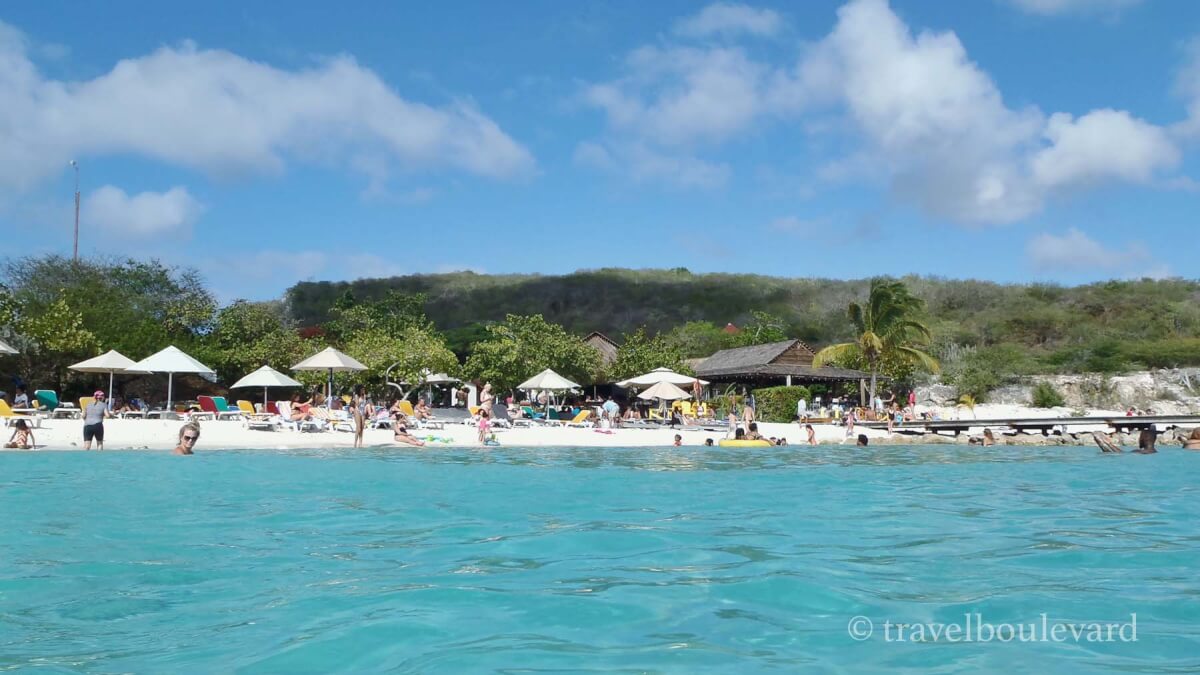 Het strand is goed gekend bij duikers en snorkelaars omwille van het unieke 'dubbel rif'. Er werden twee snorkelroutes aangelegd om zowel het rif te beschermen, als om de snorkelaars de kans te geven de onderwaterwereld te ontdekken op een veilige manier. Naast het restaurant vind je een map van deze snorkelroutes.
Leuk: het strand krijgt regelmatig bezoek van twee varkentjes (Willy & Wood) die net als de locals en toeristen hier graag komen chillen én zwemmen.
8. Beachclub Karakter
Toegegeven, strikt genomen is Karakter een beachbar/restaurant maar wel een geweldig mooie en gelegen op een al even geweldig mooie plek. De toegang en de strandbedjes zijn gratis, maar het is wel de bedoeling dat je dan ook iets drinkt of eet (eigen eten of drank meebrengen is uiteraard ook niet toegestaan). Karakter maakt deel uit van het Oasis Parcs Coral Estate, zo'n 350 hectares groot en gelegen aan één van de mooiste duik- en snorkelriffen van Curacao. Verblijven kan in één van de prachtige, luxueuze villa's met zwembad, gelegen in de heuvels (heel erg Hollywood) of appartementen vlak aan zee.
Karakter is een zalige plek voor een dagje aan zee. Het zicht is fenomenaal, er zijn voldoende strandbedjes en krijg je het te warm dan kun je wat afkoelen in de schaduw van de palmbomen. De service op het strand is ook prima: geen cocktail uit een plastic bekertje, maar in een mooi glas, smaakt altijd beter. Er is ook een mooi zwembad aanwezig.
Tip: blijf er vooral rond zonsondergang even hangen. Terwijl je er aan het dineren bent (in het rooftop restaurant) krijg je er één van de mooiste sunsets van het eiland gratis bij.
9. Het strand van het Renaissance
Resort
Met zoveel paradijselijke stranden om mee uit te pakken, zou je denken dat Curaçao wel voldaan is wat zon, zee en strand betreft. Niet dus. In hoofdstad Willemstad heeft het viersterrenhotel Renaissance Resort Curacao zelf een privéstrand aangelegd, geheel kunstmatig dus.
Toen ik de eerste keer op Curacao was, had ik dit strand al eens gezien toen ik er tijdens een wandeling als bij toeval op belandde. Het was toen nog maar pas aangelegd en ik vond het het meest bizarre strand ooit.
Tijdens mijn vorige reis naar Curaçao verbleef ik zelf in het Renaissance Resort en kon ik het strand dus quasi elke dag uittesten, en ik moet toegeven dat ik toch fan ben van dit stukje 'nep strand'. Het strand is nauwelijks van een echt te onderscheiden, behalve dat 'de zee' waarin je zwemt in realiteit een infinity pool is met zicht over de échte zee. Je kunt er dus rustig over een muurtje van het zwembad hangen en over de echte zee uitkijken. De nepzee is gevuld met zeewater, er is ook nog een zwembad aanwezig met zoet water. Bijzonder is ook vanuit je strandbedje allerlei cruise- en andere schepen ziet passeren.
De toegang tot het strand is gratis, voor de ligbedjes moet je betalen.
Uiteraard is er ook een beachbar en ook die moest ik grondig inspecteren; elke dag ging ik hier 's avonds nog even een tropische cocktail proeven alvorens ik naar mijn kamer ging, en ze smaken alle geweldig.
Het idee van een kunstmatig strand vond ik eerst een beetje vreemd, maar nu ik het strand zelf heb mogen ervaren, vind ik het gewoon een topidee. En het centrum van Willemstad is vlakbij, makkelijker kan bijna niet.
10. City Beach 88
City Beach 88 is het stadsstrand van Willemstad, gelegen in de hippe Pietermaai wijk. Het strand zelf is piepklein en er zijn niet zoveel strandbedjes aanwezig (want echt heel klein dus) maar het is wel de ideale plek om met een tropische cocktail in de hand even te ontspannen en uit te kijken over de zee. De toegang is gratis. City Beach 88 is een heel sympathieke plek en uniek in de stad.
Bij het strand hoort een beachrestaurant waar je lekkere snacks, salades en pizza's kunt bestellen. Hou ook de happy hours in het oog: dagelijks van 17 tot 18 uur (op donderdag van 17u tot 19u).
11. Mambo Beach/Seaquarium
Officieel heet dit strand Seaquarium Beach maar dankzij de populaire beachbar Mambo begon iedereen het strand Mambo Beach te noemen.
Die strandtent is er nog steeds maar werd in 2012 omgebouwd tot de hippe en loungy Madero Ocean Club. Toen is er ook een zwembad (jawel, op het strand) bij gebouwd. Leuk voor wie eens als een filmster op het strand wil hangen.
Mambo Beach zelf strekt zich behoorlijk ver uit; links en rechts gaan het strand over in onder andere Cabana/Kontiki Beach, Wet&Wild en Lions Dive. Eigenlijk is het één langgerekte strook met beachbars en restaurants, hangmatten, ligbedden, parasols, wc's en douches. De toegang is niet gratis (maar overal hetzelfde), de prijs van de ligbedden varieert. Hier en daar is de wifi gratis.
Mambo Beach is het epicentrum van het toerisme op Curaçao, maar dat betekent niet dat het er niet langer aangenaam of te druk is. De sfeer is gezellig en levendig, goed om een dagje te chillen met vrienden of familie.
Mambo beach heeft overigens ook een eigen boulevard: Mambo Beach Boulevard, met winkeltjes, eethuisjes, bars en speeltuinen voor de kinderen.
Als de zon ondergaat, is de pret bij Mambo Beach nog niet voorbij. De bars zetten de avond in met hun happy hour en DJ's proberen de strandgasten aan het dansen krijgen. Mambo Beach is dan ook erg populair bij jongeren die hier komen om te zonnen (overdag) en de feesten ('s avonds).
Verder is Mambo Beach is ook geliefd bij families met kinderen, omdat de zee er rustig is en het strand langzaam afloopt in de zee.
Tijdens het weekend en de vakanties kan het hier behoorlijk druk worden.
12. Jan Thiel Beach
Jan Thiel Beach werd voor een groot deel aangelegd om de nabij gelegen resorts en appartementen te bedienen. Gratis toegankelijk voor wie in de resorts verblijft, andere bezoekers moeten entree betalen. Ook voor de strandstoelen dient er betaald te worden.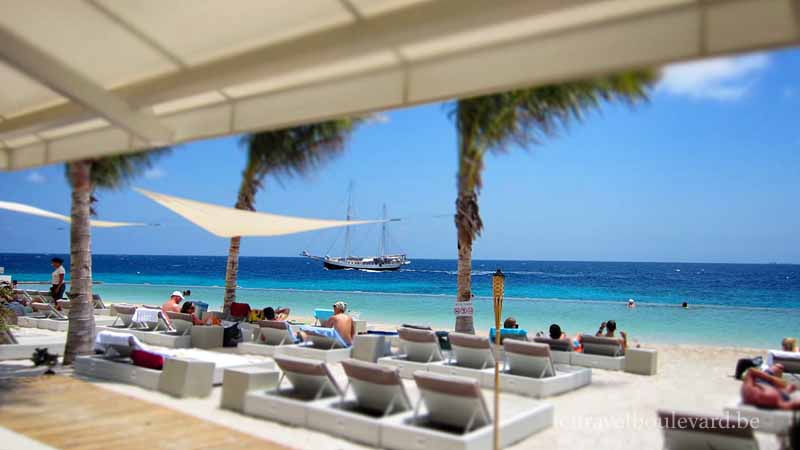 Jan Thiel heeft alle mogelijke strandfaciliteiten die je maar kunt bedenken, met verschillende trendy beach clubs en restaurants, en het is allemaal nogal vrij luxueus ingericht. Strandsporten en watersporten behoren tot de mogelijkheden, en er werd ook een zwembad met infinty pool aangelegd. Het strand is vooral populair bij Nederlanders. Aangenaam om te loungen in stijl, al kan het er wel heel druk zijn, vooral tijdens de vakanties.
En vraag jij je af wie Jan Thiel wel geweest mag zijn? Jan Thielen was de eerste bekende eigenaar van één van Curaçao's belangrijkste zoutplantages. Tot 1735 was de plantage eigendom van de familie Thielen. Bij deze dus.
13. Barbara Beach
Barbara Beach is onderdeel van een fancy resort met een golfbaan en een jachthaven. Dat hotel, het Santa Barbara Beach & Golf Resort, kende ik al van mijn eerste passage op Curaçao, en het is nog steeds één van de meest luxueuze hotels van het eiland. Liefhebbers van golf krijg je hier niet meer weg (het golfterrein is fenomenaal!), het hotel zelf is tot in de puntjes verzorgd en het eten is er bijzonder lekker.
Verblijf je in het hotel, dan is de toegang tot het strand uiteraard gratis. Ben je een bezoeker, dan dien je entree te betalen. Het strand is vrij klein maar erg aangenaam. Nu en dan passeren er kleine bootjes, sommige leggen er aan de pier aan en houden een korte stop. Al bij al is Barbara Beach een rustig strand waar je urenlang kunt luieren.
www.santabarbararesoirtcuracao.com
14. Klein Curaçao
Ongeveer 10 kilometer ten zuiden van Curaçao bevindt zich Klein Curaçao, een onbewoond eiland en een echt paradijsje. Klein Curaçao is amper 2 km2 groot. Het is een verlaten eiland met een vervallen vuurtoren, een scheepswrak en een paar strandhutjes, meer is het niet, een echt bounty eiland dus. Ook hier is de kans groot dat je er zeeschildpadden ontmoet tijdens je rondje snorkelen.
Een dagtocht naar Klein Curaçao is een populaire excursie bij toeristen en kan in elk lokaal reisbureautje geboekt worden (of via je eigen hotel of touroperator). Meestal vertrek je 's morgens vroeg om 's avonds tegen 18u terug te keren, maaltijden (BBQ) zijn inbegrepen.
1. Playa Kalki – 2. Playa Grandi/Piskado – 3. Playa Forti – 4. Playa Kenepa Grandi (Grote Knip) – 5. Playa Kenepa Chiki (Kleine knip) – 6. Cas Abao Beach – 7. Porto Mari – 8. Beachclub karakter/coral estate – 9. renaissance – 10. Citybeach 88 – 11. Mambo Beach/Seaquarium – 12. Jan Thiel beach – 13. Barbara beach – 14. Klein Curaçao
Met het vliegtuig reis je op 9 à 10 uur naar Curaçao. De terugreis duurt gemiddeld een uurtje korter (vanwege de gunstige wind). Meer info over Curaçao? Surf naar
www.curacao.com
.