Zeg ons Curaçao en wij denken spontaan aan witte zandstranden, kristalhelder blauw water, prachtig weer en een relaxte ambiance. De locals stappen er heupwiegend en goed gezind door het leven (want Caribische vibes) en spreken een aardig woordje Nederlands. Voeg er nog tropische temperaturen all year round aan toe en je snapt beslist waarom dit kleine eilandje in de tropen niet alleen bij Nederlanders populair is maar ook door Belgen goed gesmaakt wordt. Trek je zelf voor het eerst naar Curaçao? Dan zijn onderstaande tips beslist handig om weten.
1. Curaçao is een stukje Nederland in de tropen
Op Curaçao zal je vooral twee talen horen: Papiamento en Nederlands, de officiële talen van Curacao. Curacao was immers lange tijd een kolonie van Nederland, en mag zich vandaag een soevereine staat binnen het Koninkrijk der Nederlanden noemen. Nederlandse invloeden vind je overal en er zijn ook heel wat Nederlanders (voor een aantal jaar of voor langere tijd) werkzaam op het eiland. En toeval wil trouwens dat tijdens ons verblijf op Curacao de Nederlandse koning Willem-Alexander en zijn Maxima er ook even op bezoek waren. Zo kom je nog eens iemand tegen!
Ondanks het feit dat je er gewoon Nederlands kunt praten (ook al ben je zo'n 9.000 kilometer ver van huis) vinden de locals het wel leuk als je een aantal woordjes Papiamentu begrijpt. Zo zal je vaak Bon Bini horen, wat Welkom betekent, of Dushi, een woord met veel betekenissen; goed, lief, zoet, schatje, mooi… Alles wat leuk is dus.
2. Levendig Willemstad is wellicht de meest kleurrijke hoofdstad ter wereld
Hoofdstad Willemstad is een bruisende en levendige plek waarvan vooral de kleurrijke huizen opvallen. De stad is behoorlijk klein, met een pittoresk centrum dat mee opgenomen werd op de UNESCO Werelderfgoedlijst. Hoewel Willemstad aardig wat bezienswaardigheden kent, kom je vooral naar hier om te shoppen, te genieten in één van de vele leuke restaurantjes en om je in het nachtleven te storten.
De stad zelf is opgesplitst in twee delen: Punda (het oude centrum) en Otrobanda (de volkse wijk), van elkaar gescheiden door de Sint-Annabaai. Als voetganger kun je makkelijk van de ene kant naar de andere kant via de Koningin Emmabrug, beter bekend als de Swinging Lady; deze drijvende brug 'zwaait' heen en weer om te openen en te sluiten. Neemt de brugwachter een pauze? Dan is er een ferry om je van de ene naar de andere kant te brengen.
Tip: wil je meer weten over de periode van de West Indische Compagnie en de vreselijke slavenhandel uit vroegere tijden, breng dan een bezoekje aan het Kura Hulanda Museum. Een klein maar informatief – en soms ook gruwelijk – museum.
Tip: liefhebber van street art? Maak dan zeker eens een wandeling door Otrobanda; je botst er op een waaier aan kleurrijke muurschilderingen.
Tip: vroeger was het op donderdagavond eerder stilletjes in de wijk Punda maar dankzij een aantal inventieve locals wordt er elke donderdagavond een levendig feestje gehouden in de wijk. Tijdens de Punda Thursday Vibes geniet je van muziek, dansvoorstellingen, vuurwerk, leuke activiteiten, kraampjes met eten en cocktails… Noem maar op. Wat ons betreft beleef je in Punda de leukste donderdagavonden ter wereld.
3. De mooiste stranden van Curaçao
Curaçao telt ongeveer 38 stranden, waarvan de meeste zich in het zuidwesten van het eiland bevinden. Sommige stranden zijn levendig en goed voorzien van trendy beachbars, muziek en ligzetels (tegen een vergoeding, ook om te parkeren dient vaak een klein bedrag betaald te worden), andere liggen dan weer rustig verscholen in kleine baaitjes. Maar hoe dan ook hebben ze alle kristalhelder water en zacht, wit zand.
Playa Kenepa (Knip Beach)
Zeer populair zowel bij de locals als toeristen. Een leuke plek om in de zon te bakken, te snorkelen (direct aan het strand) of van de kliffen in het water te duiken (wel voorzichtig zijn, er zijn geen redders aanwezig). Er zijn strandstoelen aanwezig en je kunt er iets eten.
Playa Forti
Playa Forti – ook bekend als West Point – is beroemd om zijn prachtige uitzichten en is een populaire plek om – alweer – van een klif het water in te springen. Er is een snackbar en een restaurant aanwezig.
Jan Thiel Beach
Waarschijnlijk het beroemdste strand van Curaçao. Het strand is hier eerder beperkt – nogal smal – maar hier kom je om te genieten van de beachbars, restaurants en luxe. Tijdens de weekends kan het hier behoorlijk druk zijn. Er zijn heel wat ligbedjes aanwezig, en daar betaal je uiteraard voor.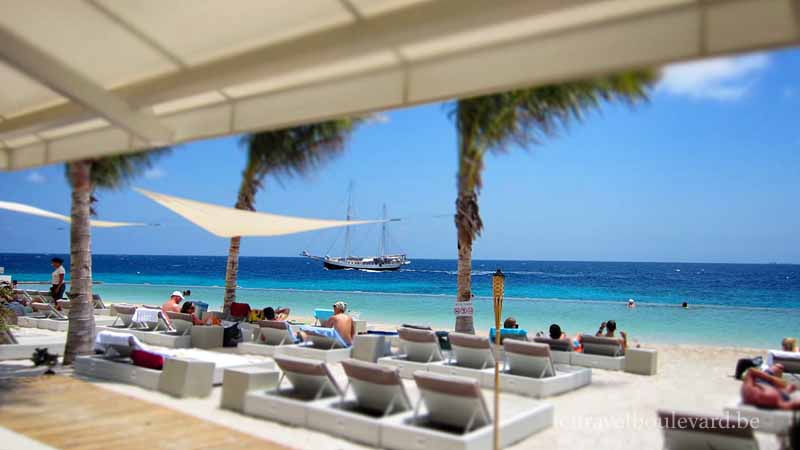 4. Lekker eten op Curaçao
Lekker eten op Curaçao is geen probleem, wel integendeel. Culinair Curaçao is een smeltkroes van verschillende culturen en dat smaakt fantastisch. Denk: Nederlandse, Spaanse, Creoolse en Indonesische gerechten met een twist van Curaçao. Ook de drankjes (zowel alcoholisch als non-alcoholisch) zullen je zeker smaken.
Zeker proeven:
Het beroemdste gerecht op het eiland is waarschijnlijk Keshi Yena, of gevulde kaas. Het gaat om een oud slavengerecht bestaande uit plakjes Edammer kaas, kip en groenten. Het ziet er behoorlijk zwaar en vullend uit, en dat is het ook. Maar deze gevulde kaas is wel om duimen en vingers bij af te likken!
Om hamburgers te eten moet je niet speciaal naar Curacao afzakken, maar je kunt er wel de unieke Krabitu Burger eten; dat is een burger gemaakt met geitenvlees en verkrijgbaar in het dorpje Willibrordus – ook gekend als Williwood – in een hamburgertent langs de kant van de weg. De burgers van deze stek zijn zo beroemd dat ze ook wel gewoon Williwoodburgers genoemd worden. Je vindt ze ondertussen niet alleen in Williwood maar ook in tal van beachbars (al moet je voor de authentieke ervaring uiteraard naar Williwood zelf).
In Curaçao is het altijd warm en dan is een een fris drankje ideaal om je dorst te lessen. En dat doen ze daar met een lekkere Awa di Lamunchi, ofte versgemaakt limoenwater met suiker. Je vindt er Awa di Lamunchi in flesjes en blikjes, maar veel lekkerder is natuurlijk de zelfgemaakte versie. Ik weet niet precies wat het geheim is van deze lekkere limonade maar ik probeerde hem thuis ook te maken, en die smaakte lang zo lekker niet als in tropisch Curaçao.
Ga je naar Curaçao, dan ben je gewoon verplicht om ter plekke ook eens een shotje Blue Curacao te proeven. De likeur wordt er al sinds 1896 in het Landhuis Chobolobo gemaakt en is wereldberoemd. In het landhuis kun je een rondleiding volgen en je cocktailshakingskills perfectioneren met een workshop, maar je vindt het drankje in Curacao op elke hoek van de straat. En hoewel de blue versie natuurlijk de meest gekende is, vind je de likeur ook in rood, groen, geel en oranje.
5. Curaçao is de ideale (winter)zonbestemming
Altijd handig om te weten als je voor het eerst naar Curaçao trekt: waar ligt dat kleine eiland eigenlijk? Cuaraçao is een klein eiland in het zuiden van het Caribisch gebied, ongeveer dertig mijl boven Venezuela. Het eiland maakt deel uit van de Nederlandse Antillen en is een autonoom deel van het Koninkrijk der Nederlanden. Curaçao is slechts ongeveer 444 vierkante meter groot en meet nauwelijks 61 kilometer op zijn langste punt.
Het weer is nagenoeg perfect: Curaçao kent een tropisch klimaat met temperaturen die het hele jaar overwegend constant zijn (26 ° C / 29 ° C), een droog seizoen van januari tot september en een natte periode van oktober tot december. De regenval tijdens het natte seizoen is kort (en kan intens zijn), maar er is altijd voldoende zon gedurende de dag om te genieten van een zalige zonvakantie.
Curaçao ligt bovendien buiten het orkaangebied waardoor de kans dat je er in een tropische orkaan belandt uiterst klein tot onbestaand is. Kort gezegd: je kunt er hele hele jaar door met een gerust hart van een (zon)vakantie genieten, ook als het bij ons vriest dat het kraakt!
Met het vliegtuig reis je op 9 à 10 uur naar Curaçao. De terugreis duurt gemiddeld een uurtje korter (vanwege de gunstige wind). Hier kan je je vakantie zoeken.
Meer info over Curaçao? Surf naar www.curacao.com.