Toerist in eigen land: 5 x verrassend mooi Meetjesland
Soms hoef je helemaal niet ver te reizen om bijzondere plaatsen te ontdekken. Het charmante Meetjesland bijvoorbeeld is een regio die misschien nog niet zo gekend maar absoluut de moeite van het ontdekken waard is. Met de handige 'Meetjesland Bucket List'-brochure als gids maakten wij kennis met een vlak land bezaaid met kreken, kastelen en bossen, en geweldige bonus: je kunt er nog heel lekker eten ook.
Onze bucketlist puilt uit van de verre, tropische bestemmingen waar – bij voorkeur – de zon altijd schijnt en de cultuur net iets ander is dan thuis. Wat niet wil zeggen dat we het dichter bij huis ook niet leuk vinden: we komen vaak over de vloer bij onze buurlanden en ook in eigen land trekken we er geregeld op uit. Maar het Meetjesland, dat we alleen kennen vanwege de expresweg die de regio doorklieft? Waarom zouden we ooit daar een weekend willen doorbrengen? Om 101 redenen! Dat blijkt althans uit het leuke boekje Meetjesland Bucketlist. De uitgebreide brochure verleidt met originele 101 tips uit de regio en doet dat op zo'n leuke manier dat we bijna niet konden wachten om al dat moois met eigen ogen te aanschouwen. Wij dus vol verwachting naar het Meetjesland, en die trip viel verbazend goed mee.
Onbekend is onbemind
Eerst en vooral: waar ligt dat onbekende Meetjesland? Het Meetjesland is te vinden in het noordwesten van Vlaanderen en grenst aan het Nederlandse Zeeuws-Vlaanderen, Gent en Brugge. Het landschap is vlak en idyllisch en leent zich prima om eindeloos te fietsen en te wandelen. In het noorden vind je een prachtig krekengebied, in het zuiden zijn er dan weer meer bossen.
Wie of wat zijn meetjes?
Wat ik mij altijd afgevraagd heb bij het horen van de naam 'Meetjesland': what the hell zijn 'meetjes' en waardoor werd er een heel land naar genoemd? Ons weekendje Meetjesland leverde niet echt een eensluidend antwoord op want eigenlijk weet niemand het met zekerheid. Er doen verschillende legendes en verhalen de ronde en één van de meest aannemelijke is deze waarbij 'meetjes' verwijzen naar de lange, smalle reepjes grond die typisch zijn voor de streek. Verder wordt nog beweerd dat de naam afkomstig is van de vele spinsters die tijdens de 17de en 18de eeuw bij mooi weer voor de deur aan het spinnen waren. En die spinsters waren altijd oudere vrouwen, of 'meetjes'. Onze favoriete legende evenwel is die waarbij keizer Karel V op rondreis was door de streek. Zijn reputatie als liefhebber van vrouwelijk schoon vonden veel bezorgde vaders nogal verontrustend en ze kwamen op het idee om hun dochters voor de wellustige keizer te verbergen. Waarom de Karel V tijdens zijn doortocht alleen maar oude meetjes ontmoette en op zijn honger bleef zitten. Hij doopte de regio dan maar het Meetjesland.
In elk geval hopen wij dat de passage van Karel V ook zonder jonge deernen even leuk was voor hem als voor ons. Na één weekend Meetjesland hebben wij maar een klein deel van de regio ontdekt, maar dit zijn alvast de tips die we je kunnen meegeven.
1. Bezoek Boekhoute, het vissersdorp zonder haven
Startpunt van ons weekendje Meetjesland was Boekhoute, een stil en charmant dorpje tegen de grens met het Nederlandse Zeeland. Veel meer dan een kerk met dorpsplein met is het niet, maar het plaatje oogt wel bijzonder sfeervol én het dorp kent ook een lange geschiedenis. Boekhoute wordt immers een vissersdorp zonder haven genoemd. Ooit was hier uiteraard wél een haven, maar door de verzanding ging die teloor. De Boekhoutse vissers gingen dan maar in de binnenwateren van Zeeland vissen. Het dorp lag dus in België, terwijl de haven in Nederland lag. Tijdens de Eerste Wereldoorlog – waar België bij betrokken was maar Nederland afzijdig bleef – sloten de Duitsers de grens, waardoor de haven helemaal niet meer gebruikt kon worden. Later zouden de vissers vanuit Terneuzen of Breskens uitvaren. Vlak aan de kerk vind je trouwens een vissersboot, de BOU-8 (naar de oude schrijfwijze Bouchaute) genoemd. De boot werd in 1973 in het dorpscentrum geplaatst om de herinnering aan het vissersverleden van het dorp levendig te houden.
Tip: in een charmant gebouw dat ooit het stadhuis was, gelegen vlak bij de kerk, vind je het Bezoekerscentrum. Stap er zeker eens binnen: je wordt er hartelijk ontvangen en je krijgt er heel wat insidertips over de regio. Je vindt er ook een leuke tentoonstelling over het vissersleven van toen en nu. En op de bovenste verdieping loopt een bijzonder interessante expo Grote Vrouwen en de Groote Oorlog, over hoe de lokale vrouwen een grote rol speelden tijdens de oorlog, en ze waren alle ingenieus en bijzonder moedig.
Tip: spring zeker even de kerk Heilig Kruis van Boekhoute binnen. Daar vind je in de zijbeuken de tentoonstelling Boekhoute in tijden van oorlog, die mooi aansluit bij de expo Grote Vrouwen en de Grote Oorlog in het bezoekerscentrum. In de ene zijbeuk staat Boekhoute tijdens de Eerste Wereldoorlog centraal en wordt het leven in Boekhoute tijdens de jaren 1914 tot 1918 vertelt. De andere zijbeuk is gewijd aan de Tweede Wereldoorlog.
Tip: in de dorpskern, vlak naast de kerk, vind je het romantische Kasteel ter Leyen, met een prachtige Engelse kasteeltuin met vijvers. Heerlijk om even door te wandelen of te genieten van de toffe activiteiten die er aangeboden worden.
2. Je buikje rond eten
Het moet gezegd: in het Meetjesland kun je veel en lekker eten! Het Meetjesland is een landelijke omgeving en veel restaurantjes maken er een erezaak van om seizoensgebonden en vooral regionale producten op de kaart te zetten.
Onze aanraders:
=> De Kring in Boekhoute
Met een tripje naar het bezoekerscentrum en de tentoonstellingen in de kerk achter de kiezen, begon de honger te knagen en besloten we op één van de gezellige terrasjes van Boekhoute neer te strijken voor een lunch in de zon. Onze keuze viel op De Kring, een gezellig en volks eetcafé met een gemoedelijke sfeer. Op de kaart veel lekkers (waaronder de Boekhoutse garnaal of 'gîrnart') maar het waren vooral de wannetjes en de zekers die onze aandacht trokken. Beide blijken een lokale specialiteit: (kleine) schelpdieren die gekookt en gebakken worden. We hadden er nog nooit van gehoord, laat staan geproefd. De zekers bleken uitverkocht en dus werden het wannetjes. Deze schelpdiertjes belanden in België in de vissersnetten maar worden terug de zee in gegooid, de wannetjes op ons bord komen dus uit Nederland (we zitten dan ook net op de grens). In elk geval: ze smaken heerlijk!
=> Café Passé in Assenede
Café Passé was ons aangeraden niet alleen omwille van de lekkere, eerlijke gerechten (en lekkere biertjes) maar ook vanwege het prachtig uitzicht dat je hebt vanop het terras: je kijkt mijlenver uit over het idyllische landschap, dit is trouwens the place to be om tijdens een mooie zonnige dag van een prachtige zonsondergang te genieten. De inrichting is sfeervol en gezellig, je blijft er met plezier urenlang hangen. Een topadresje zowel tijdens de zomer als de winter.
Tip: vlak naast Café Passé vind je een oude kasseiweg; al je deze weg volgt – over een polderweg en door bos – kom je automatisch bij de mooie kreken uit van Assenede.
=> De Warande in Sint-Jan-in-Eremo
Het gastronomische restaurant De Warande is wijd en zijd bekend voor z'n verzorgde creatieve gerechten waaraan steevast een extra toets wordt gegeven. Het restaurant is ondergebracht in een prachtige villa die sfeervol werd ingericht maar vooral de tuin is adembenemend: groot, groen en met een fonteintje in het midden, alsof het een klein park is.
Wij genoten er van een zalig diner bij zonsondergang en alleen al voor dit restaurant komen wij zeker nog eens terug naar het Meetjesland. We merkten dat de andere gasten vaak de Oosterschelde kreeft bestelden, dus we mogen gerust aannemen dat dit een gekend en geliefd gerecht is in De Warande.
Wij kozen voor een menu waarbij al het lekkers van de chef in 't kort gepresenteerd werd: om duimen en vingers bij af te likken! Goed om weten is dat de chef een grote liefde heeft voor de lokale producten uit het Meetjesland en tot Ambassadeur Lekker Oost-Vlaams verkozen werd. Ideaal om de culinaire geneugten van het Meetjesland te ontdekken!
3. Wandel- en fietsparadijs
Aan gezien wij toch in Boekhoute waren, hebben we meteen ook daar de benen gestrekt door een deel van de Draadroute te volgen, een wandeling van 10,5 kilometer langs een parcours dat grotendeels onverhard is. De Dodendraad herinnert aan de verschrikkingen tijdens de Eerste Wereldoorlog toen de Duitsers de grens met Nederland afsloten middels een draad waarop elektriciteit geplaatst werd. In die tijd was elektriciteit nog niet iets waar mensen mee vertrouwd waren, sommigen beschouwden het zelfs als hekserij. In elk geval heeft de 'draad' gezorgd voor flink wat doden. In Boekhoute kun je zowel een reconstructie vinden van de originele draad als een kunstwerk dat werd opgetrokken om de slachtoffers van de draad te herdenken.
Dat het vlakke Meetjesland uitnodigt om veel te fietsen en wandelen, hoeft niet te verbazen. De regio beschikt over honderden kilometers wandel- en fietsroutes, zowel thematische als via het knooppuntnetwerk. Op de site van Toerisme Meetjesland (hier) kun je meer informatie vinden.
Tip: Je kunt het Meetjesland ook ontdekken met paard en huifkar, of al rondsnorrend met een Vespa. En wandelen, dat kan er ook mindful. Sint-Laureins kan namelijk uitpakken met een heuse Mindful wandeling waarbij je beslist elk restje stress in je lijf definitief kwijtraakt. Het is een wandeling die uitgestippeld werd op het wandelnetwerk van de Meetjeslandse kreken en waar geluidsfragmenten en mindful oefeningen je helemaal zen maken. De wandeling is 9,4 kilometer lang. Route en geluidsfragmenten kun je downloaden via de website van Toerisme Oost-Vlaanderen.
4. De kreken ontdekken
Waren wij al gecharmeerd door de schoonheid van het Meetjeslandse platteland, dan hadden we het krekengebied nog niet bezocht. Vooral in het noorden van het Meetjesland zijn er heel veel kreken te vinden. Waar al die waterplassen vandaan komen? Eeuwen geleden werd de regio regelmatig overspoeld door de zee, en deze kreken zijn daar nog steeds het resultaat van. De kreken zijn op elk moment van de dag mooi om zien, maar vooral bij zonsondergang lijkt het gebied iets magisch te hebben: nooit gedacht dat kreken zo mooi konden zijn!
Wij trokken naar de Doornendijkstraat in Assenede en zagen aan de ene kant de kreek Rode Geul blinken en aan de andere kant de Grote Geul, die meer dan twee kilometer door het polderlandschap kronkelt. En per toeval botsten we ook op de Bodemloze Put, een diepe waterplas dat een restant is van de dijkdoorbraak uit 1808.
Tip: hou even halt bij de Oudemanskreek in Sint-Laureins; temidden de kreek staat een mooie beeldengroep Als de vos de passie preekt, boer let op je ganzen, van Chris Ferket. Het kunstwerk staat er al sinds 1995; de gemeente won het destijds nadat het een wedstrijd van Radio 2 won.
5. Charmant overnachten
De beste manier om je batterijen op te laden? Een kortbijtrip in eigen land (want dan hoef je niet ver te rijden) waar je een overnachting in een charmante B&B of vakantiehuis aan plakt. Het Meetjesland leent zich daar uitstekend toe: je vindt er een flinke schare originele B&B's waar je flink in de watten gelegd wordt. Wij legden ons te slapen in B&B Leeghof en raakten niet uitgekeken op het prachtige zicht vanuit onze kamer! Het ontbijt 's morgens was een echt toppertje, de kamer uitstekend en de ontvangst bijzonder hartelijk. O ja, er hoort ook nog een sauna- en wellnesscomplex bij de B&B. Topadresje!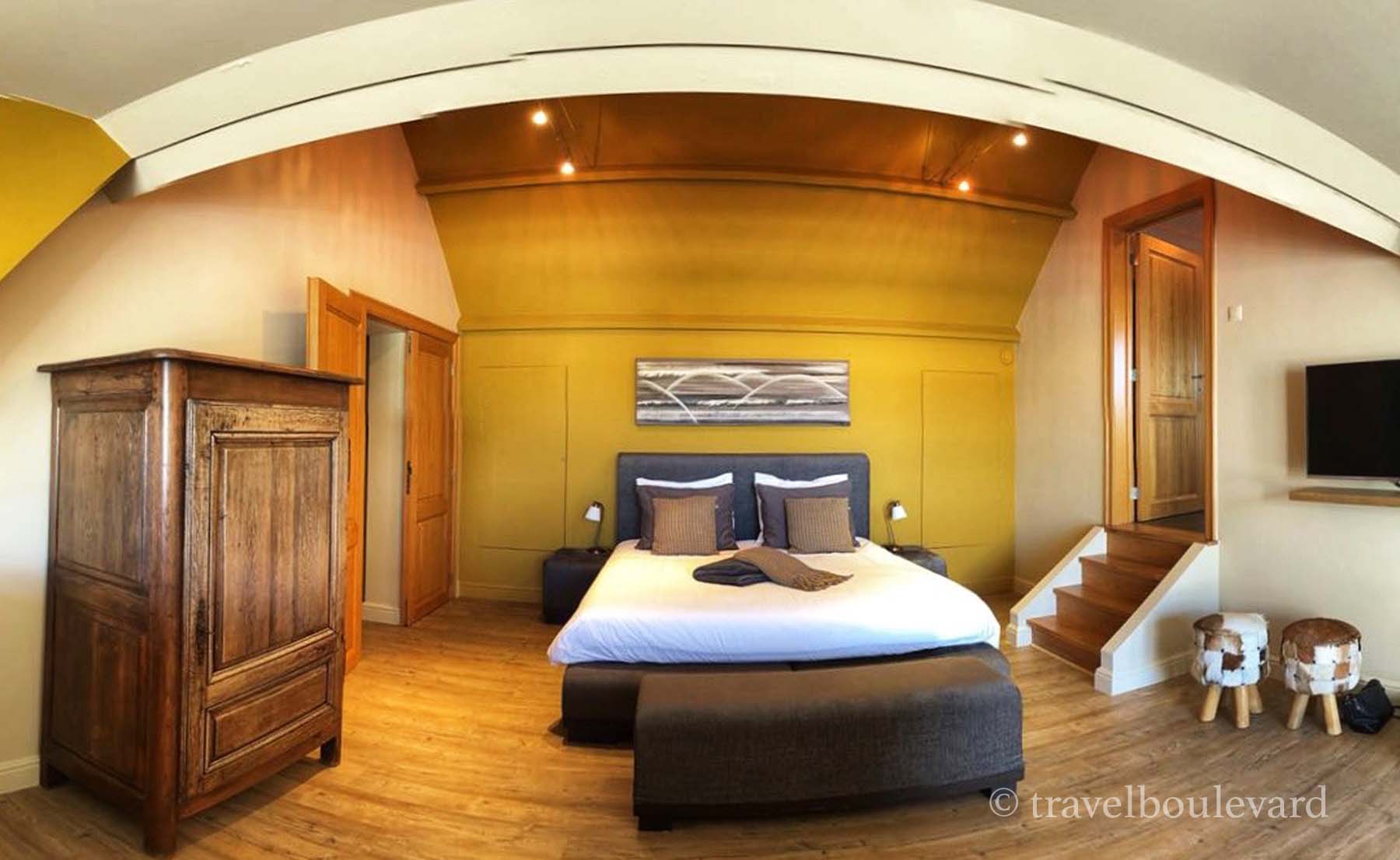 Wij planden onze trip naar het Meetjesland aan de hand van De Meetjesland Bucket List. Dat handige gidsje is helaas uitverkocht, maar online kun je voluit rondsnuisteren in de digitale versie. Zeker doen want je vindt er letterlijk 101 tips om het Meetjesland op een toffe en originele manier te beleven, met talrijke wandel- en fietsroutes, adresjes om te drinken, eten en logeren en insidetips van locals.
De digitale gids downloaden kun je hier.
There are no posts to show right now.