Fact nr. 1: nature had been generous to West Cork. The wild and unspoiled coastline, the beautiful beaches, mysterious woods and green valleys all look like they're just made to leave you breathless. Fact nr. 2: the food is amazing. Think: discovering haute cuisine in a small restaurant in a picturesque coastal town. And a bonus: they have the best fish and chips in the world! Fact nr. 3: it feels like coming home, even it's your first visit to Ireland. These are our thoughts after a short but intense 3-day (winter) break in West Cork.
The last couple of years Cork has increasingly emerged as hip city trip destination and it's easy to understand why: think of Cork as a friendly Irish town, packed with colorful buildings, cosy pubs and surprisingly trendy restaurants.
Day one: discovering Cork city
1. Taste the food
Gastronomy as well as enjoying a simple but good meal is a big thing in Cork. There's no shortage of trendy restaurants and traditional pubs to spoil your belly. But one of the must visit for foodies is the English Market Cork, Ireland's most famous covered food market.
The Victorian building dates back to the 19th century and is the place to be if you're looking for local products like cheeses, ham, bread, smoked salmon and buttered eggs. (www.englishmarket.ie)
The Victorian building dates back to the 19th century and is the place to be if you're looking for local products like cheeses, ham, bread, smoked salmon and buttered eggs. (www.englishmarket.ie)
2. Take a city tour
Although Cork is a busy city it's easy to get around, even by foot. Most of the major attractions are at walking distance. Booking a guided (walking) tour or exploring the city on your own is always a good idea.
We started our tour with a visit to Fitzgerald's park, near the River Lee. It's an idyllic place, good for a romantic walk. You'll find the University College Cork at the end of the park: the campus the perfect mixture of historical buildings and modern architecture, it all blends in very well.
The Cathedral of St. Fin Barre's is located in the south of Cork. The beautiful neo gothic Anglican church is a popular stop for tourist who want to photograph the church at sunset.

St Barrs Church

Let's hope the angels never blows the horns.
Can't miss the statue of the golden angel on the eastern facade: legend goes that the golden angel will blow the horns to announce the end of the world.
3. Shopping
St. Patrick Street is Cork's main road and the perfect place to make any shopaholic happy. The street is filled with big department stores, smaller shops and boutiques, bars and restaurants. Because of the street furniture and pedestrian walkways it's a fun place to shop or just to take a stroll and enjoy the buzz. Apart from St. Patrick Street, there are lot's of small streets to wander around and discover the cutest little shops.
Fun fact: during you're shopping trip you'll bounded to bump into the statue of Father Theobald Mathew (1790–1856). Father Mathew promoted complete abstinence from alcohol (for live!). His movement became quit successful: around 1845-49 some 3 million people (more than half of the adult population of Ireland) took the pledge never to drink again.
4. Looking for dolphins
Cork Harbour claims to be the 2nd largest natural harbor in the world (after Sydney, Australia) and that title comes with a great attraction: an exiting sea safari with the opportunity to spot dolphins, seals and whales.
We had a date with the Cork Sea Safari in the late afternoon. During the safety briefing we were told by our guide Jason that chances to spot some dolphins are 50/50. And so we went speedboating around the harbour and enjoyed the enchanting surroundings with beautiful coastlines and picturesque harbours like Crosshaven or Cobh (where the Titanic made a last stop before starting her first and final tour).
Did we get to see seals, whales or dolphins? No, not one! But to be honest: that didn't spoil the fun at all. What can I say, it's a speedboat, so what's not to like?
Day two: picture perfect West Cork
After a full day in the city Cork it was time to discover more of West Cork. Driving towards the southwest we've discover a region blessed with and green hills and valleys and sweet villages. It's a picture perfect area, and everything we've expected Ireland to be.
We made a stop in Ahakista and had lunch at 'Arundel's by the Pier'. Even though it was October it was still warm enough to eat outside and enjoy the views.
If you're into hiking you'll love this region: the coastline is simply beautiful, and the green valleys are good for hours of walking.
Early afternoon we arrived at the estate Liss Ard Estate (close to Sibbereen, the most southerly town in Ireland), our place for the night. The estate is an amazing place, with a manor house dating back till 1850, fantastic gardens, a beautiful lake and best of all: the Irish Sky Garden, designed by American landscape artist James Turrell. The Sky Garden is in fact a crater and quite spectacular to visit. (You can read more about it in our other post here.)
Day three: to Kindle and back to Cork
Day three and visiting Kinsale was on our agenda. Before exploring this little port town, we stopped at the star-shaped Charles Fort, located three miles from Kinsale and accessible via a hiking trail from the city.
Charles Fort was built in the 17th century to protect the port of Kinsale against European invaders. The major weakness however, was that it was never finished at country side. The fort has always been used for military purposes until 1921. Today it's one of the major monuments of the region.
The fort is well worth a visit, even if you're not into forts: the views of both Kinsale and the Atlantic are stunning.
Kinsale itself is a sweet port and fishing town with cosy narrow streets and a relaxed holiday atmosphere. It's popular tourist destination, especially for those with a passion for yachting – the large yachting marina is close to the centre – golf or fishing. Kinsale is also known as the 'culinary capital' of Ireland because of its seafood restaurants and the annual Festival of Fine Food.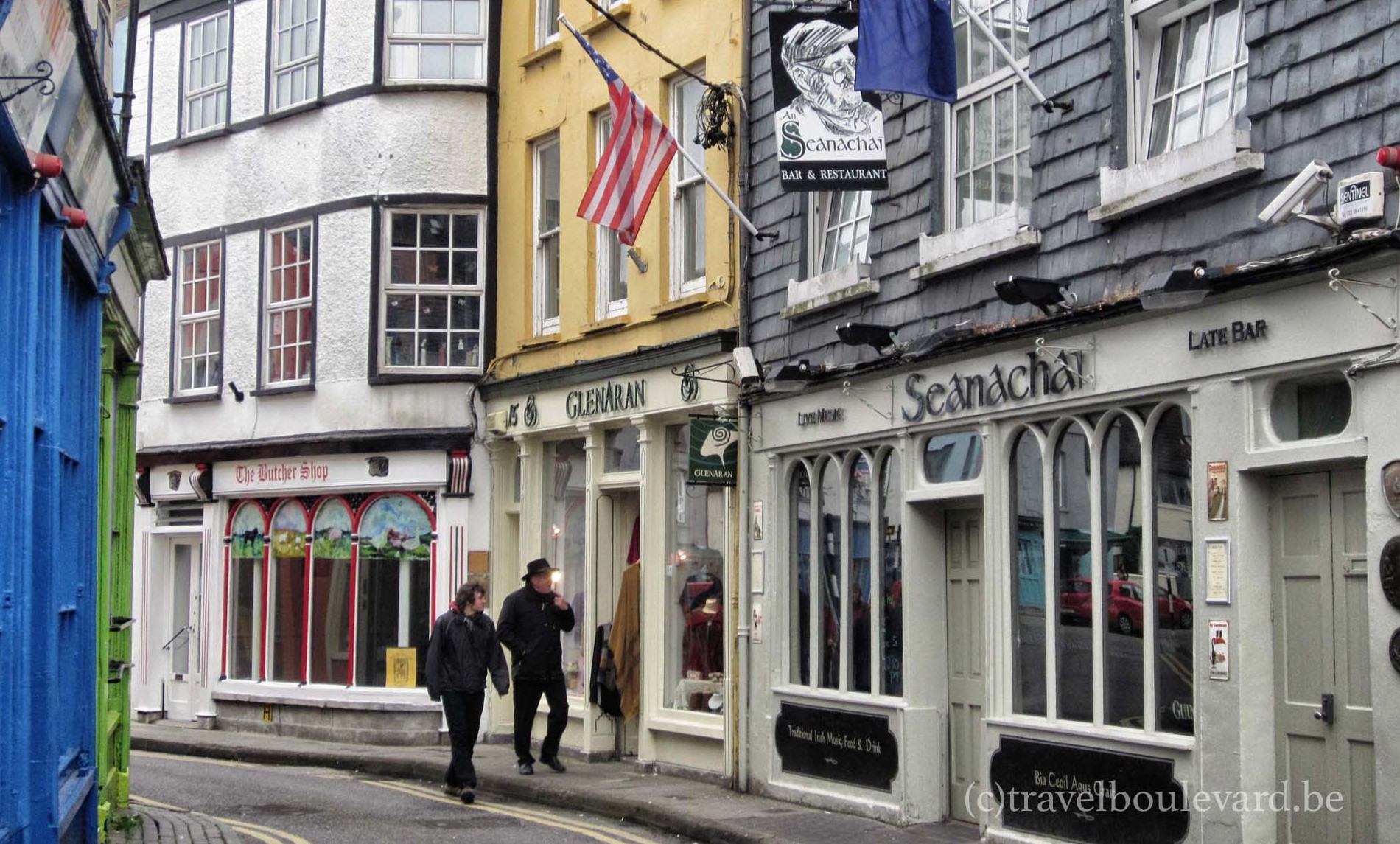 Even during the quiet winter months Kinsale is worth a visit: it's a nice little place to have a meal in one of the restaurants and stroll along the narrow streets. The houses are painted in bright colors: orange and blue next to canary yellow. Kinsale – like the rest of Ireland – is far from boring.
Need to know more?
West Cork is hidden in the beautiful south-west corner of Ireland. The region is famous for its rugged beauty, rural sights, impressive peninsulas and lots of picturesque towns and villages. For a more urban-feeling there's the city of Cork to discover.
As for the climate: the good news is that the coastal areas are warmed by the Gulf Stream. The region enjoys higher temperatures – and sun! – than the rest of Ireland. The bad news is: you never know when it's going to rain. During our three days in October we had two sunny days and one rainy day.
Cork Airport is an international airport, located 6,5 kilometre (4 miles) south of Cork city. The best way to get around in West Cork is by (hired) car.