Fact: the Portuguese serve some wonderful food and drinks. During my trip to Lisbon there was plenty of food temptation going and I just couldn't (and didn't want to) resist, so I kissed my diet goodbye and enjoyed the Lisbon cuisine to the fullest. Here are my 10 delicious food tips to eat your way through Lisbon. Dig in!
1. Start with having dinner at Restaurant Populi
We arrived in Lisbon early evening so the first thing we did – after checking into our hotel – was finding a nice place to have dinner. We ended up in Restaurant Populi and couldn't have made a better choice: it was the perfect introduction to Lisbon and Portuguese dining.
Populi is located on Praça do Comércio (also known as Terreiro do Paço), one of the most beautiful squares of Lisbon.
The restaurant promotes itself as a place to have food with friends, with a menu that is a fine mix of modern and traditional Portuguese/Mediterranean cuisine. They also boast having the best chocolate ice-cream in the world (don't know if this is true but it sure was yummy!).
Since it was our first night in Lisbon, we asked for a bit of everything, and ended up with a fine mix of Portuguese Tapas, called Petiscos. The dishes were small but there were a lot (really a lot!) of them and it took us a couple of hours to finish them. But hey: we had some fine wine to go with the petiscos, the company of friends and a spectacular view over the Praça do Comércio… What's not to like?

Restaurant Populi, Ala Nascente Terreiro do Paço 85/86, 1100-148 Lisbon
2. Have a beer at the famous Cervejaria Trindade
Although the menu looked promising I can't tell you how the food was because we only had a beer (served with tremoços ) which was absolutely fine because this place really is a clattering beer factory. The Cervejaria used to be a monastery (dating back to the 13th-century) and is considered to be one of the most beautiful (and oldest) beer houses in Portugal.
The interior is indeed absolutely stunning, with vaults and azulejos of clerics and saints.
Cervejaria Trindade is owned by the Trindade Factory, the oldest brewery in Portugal. It started to produce and sell beer in 1834!
Today the brewery may seem like your typical tourist beer hall – part the staff is dressed as monks – but it still is a lovely place to enjoy a beer (or two, three, four…).
Cervejaria Trindade, R. Nova da Trindade 20 C, 2715-311 Lisbon
3. Go to the hip foodmarket
The new food court Mercado da Ribeira opened May 2014 and is already one of the most popular must eat-foodie hangouts in Lisbon. The Mercado was set up to rejuvenate the old market area (part of the old market is still there) and was an instant success. The market hosts around 35 little semi-permanent kiosks – all with the same look: trendy black and white logo – offering a wide range of regional specialities (cheese, ham, sardines, pizza, burgers, wine, chocolate, sea food…you name it).
Just order what you like, take the food with you and settle yourself at one of the communal wooden benches in the centre of the market.
The place is very hip and trendy and even some of Lisbon's top restaurants – with Michelin stars! – are present, so visiting the Mercado is a real treat.
I was tempted by the burgers and pasta's, but since I already had so much to eat that day, I chose something light and fishy from the Sea Me Peixaria Moderna-Chiado-stand (a popular restaurant know for its seafood and Japanese-Portuguese fusion kitchen): the cuttlefish with squid ink batter.
Mercado da Ribeira, Avenida 24 de Julho – Cais do Sodré, Lisbon
4. Have a shot of Ginja
I'm not that big a fan of liqueur but I just had to try the favourite drink of many Portuguese: Ginjinha or simply Ginja.
Ginja is typical drink is made by infusing ginja berries (a sour cherry) in alcohol. It is served in a little shot glass with a cherry in.
Francisco Espinheira, a friar of the Church of Santo Antonio, mixed some ginja berries in a Portuguese brandy, added sugar, water and cinnamon et voilà, the popular Ginjinha was a fact. It's success was immediate and Ginga became the typical drink of Lisbon.
There are a lot of place to drink a Ginja; just go to one of the (very) small cafés and order your shot. You can drink the Ginja with or without the cherry in it. Ask for a 'Ginjinha com Ginja' if you want a cherry in the glass, or for an 'sem Ginja' if you don't want the cherry. Of-course, if you want to do this the right way you have to drink the Ginja ad fundum, suck on the berry and spit the pit out when you're done.
I found the Ginja sweet, sour, and sticky. Not my favorite, but my friends seemed to like it (a lot! :)).
5. Stuff yourself with sardines
There's no escaping sardines in Lisbon. You'll see them grilled on a BBQ, as a tapas, canned, in all kinds and forms in souvenir-shops, on flags and even printed on wallpaper, so I think it's save to say the people from Lisbon really love their sardines.
Especially during the St-Antonio festivities (mid June) Lisbon goes a bit sardine-crazy. There's a sardine BBQ-stand on every corner Alfama, and since the old neighbourhood has a lot of corners, there's no escaping the glorious little fishes. Don't run, just eat, they taste lovely!
Grilled sardines are commonly served with a slice of bread. Start with eating the sardine first and when you're done eat the bread; this will have soaked up the oil and salty taste from the fish, yummy!
Tip: Can't get enough of sardines? Take them home with you! Tinned sardines are a great souvenir: they come in bright, vintage looking tins, the perfect way to taste a piece of Lisbon at home.
6. Enter the famous world of Pastéis de Belém
Fact: you can't visit Lisbon without trying the world-famous Pastéis de Belém. Think of it as a kind of custard yard, but with a Portuguese twist – that 'twist' being a secret recipe for over 100 years.
Only a handful of lucky insiders know how the bake the real pastei de Belém, the imitations you'll find under de name pastei de nata. These are also (very!) tasteful, but is you're after the one and only Pastéis de Belém, then your place to be is Antiga Confeitaria de Belém, the most popular pastry shop in Portugal and frequented by both tourists and locals.
And I must admit, it was omg so good: soft and creamy, yet not too sweet. Well worth a visit, although you'll have to fight for a table and the staff may not always be that friendly. We can't blame them: on a Sunday they sells over 50.000 pastries, so they're suffering from pastei-stress.
You can buy a paste to go (but the queues of costumers waiting for their pastei-fix is very long, you'll have to be patient) or you can have a seat in one of the rooms inside. Bonus: the pasties are being prepared right in front of you, exempt for the adding of the secret ingredient (they have a 'secret room' for that, ow mystery ).
Pastéis de Belém, R. Belém 84-92, 1300-085 Lisbon
7. Find a typical tasca
A simple yet tasteful meal. That's what you get when going to a good tasca.
A tasca is a small, modest establishment, with a decor that's often nothing more than a few tables and chairs thrown together and the menu is rather limited but what you get is mostly home-made, typical Portuguese, honest and made with love.
Expect to pay only 5 to 10 Euro for a meal, and best of all: a tasca is the perfect place to eat shoulder to shoulder with the local and make new friends. So how's that for a fab factor? You'll find most tasca's in the more traditional and typical neighbourhoods.
We stumbled upon the Laterna Verda, in the heart of Alfalma. This this little eating place is run by a lovely older woman and her husband. She cooks with whatever she can find at the market that day so there's no fixed menu but you'll be happy with whatever she comes up with.
Lanterna Verde, R. de São João da Praça 45, 1100 Lisbon
8 Set your teeth into Portugal's faithful friend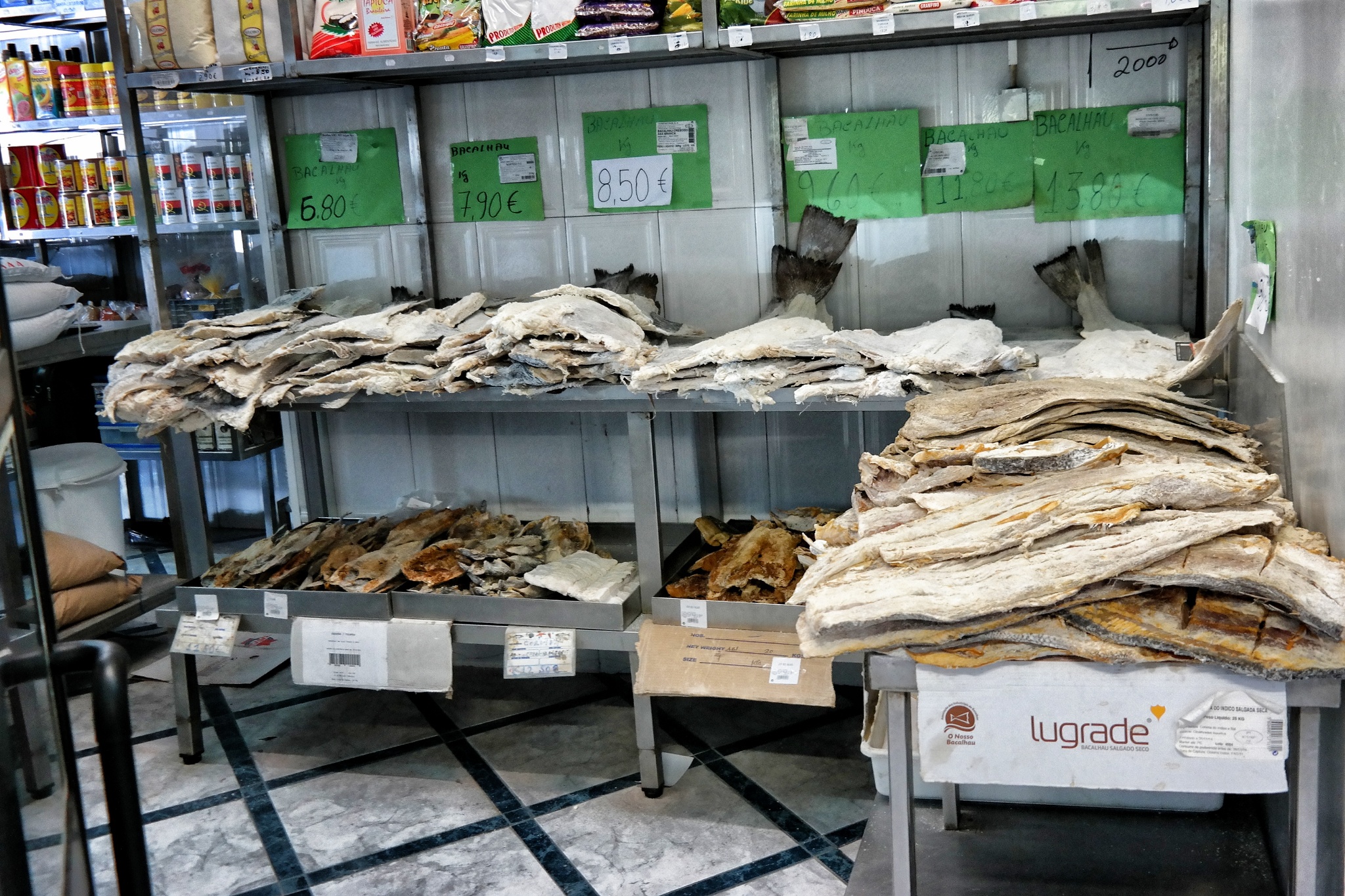 Say what? Well, bacalhau is salted codfish that has been dried under the Mediterranean sun, and its nickname happen to be the fiel amigo, or faithful friend. The Portuguese and there bacalhau have a very long history together; it has been on the menu for ages and it's even been served as the main dish during Christmas.
Bacalhau can be stored for a really long time (like: indefinitely!). To prepare it, you have to soak the fish in fresh water for at least 24 hours (and change the water three times) to get the salt out.
In Portugal people claim there are 365 ways to cook bachalhau, so that's one for every day. If you see it somewhere on a menu – and I'm sure you will – you should definitely give it a try.
9. Learn how to cook from a Portuguese mama
Like tasca's? Fell in love with all things bacalhau? Okay, so all you need now is a private cooking lesson from a real Portuguese mama to make your authentic food experience complete.
We found our Portuguese mama was a sweet little lady who was very proud of the Portuguese cuisine and happy to welcome us in her cooking-kingdom. Her English (and Dutch) was as good as my Portuguese (read: non existing) but no language barrier could stop her from teaching us to cook a delicious Bacalhau a Bras, a very popular and traditional Portuguese dish. It is made from bacalhau, onions, fried potatoes (in our case: slated potato sticks), eggs, some seasoning and lots of olive oil. It had at least a zillion calories in it, but is was sooooooo good!
The cooking workshop was great fun and was organized by boostportugal.com. You won't find the cooking workshops on their website, but if you ask they'll be happy to arrange one for you.
10. Be glamorous in a fancy restaurant
There are lot's of fancy and trendy restaurants popping up around the city and our choice was Largo, a hip and much talked about restaurant in Lisbon. The interior is very glamorous and stylish, with a big aquarium filled with jelly-fish as a special eye-catcher (thanks to the famous Miguel Cancio Martins; he designed some of the worlds most trendy bars and restaurants and did a splendid job with Largo).
The food is excellent. Chef Miguel Castro e Silva used to work for Bull & Bear, one of Portugal's iconic restaurants, and for Largo he gives his version of international and typical Portuguese cuisine. Dinner at Largo's will set you back at least 50 Euro, but the experience is definitely worth the price. Enjoy!

Disclaimer: this trip was possible thanks to support of Vueling and CheapTickets.be. No one forced me to eat or drink something I didn't want.