Taha'a is één van de eilanden van Tahiti maar voor ik naar Frans Polynesië trok, had ik er nog nooit van gehoord. Om de simpele reden wellicht dat ik geen beroemdheid ben. Dit kleine eilandje is bij Hollywoodsterren namelijk wél heel erg bekend en geliefd. En sinds we er zelf eens mochten verblijven, beseffen we heel goed waarom.
Als beroemdheden (denk: Julia Roberts, Brad Pitt en Angelina Jolie, Ashton Kutcher, Mila Kunis en vele andere) op zoek naar de perfecte hideaway voor een bijzondere vakantie met alles erop en eraan – luxe, romantiek en gegarandeerde privacy inclusief – dan trekken ze naar Taha'a waar ze verblijven ze in het Le Taha'a Island Resort & Spa, een verborgen paradijsje waar barefoot luxury de norm is. En gelukkig voor ons hoef je geen celeb te zijn om hier te overnachten. De sfeer is er gemoedelijk en relaxt, en zodra je voet aan wal zet op dit kleine resorteiland, krijg je er een VIP-behandeling, Hollywoodster of niet.
Het eiland
Taha'a vormt samen met het nabij gelegen Raiatea een atol en bestaat uit een uitgedoofde vulkaan. Net zoals bij zoveel eilandjes in Frans Polynesië is ook Taha'a omgeven door een rif en een paradijselijke lagune. Het eiland is amper 90 km2 groot en telt iets minder dan 5.000 inwoners. Taha'a is ook gekend als het Vanilla Island, vanwege de vanille van uitzonderlijke kwaliteit die er verbouwd wordt.
Vanuit Raiatea (waar een luchthaven is) kun je Taha'a bereiken met een bootje, want ongeveer een half uurtje duurt. Kom je van Bora Bora, dan heb je een helicopter nodig en ben je al binnen de 10 minuten ter plekke. Wij kozen voor de budgetoptie (nou ja) en namen de boot, maar heb je er de centen voor, dan is de helikoptervlucht een aanrader: je wordt getrakteerd op de mooiste vergezichten ooit, zo heb ik me toch laten vertellen (en ik geloof ze graag, vanuit het vliegtuig stokt je adem al bij het zien van zoveel moois ).
Behalve het bezoeken van een vanille- en of oesterplantage en een eilandrondrit is er eerlijk gezegd niet zo heel veel te doen op het eiland, maar je komt hier natuurlijk om Le Taha'a Island Resort and Spa te ontdekken. Het hotel biedt namelijk zelf een aantal interessante activiteiten aan en daar ben je wel even zoet mee.
Het resort
Het resort bevindt zich op een afgelegen motu vlakbij Taha'a. Het zicht is er in elk geval uitzonderlijk: aan de ene kant zie je Taha'a zelf liggen, aan de andere zijde lijkt het mythische eiland Bora Bora zo uit de zee op te duiken.
Le Taha'a maakt deel uit het het prestigieuze Relais & Châteaux en is echt een pareltje: de ultieme getaway, met hutjes (of beter: eerder oversized villa's die zich vermommen als hutjes) en overwater bungalows gebouwd in traditionele Polynesische stijl.
En goed om weten: Le Taha'a is dan wel een luxe resort maar er wordt steeds nauwgezet over gewaakt dat de plek volkomen in harmonie bestaat met de omgeving, de natuur, de locale bewoners en de plaatselijke cultuur.
Hollywoodsterren op mijn kamer
Le Taha'a telt een 57-tal suites, strand bungalows en over water villa's, een spa en fitnessruimte, zwembaden, 3 restaurants… kortom, alles wat je mag verwachten van een luxe resort.
Wat de plek echter uniek maak – behalve de uitzonderlijke setting natuurlijk – is de ultieme rust en het gevoel dit paradijs helemaal voor jezelf te hebben.
Geen wonder dat celebs hier graag een paar dagen komen ontspannen. En het personeel lijkt allerminst onder de indruk van die grote namen. Brad Pitt en Angelina Jolie? Ashton Kutcher en Mila Kunis? Vraag je aan de staff hoe dat dan gaat, zo met die grote sterren, dan krijg je een verbaasde blik en hoor je iets als: "Nou ja, heel gewoon, die mensen komen hier van hun vakantie genieten, en we willen hen, net als iedereen trouwens, een onvergetelijke tijd bezorgen." Heel erg nuchter dus. In tegenstelling tot mezelf want het idee dat ik in hetzelfde bed mocht slapen waar misschien ook wel Brad Pitt zijn dutje deed, maakte mij wel behoorlijk starstruck. Ik bedoel maar: stel je voor!
Tijdens mijn verblijf begreep ik overigens ook goed de praktische kant van de reden waarom de celebs hier zo graag onderduiken: je bent hier echt even weg van de wereld, letterlijk. Paparazzi kunnen het eiland nooit op eigen houtje vinden (en dan alleen nog via het water of per helicopter) en dankzij de specifieke architectuur van het resort – een wirwar van paadjes en bruggen en villa's die zo gebouwd zijn dat ze de grootst mogelijke privacy garanderen – heb je steeds het gevoel de plek helemaal voor jezelf te hebben. Bovendien is de sfeer er heel gemoedelijk: ja, het is een luxe resort, maar 'doe maar gewoon' is de norm en je kunt er gewoon lekker jezelf zijn. Genieten op je blote voeten, maar in alle luxe.
Binnenkijken in de bungalows
Verder zijn de bungalows natuurlijk stuk voor stuk pareltjes. Kijk maar even mee binnen in het overwater 'huisje' waar ik mocht verblijven:
En de beachvilla's – die dus niet over het water gebouwd zijn maar op het strand – zien er even spectaculair uit:
Vis in een kokosnoot
Tata'a staat bekend als het Vanille Eiland en dus hoeft het niet te verwonderen dat vanille vaak opduikt in alles wat je er kunt eten of drinken. Wij hebben er vanille koekjes geproefd, vanille cocktails, vanille yoghurt, visgerechten met vanille (!)… noem maar op. En neen, we kregen er maar geen genoeg van; de eilandbewoners weten perfect hoe ze de vanille moeten doseren en zonder overdrijven: je weet pas hoe vanille echt moet smaken als je die van Tahiti geproefd hebt.
Uiteraard viel er behalve vanille-gerechtjes nog heel wat andere lekkere dingen te proeven: tropisch fruit en de lekkerste groenten, verse vis, zoete gebakjes… alles waar je maar aan kunt denken. Maar waar ik compleet van uit mijn dak ging van enthousiasme, was de rauwe vis geserveerd in een kokosnoot. Jempi trekt meteen al een bedenkelijk gezicht bij het idee alleen, maar geloof me maar: het was overheerlijk!
Ook het ontbijt was geweldig, al had dat behalve de knapperige croissants, verse mangosapjes en creatieve omeletten ook veel te maken met de ontbijtruimte: een behoorlijk uit de kluiten gewassen boomhut met zicht op de lagune en eindeloze oceaan. Need I say more?
Trouwens, heb je het zodanig naar je zin in je cosy overwater villa en wil je deze nooit meer verlaten – zelfs niet om te ontbijten in een luxe boomhut – dan hoeft dat ook niet. Blijf lekker dobberen rond je villa – het is tenslotte een overwater villa, de lagune ligt aan je voeten – en bestel de canoe room service, waarbij je maaltijd geleverd wordt middels een kano en met als leuk extraatje het geluid van een vrolijke ukulele. Geef toe: een mooi begin van de dag.
Komen eten!
Zet je de ochtend in met ukelele-muziek, dan kun je de avond afsluiten met een zen-moment met de vissen.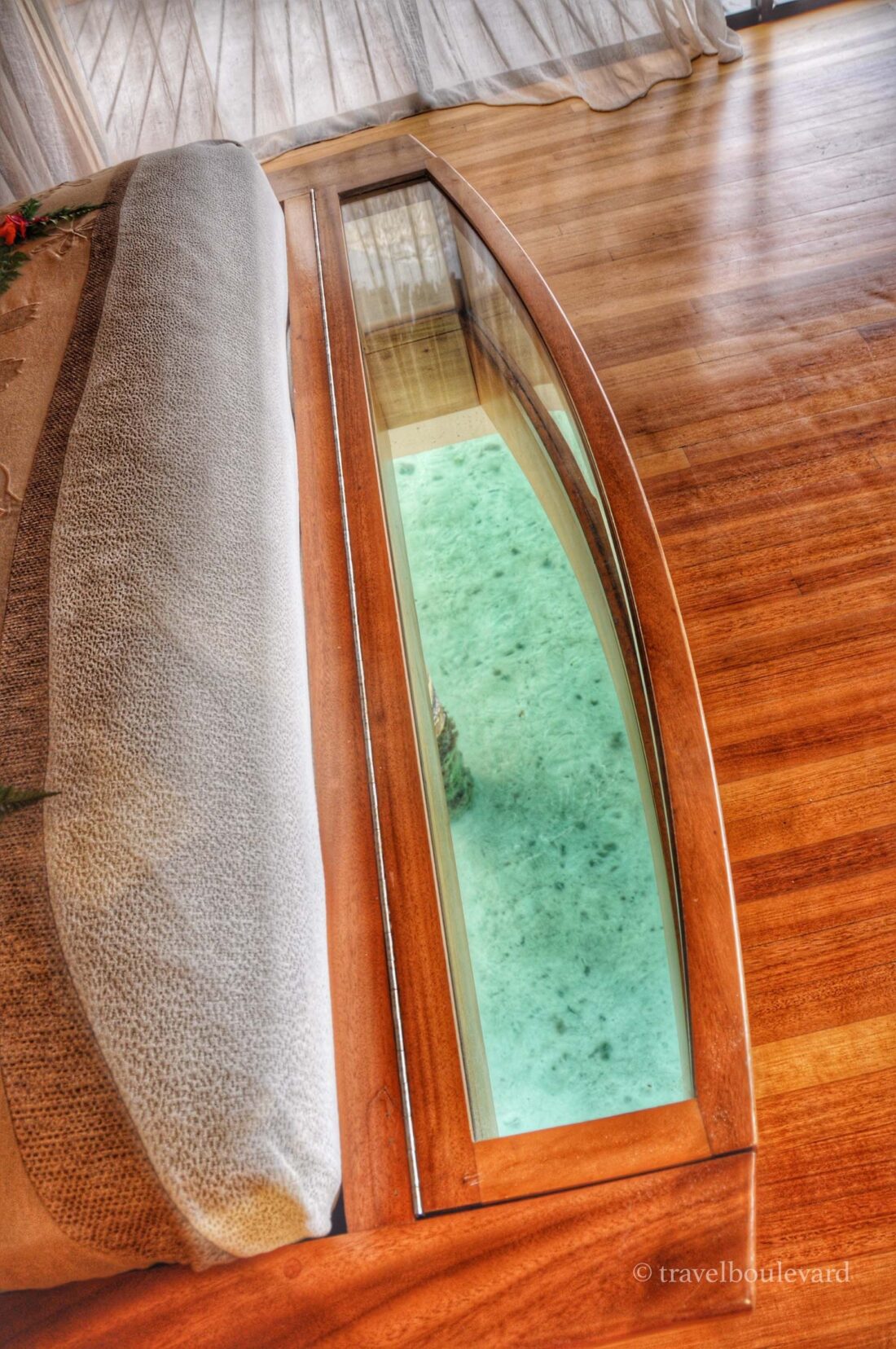 Zo kreeg ik 's avonds na het diner een doggybag gevuld met oud brood mee. "Voor de visjes", wisten ze mij te vertellen.
Ik verbleef in een overwater bungalow, en aan het bedeinde bevond zich een glazen kastje waarvan je de glazen vloer kon openmaken. Steek je 's avonds het licht aan, dan is dat het Komen eten-signaal voor de vissen die onder je bungalow zwemmen.
Nog even de vissen voederen zomaar vanuit je slaapkamer, het is toch veel interessanter dan schaapjes tellen voor het slapengaan.
Twice in a lifetime
Frans Polynesië en superluxe hotels als Le Taha'a zijn geweldig en je kunt er alleen maar in superlatieven over spreken. Al dat eindeloos genieten van de prachtige landschappen, jezelf keer op keer vergapen aan nog maar eens een zonsondergang of landschap zo mooi is dat het bijna pijn doet aan de ogen, als een pas geboren baby in de watten gelegd worden… het legt de lat onnoemelijk (onmogelijk?) hoog voor andere bestemmingen.
Nu hou ik van alle soorten reizen, maakt niet uit of het een budgettrip of luxereis is, als de bestemming en het gezelschap oké is, dan geniet ik met volle teugen. Maar een vakantie doorbrengen op wat ik de mooiste plek op aarde vind èn kunnen slapen in een uitzonderlijk hotel, het blijft toch heel erg bijzonder. Niet iets voor elke vakantie (tenzij je over genoeg fondsen beschikt natuurlijk), maar als onvergetelijke once in a lifttime-ervaring zal je weinig beters vinden. Ondertussen zijn wij wel al aan het dromen over een twice-in-a-lifetime-ervaring: het spaarpotje om nog eens naar Taha'a (en de andere eilanden van Tahiti) te mogen gaan, is al aangelegd.
(Overigens kun je hier en hier lezen hoe je zo'n reis naar Tahiti en haar eilanden voor elkaar krijgt.)
Als uitsmijter geef ik nog een paar foto's mee van Le Taha'a, kwestie van nog even te kunnen dagdromen.
Wat denken jullie? Droom je ook al van Tahiti?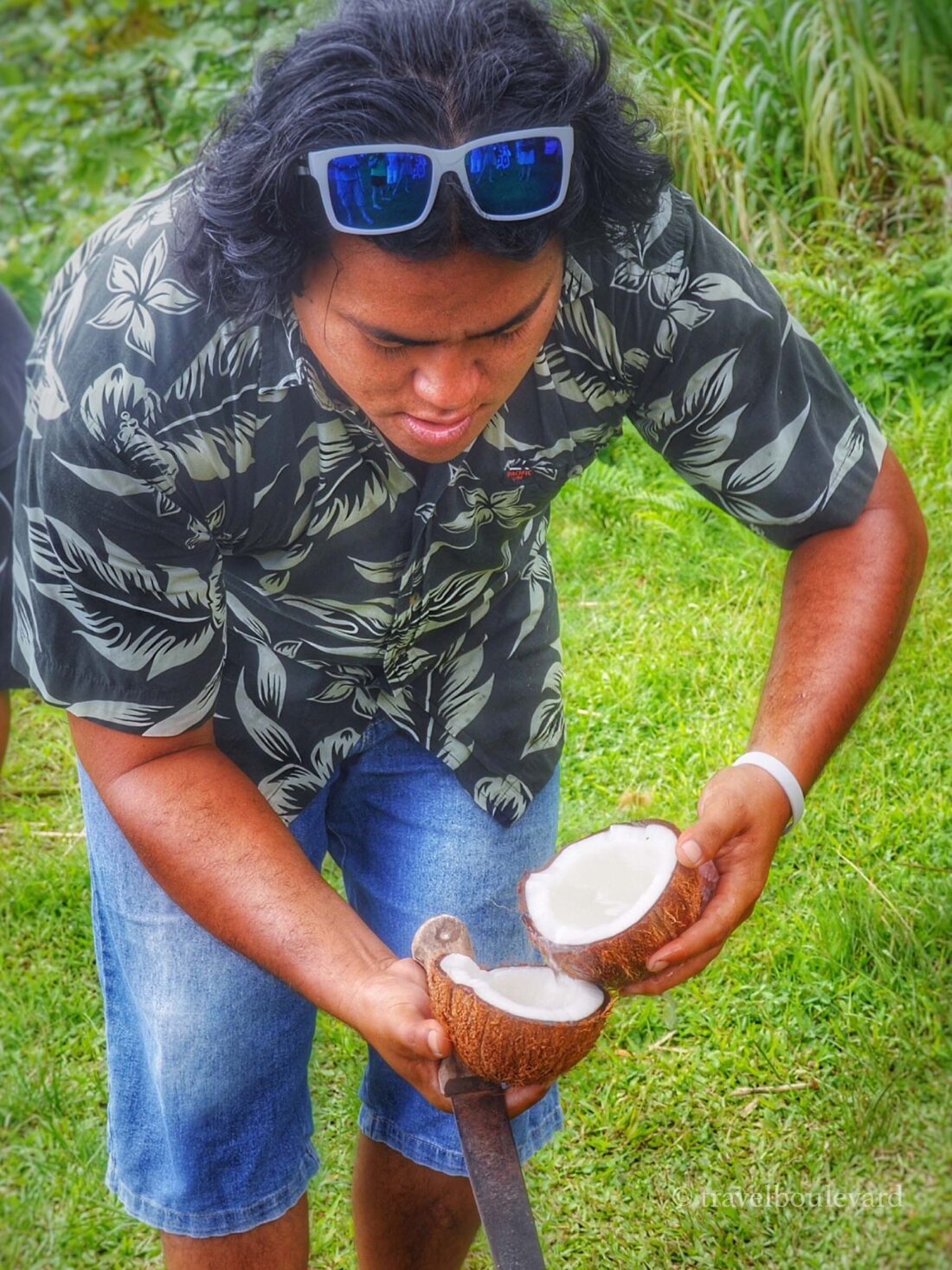 Alle info over reizen naar Tahiti: tahiti-tourisme.be – be.france.fr
Lees ook:
Tahiti voor beginners: 10 dingen die je moet weten over 's werelds mooiste vakantiebestemming
23 verrassende feiten over Tahiti en haar eilanden