Een weekend naar Center Parcs De Vossemeren? Via vrienden en familie had ik vaak al mooie dingen gehoord over dit vakantieconcept, maar zelf de koffers pakken om er een paar nachten te verblijven? Een vakantiepark, dat stond in de categorie 'leuk maar niet voor ons' geparkeerd. Maar: zeg nooit nooit want toen we er per toeval wél een weekend doorbrachten, vonden we het absoluut een meevaller.
Omdat Center Parcs een aantal leuke nieuwtjes wou meedelen, organiseerde het een bloggersweekend, in het Center Parc De Vossenmeren, bij het Limburgse Lommel. Of we er graag wilden bij zijn? Een blik op de website, aangenaam verrast zijn over het aanbod en uiteindelijk met groot enthousiasme de koffers pakken om Center Parcs te ontdekken.
Vakantie tijdens het (vroege) voorjaar houdt in België altijd een beetje een risico met het weer in. Wij arriveerden er op een vrijdagavond en hoewel de zon zich die dag nog erg voorbeeldig gedragen had, was het zaterdag en zondag echt pokkenweer: koud en kil, wind en een miezerige regen die van geen ophouden wou weten.
En toch: goed dat we dat weekend toch maar lekker in Center Parcs zaten, want ondanks de regen lag de omgeving er prachtig bij, en bovendien konden we ons er ook indoor prima amuseren. Die regen waren we vlug vergeten.
Dag 1: cool cool cool
Lommel, dat ligt in het – voor ons – verre Limburg en dus arriveerden we pas rond 21u in het park.
En omdat Center Parcs ook heel erg op kinderen gericht is, zijn 'we' in dit geval niet alleen Jempi en ik, maar ook Noria, Isra en Phara, de 3 dochters van Jempi en het meest kritische reisgezelschap ooit; het ideale trio dus om Center Parcs aan een grondig onderzoek te onderwerpen. We hadden de dames niets verteld over dit weekendje weg, en de verrassing toen duidelijk werd waar we de volgende twee dagen zouden doorbrengen, was dan ook immens groot Lees: hysterisch gegil, veel OMG's, nice en cool cool cool. We zouden het de rest van het weekend nog een paar keer mogen horen.
De eerste indruk
Vossenmeren, dat is eigenlijk één groot natuurdomein met twee grote meren, wat meteen ook voor een aangename ligging van de huisjes aan het water zorgt én bakken rust garandeert.
Onze cottage zag er op het eerste zicht maar 'zo zo' uit, maar binnen was alles piekfijn in orde; ruime woonkamer met open haard, keuken met echt alle benodigdheden, drie slaapkamers, inloopdouche en OMG – nu was het mijn beurt om hysterisch te gillen – een privé sauna én een badkamer met bubbelbad.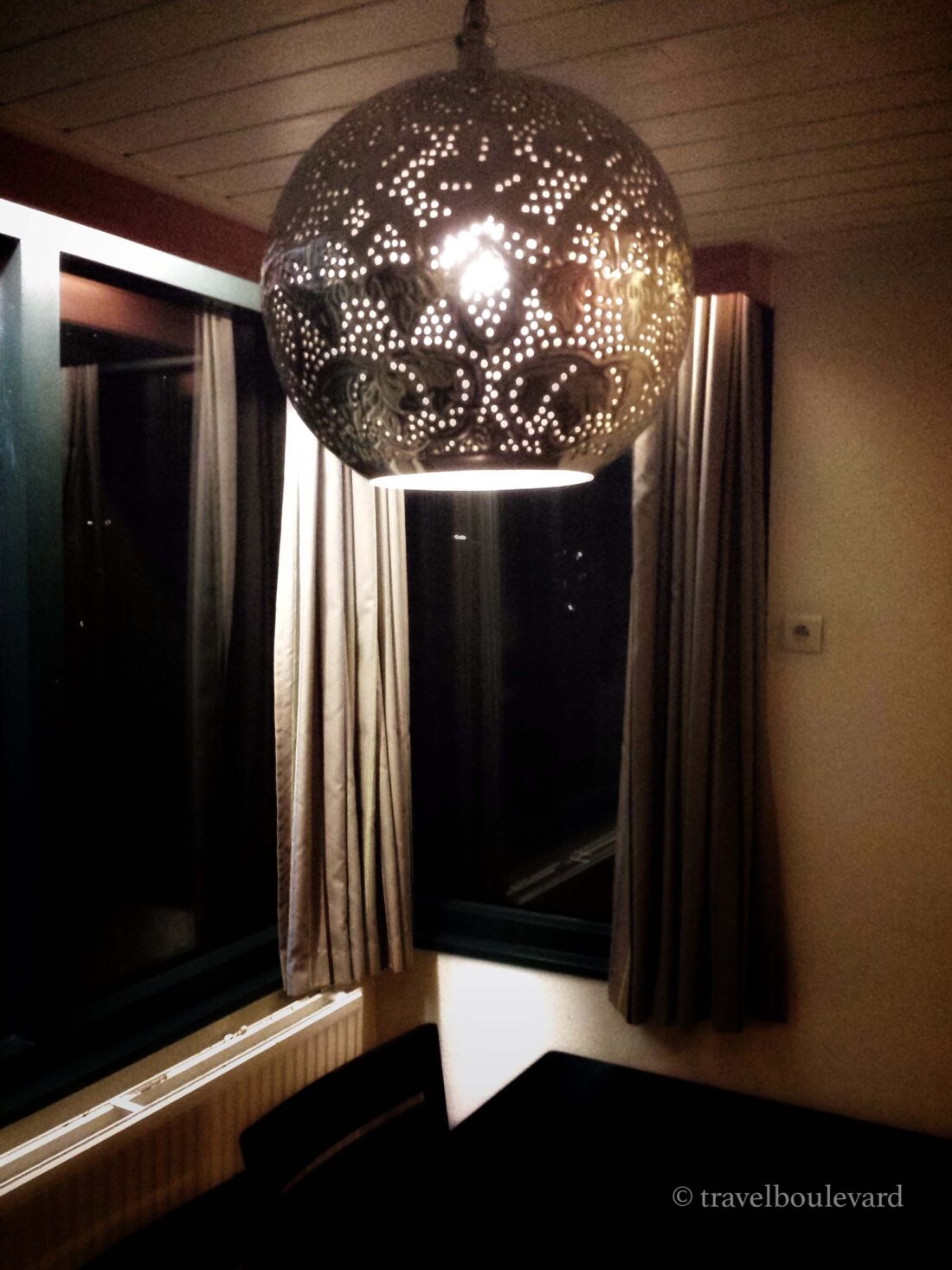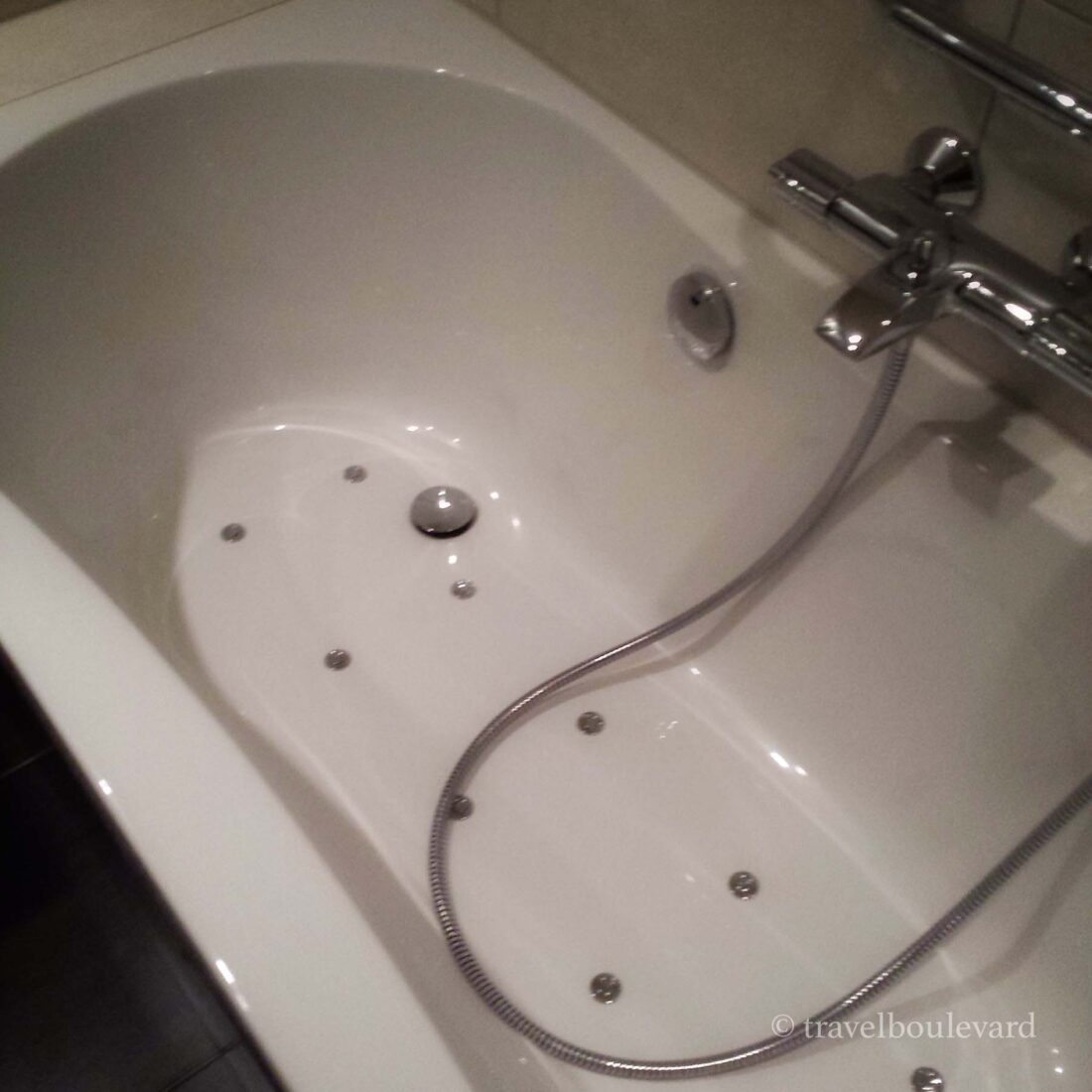 Geeft toe, dat was al een aangenaam begin. Andere leuke extra's waren de homecinema, de ingebouwde radio in de badkamer en vloerverwarming (zalig aan de voeten!). Wel jammer dat het een kille voorjaarsavond was in plaats van een een zwoele mooie zomeravond was want buiten wachtte er nog een terras met tuinmeubels en ingebouwde barbecue te wachten op zonnige dagen. Verder was er nog een zwerm eenden die regelmatig eens kwamen piepen of er soms nog brood was. Nieuwsgierige en grappige beestjes wel!
Het was de bedoeling om die eerste avond in één van de restaurants van het park te eten, maar daar bleek het wat te laat voor. En dus werd het pasta uit een pakje, die zelden zo lekker smaakte!
Dag 2: goed gevuld
De Market Dome ontdekken
's Morgens waren we veel te vroeg wakker, deels omdat we er zo goed geslapen hadden (echt, het is er verrassend stil; hoewel er toch vrij veel mensen in zo'n park verblijven hoor je alleen maar van die lieflijke natuurgeluiden, zalig), deels omdat we enthousiast waren om Center Parcs bij daglicht te ontdekken.
Ontbijten kun je natuurlijk lekker in je eigen huisje (gezellig op het terras tijdens de zomer) maar wij trokken richting Market Dome, het centrale punt waar je de winkeltjes, restaurants en tal van indxooractiviteiten kunt vinden.
Alleen: die Dome, die staat volgestouwd met tropische planten, leuke bruggetjes om over te wandelen, knusse hoekjes en je vindt er zowaar flamingo's, pagegaaien, schildpadden en andere dieren. Een leuk mini-eilandje vol tropische goodies waar we ruim een uur zoet waren met alles te ontdekken en uit te testen. Dat ontbijt moest maar even wachten.
Het ontbijt: aanval op de smoothies
Uiteindelijk doken we de Evergreenz in, een buffetrestaurant met een all-you-can-eat-concept, en ze menen het. Al het lekkers waar je maar aan kunt denken, is aanwezig, ook een soort gezondheidshoekje voor als je op je lijn let. Populair aan onze tafel waren echter de wafels, de gebakken eitjes met spek en worstjes en de koffiekoeken. En verder hebben we nog een gezamenlijke aanval op de smoothies ingezet, lékker. Die lijn, daar werken we thuis wel verder aan.
Actie in de Action Factory
En dan was het tijd voor de reden waarom we uitgenodigd werden door Center Parcs: de voorstelling van de nieuwe Action Factory, een indoor speelparadijs waar kinderen en hun ouders heel wat leuke avonturen te wachten staat.
Denk: bowlingbanen op kindermaat, trampolines, een interactieve indoorgolf, zwevende bumpercars, een racecircuit voor minicars…. alles opgebouwd rond het piratenthema – zoals de rest van Center Parcs De Vossemeren overigens – en heel erg geslaagd. Laat je kinderen hier los en ze willen er nooit meer weg.
Pizza bij Nonna's
Van al dat spelen krijgt een mens honger en dus stond er pizza op het menu, bij Nonna's. In dit gezellige familie- en pastahuisje lijkt het alsof je bij een Italiaanse mama mee aan tafel kunt schuiven, je zit er gewoon lekker in een Italiaanse woning mee te eten. Bloemetje op tafel, familiefoto's aan de muur, zelfs de was hangt er te drogen, net zoals je dat in het zuiden van Italië zo vaak ziet. Zalige plek!
De pizza's komen in buffetvorm en zijn superlekker (maar het was toch vooral de tiramisu waar ik niet van kon afblijven).
Splash
Volgende punt op de agenda – want er is hier zo veel te doen dat je écht wel wat moet plannen – was de ontdekking van de Aqua Mundo, het grote subtropisch zwembad waar de meiden al de hele dag bezeten naar uitkeken.
En aangezien het buiten giga slecht weer was, zou een namiddag in de 'tropen' beslist deugd doen. Behalve enkele heel erg spannende glijbanen (in de Monkey Splash glij je van 15 meter hoogte met een snelheid van 30 km/u naar beneden!) zijn er ook wildwaterzwembaden, een heus snorkelzwembad waar je een tropische onderwaterwereld kunt ontdekken, bubbelbaden, baby-baden… noem maar op.
De tieners en Jempi vonden al die glijbanen erg interessant, maar het allerleukste vond ik het buiten zwemmen, in een lekker warm bad terwijl de regen naar beneden miezert. Beslist de allerleukste remedie tegen de slecht-weer-blues.
De piraten geven een feestje
De dag was nog niet om en hoewel we steendood waren van alle Aqua Mundo-avonturen, moest er nog gefeest worden op een piratenbal. Dat feest ging door in de Discovery Bay – een indoor piratenwereld voor de jonge bezoeker, compleet met scheepswrak, strand, klimtouwen en waterkanonnen – en bestond uit een mix van muziek, zang en dans en lekker eten.
Jempi en ik waren zelf al zo vermoeid van de drukke dag die we al achter de rug hadden, dat we eerst dachten dat de meiden ook naar hun mand verlangden, maar als er (knappe) piraten in de buurt zijn, dan komt de boel opnieuw tot leven. Zo is dat.
Dag 3: naar de boerderij
Zondag en de laatste dag van ons verblijf. Het weer was nog steeds ellendig grijs, maar het was in elk geval gestopt met regenen. Nadat we eerst nog wat tijd binnen doorbrachten – Action Factory, een rondje bowlen – was het nu toch tijd om ook buiten wat te genieten.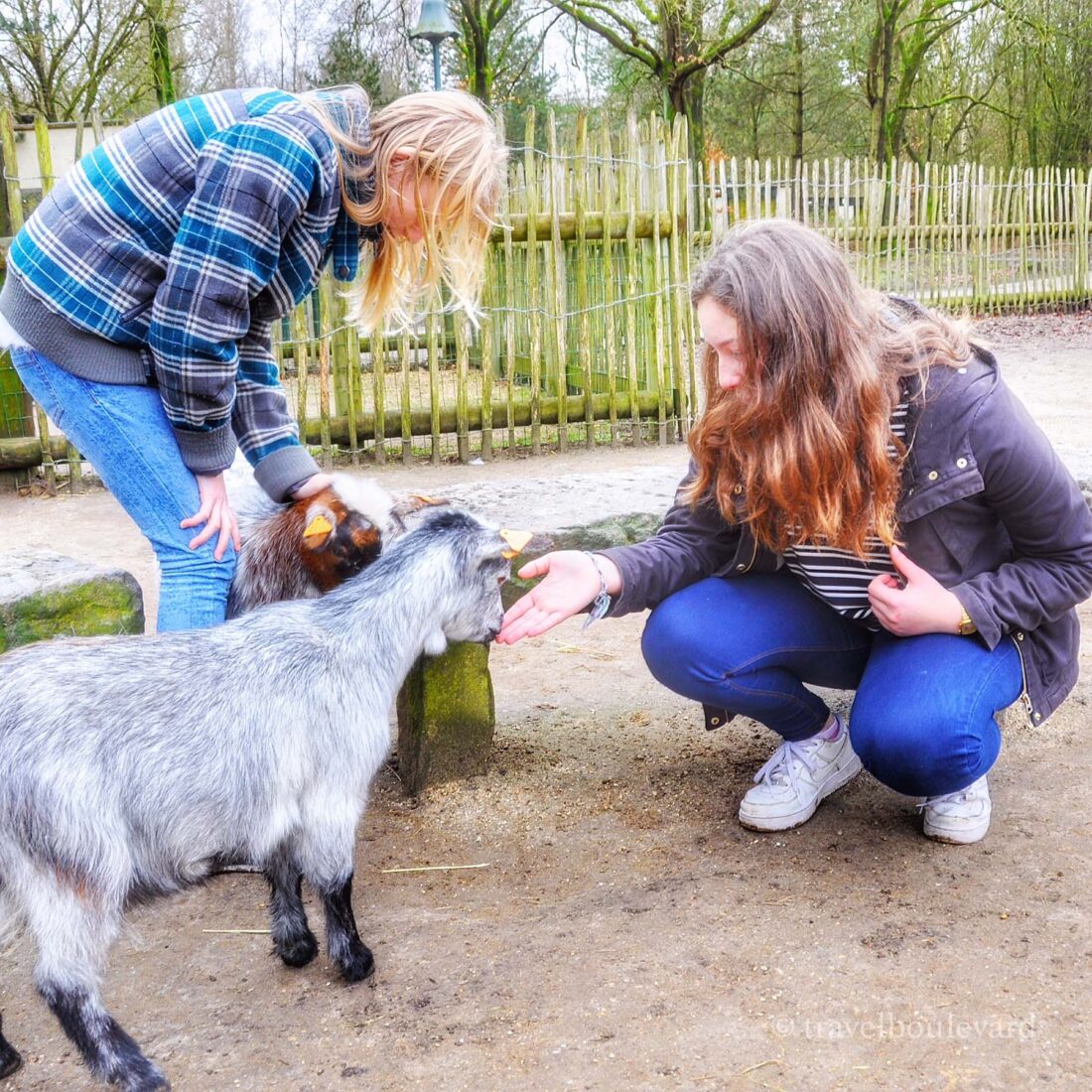 Een wandeling naar de boerderij leek ons perfect, vooral omdat we vandaag ook de tijd in het oog moesten houden: straks terug naar huis. Hoewel, met al die schapen, konijntjes en geitjes die om een knuffel vroeger, bleven we ook daar weer langer dan voorzien hangen: te leuk, te schattig.
Afscheid nemen van Center Parcs deden we op een gepaste manier: met lekker eten. In het Grand Café serveren ze op en top Belgische gerechten, en tip: de garnaalkrokketjes en zalmsalade zijn echte aanraders. Mooie en lekkere afsluiter.
Ons besluit? Voor herhaling vatbaar, dit weekendje Center Parcs. Bij mooi weer en tijdens de zomer valt er natuurlijk nog heel wat extra's te beleven (die twee meren liggen daar niet voor niets: watersporten à volenté!). Vooral voor gezinnen met kinderen kun je hier flink wat fun beleven, er is nooit een saai moment. Maar ook als je er eens lekker met z'n tweeën tussenuit wil zijn, is Center Parcs zeker een optie. Behalve het park zelf heeft de omgeving heel wat te bieden als je van wandelen, fietsen en lekker eten houdt.
Info. centerparcs.be
Disclaimer: wij waren uitgenodigd door Center Parcs om even van dit concept te proeven en de Action Factory te ontdekken. Al onze meningen zijn helemaal de onze. Alsook de leuke herinneringen aan dit toffe weekend.