Een rondreis maken door het historische verleden van Ierland? Zet je dan maar schrap: Oost-Ierland kent meer dan 5.000 jaar geschiedenis waarbij voor- en tegenspoed elkaar afwisselen en een hele stoet koningen, ridders en jonkvrouwen de revue passeren. En dat alles zorgt voor heerlijke – en vaak verbijsterende – verhalen. De hoogtepunten van die lange geschiedenis werden netjes in een toeristische route – of liever: immens grote regio – gegoten: Ireland's Ancient East. Voer voor een magische roadtrip doorheen het eeuwenoude oosten van Ierland.
Wil je gaan roadtrippen doorheen Ierland dan is de kans groot dat je eerst en vooral kiest voor een rondreis langs de Wild Atlantic Way, en terecht. Deze prachtige (auto)route langs de uiterst mooie en grillige Westkust van Ierland is een absolute topper en staat op de bucketlist van zowat elke reisliefhebber. Bezoekers van over de hele wereld zakken naar Ierland af om deze Way zelf te beleven. Alleen: het even interessante oosten van het Ierland wordt hierbij een beetje vergeten. Nochtans heeft ook deze regio verrassend veel te bieden: een prachtige kustlijn, schattige dorpjes en steden, de meest charmante pubs en om elke hoek wel een kleurrijke (en vaak amusante) legende boordevol Ierse geschiedenis. Ierland heeft daarom een toeristische route uitgestippeld om ook dit deel van het land in de kijker te zetten: Irelands Ancient East.
Bij de nieuwe route hoort een indrukwekkende website – www.irelandsancienteast.com – en die heb je echt wel nodig om je een weg doorheen de geschiedenis van Ierland te banen: de bezienswaardigheden en must do's zijn zo uitgebreid en overweldigend dat je het gevaar loopt te verdwalen tussen alle verhalen.
Wij gingen er een weekje roadtrippen en ontdekten dat de Ierse geschiedenis – of je nu 5.000 jaar terug in de tijd reist of 'slechts' een eeuw – bol staat van levendige legendes, bloederige veldslagen en epische heldenverhalen. Off we go!
1. Wicklow Gaol: een macabere gevangenis
Onze reis start alvast met een bijzonder macabere vertelling: een bezoek aan Wicklow Gaol in Wicklow, in de 18de eeuw een beruchte gevangenis en vandaag een interactief museum waar, naar goede Ierse traditie, de geesten van voormalige gevangen nog vrolijk rondspoken.
Wicklow Gaol prijkt zelfs op het lijstje van 's werelds 'meest bezeten plaatsen', als gevolg van de gruweldaden die er destijds achter de gesloten deuren gepleegd werden. Een bezoekje aan deze gevangenis is beslist de moeite, al hebben we er ondanks hoge verwachtingen toch geen spoken gezien. Je kunt er wel een rondleiding volgen of gewoon op eigen houtje door de gevangenis dwalen; levensgrote poppen van beroemde gevangenen wachten je op en via informatieve panelen krijg je een mooi – nou ja – beeld van hoe het er in Wicklow Gaol aan toeging.
2. Het oude stadje Wexford, gesticht door Vikingen
Van Wicklow rijden we naar Wexford, een kunstzinnig stadje met een rijke maar bloederige geschiedenis. Wexford staat al sinds 800 vC op de kaart, toen het gesticht werd door de Vikingen. Die invloed is onder andere nog zichtbaar in het bijzondere stratenplan. Wexford kreeg door de eeuwen heen nog het bezoek van de Normandiërs en werd tijdens een hevige strijd bijna volledig van de kaart geveegd door Cromwell. Vandaag is het een gezellig, typisch Iers stadje waarin het heerlijk ronddwalen is door de oude straatjes. Toen we ook 's avonds door het stadje wandelden, leek het wat uitgestorven maar er klonk wel muziek en die leidde ons naar een, jawel, typisch Ierse pub waar duchtig gezongen (en gedronken) werd.
Tip: Bezoek het hypermoderne Opera House in het centrum van de stad (met het panoramacafé Sky View); contrasteert leuk met de oude sfeer van Wicklow.
Trivia: regisseur Steven Spielberg nam op de stranden ten noorden van Wexford scènes van de film Saving Private Ryan op.
3. Schipbreuk en Tintern Abbey
Onze volgende stop in county Wexford is de Abdij van Tintern, een cisterciënzer abdij waarvan alleen de muren nog rechtstaan. De abdij werd in 1203 gebouwd door William Marshal, graaf van Pembroke. De graaf had schipbreuk geleden vlak voor de Ierse kust en hij zwoer een abdij te bouwen indien hij veilig aan land zou komen. En jawel, de graaf overleefde de storm en hield zijn belofte.
Hoewel de abdij vrij klein oogt, is een bezoek toch indrukwekkend. De oude geschiedenis van Ierland is misschien een beetje ver van ons bed, maar het is leuk om de verhalen te horen van vroegere bewoners. Rond de abdij zijn er vier verschillende wandelingen die je kunt maken, ideaal om het Ierse landschap te bewonderen en de abdij van in de verte te aanschouwen.
4. De geheime tuin van Colclough
Breng je een bezoek aan Tintern Abbey neem dan ook even de tijd om de ommuurde tuin van Colclough te bezoeken, gelegen vlakbij de abdij. De tuin werd in de vroege 19de eeuw gebouwd door de familie Colclough en werd in 2010 gerestaureerd precies zoals het was in 1838. Ook als je geen liefhebber van tuinen bent, is dit een aanrader; het voelt een beetje als een geheime plek.
5. Op spokenjacht in Loftus Hall
Ierland zou Ierland niet zijn als je er niet nu en dan op een stevig spookverhaal botst. En dat vinden we in Loftus Hall, een groot herenhuis op het schiereiland Hook. Het huis staat bekend als de 'most haunted' plek van Ierland; niemand minder dan de duivel himself en de geest van een jonge vrouw zouden er in ronddwalen.
Loftus Hall lijkt inderdaad recht uit een horrorfilm te komen en ziet er indrukwekkend dramatisch uit; een strak grijs gebouw temidden een ruw en dreigend kustlandschap, beslist een plek waar een beetje kwaadaardige geest zich bijzonder thuis zou voelen. Dat het weer tijdens ons bezoek niet echt meezit – het is grijs en het regent, ook al is het hartje zomer, welkom in Ierland! – draagt bij aan de grillige sfeer van de omgeving.
Ook de geschiedenis van Loftus Hall is heel 'spookverhaal-stereotiep': een eeuwenlange aaneenschakeling van bloederige taferelen, persoonlijke tragedies, ziektes en krankzinnigheid. Geen wonder dat het hier spookt! Verschillende mensen beweren hier geesten en schimmen gezien te hebben en in 2014 fotografeerde een bezoeker per toeval één van de dwalende geesten (het kon ook een reflectie van één van de andere bezoekers geweest zijn natuurlijk). In elk geval: Loftus Hall is een spooky plek en heel erg leuk om te bezoeken. Je kunt er een rondleiding volgen waarbij de geesten die er wonen uiteraard een hoofdrol spelen. En spoken of niet: Loftus Hall maakt ook indruk omdat je er een reis terug in de tijd maakt.
Heel erg mooi overigens is de indrukwekkende trappenhal; hiervan bestonden er maar drie in de hele wereld. Eén ervan werd op de Titanic geïnstalleerd en raakte voorgoed verloren. Het verhaal wil dat de timmermannen die de trappenhal maakten naderhand hun handen afgekapt werden, opdat ze nooit meer in staat zouden zijn zoiets moois ineen te timmeren. En verder wordt nog gefluisterd dat Bono van U2 één van de mede-eigenaren van Loftus Hall is. Voer voor veel mysterie en speculaties dus, deze Loftus Hall.
6. Het uitzicht vanop Hook Lighthouse
Nog meer spookverhalen vinden we in Hook Lighthouse, gelegen op het uiterste puntje van de Hook Peninsula en met 800 jaar op de teller één van de oudste nog werkende vuurtorens ter wereld. De toren werd gebouwd aan het begin van de 13de eeuw en staat er nog steeds indrukwekkend bij, uitkijkend over één van de meest pittoreske plekjes van de kust.
Het beklimmen van de toren hoort er uiteraard bij, en als het prachtige uitzicht van op de top je niet kan bekoren, dan is er nog altijd het boeiende verhaal van de monnik wiens resten in de muren van de vuurtoren begraven zouden zijn.
7. Hongersnood op het Dunbrody Famine Ship
Vonden we de spookverhalen van Loftus Hall amusant en het zicht vanuit de Hook vuurtoren indrukwekkend, dan worden we stil bij de verhalen die we te horen krijgen tijdens een bezoek aan het Dunbrody Famine Ship, een authentieke replica van één van de schepen die rond 1840 ruim 1,5 miljoen immigranten naar Noord-Amerika brachten. Ierland leed in die periode aan een immense hongersnood, als gevolg van verschillende mislukte aardappeloogsten. Ruim één miljoen mensen stierven de hongerdood; vluchten naar Amerika was een laatste redmiddel. Dappere en wanhopige mensen kozen ervoor om alles wat ze kenden achter laten in ruil voor een onzekere toekomst in het buitenland.
Aan boord van het Dunbrody-schip zijn we getuige van de onmenselijke omstandigheden waarin zo'n reis verliep: een maand lang opeengepakt in het donker ruim van het schip, in een vieze en stinkende ruimte, met een minimum aan voedsel en geen hygiëne. Ongeveer een vijfde van de passagiers overleefde de tocht niet en de schepen werden dan ook 'coffin ships' genoemd. Tijdens een rondleiding op het schip kun je met eigen ogen zien hoe gruwelijk het allemaal wel was. Om de ervaring nog intenser te maken, spelen gekostumeerde artiesten spelen de rol van emigranten met hongersnood en lijkt het alsof je zelf zo'n onfortuinlijke passagier bent.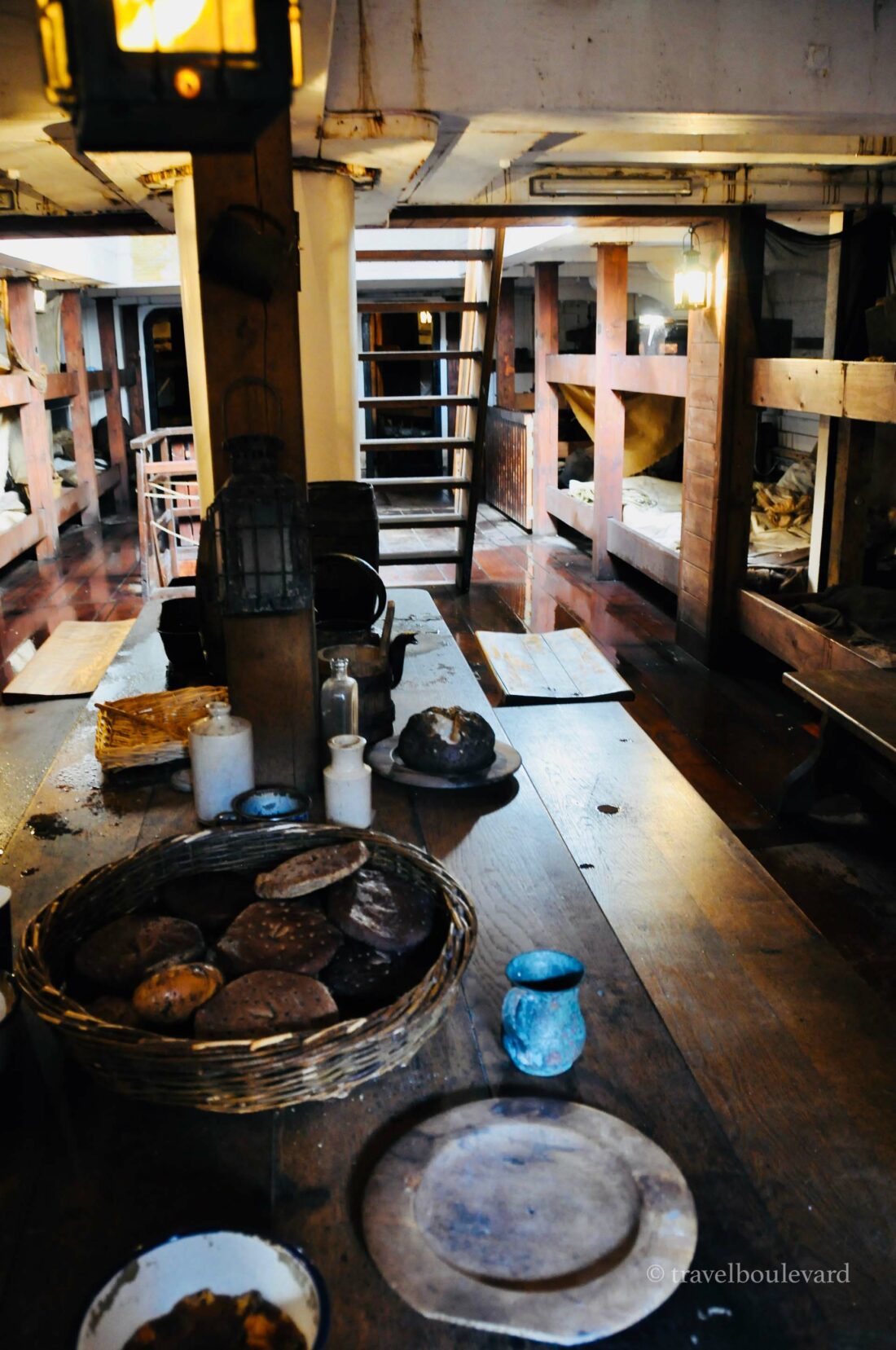 Het Dunbrody Famine Ship ligt in New Ross, een stadje dat niet alleen bekend is vanwege zijn band met Noord-Amerika, maar ook de Amerikaanse president John F. Kennedy, wiens voorouders van hier afkomstig waren. Je kunt er de Kennedy Homestead bezoeken, ooit het huis van de familie en nu een populair bezoekerscentrum. Vlakbij het schip vind je ook een levensgroot standbeeld van John F. Kennedy.
8. Het charmante Kilkenny ontdekken
Het middeleeuwse Kilkenny is beslist één van de meest charmante stadjes van Ierland. Gelegen aan de rivier de Nore is het een gezellige oer-Ierse plek boordevol mooie kleurrijke huizen (en pubs!) en smeuiige verhalen. Kilkenny is een historisch belangrijke stad – in de 14de eeuw had het Ierse parlement er zitting – en ook een beetje een gruwelijke stad; hier vond namelijk de eerste heksenverbranding in Europa plaats.
Vandaag is Kilkenny een vredelievend plaatsje met heel wat bezienswaardigheden. Topper is Kilkenny Castle, een kasteel uit 1195 met een boeiende (soapachtige) geschiedenis.
Tip: terwijl je toch in Kilkenny bent, profiteer er dan van om de River Barrow of de Nore, die de stad doorkruist, met de kajak af te varen. Goed voor een compleet ander beeld op de stad en leuk als spannende activiteit tussen alle geschiedkundige (en/of pub-)bezoeken door (gowiththeflow.ie).
9. De moerassen van Lullymore Heritage Park
In het Lullymore Heritage & Discovery Park bevinden we ons in in het moeras van Allen, het grootste veenmoeras van Ierland.
Hier werd in vroegere tijden veen gewonnen voor commerciële doeleinden. Je kunt het veenmoeras bezoeken met een treintje, een gids zorgt voor de nodige uitleg. Verder is er ook een bospad dat je langs een dorp uit de ijzertijd voert, een kinderboerderij, minigolf en andere mogelijkheden voor familiepret. Bezoek je Ierland met kinderen, dan is dit een stop die je beslist niet mag overslaan, je kinderen zullen er in hun nopjes zijn.
10. Mell Gibson achterna in Trim Castle
Trim Castle is het grootste Anglo-Normansische kasteel in Ierland. Het dramatische bouwwerk dateert uit de 12de eeuw en was ooit het decor voor de film Braveheart, van en met Mel Gibson. Zowat de helft van van bewoners van het – heel erg aardige – stadje Trim heeft gefigureerd in de film, en alle pakken ze er graag mee uit dat ze Mel Gibson himself ontmoet hebben.
Trim Castle kan bezocht worden met gids, maar wie hoogtevrees heeft, blijft beter stevig met de voeten op de grond: de burcht is een ruïne en hoewel er her en der doorgangen en wandelbruggen gecreëerd werden, moet je goed uitkijken waar je stapt.
11. Keltische kruisen en het legendarische Book of Kells
Heb je tijdens je reis door Ierland nog geen Keltisch kruis gezien (kunnen we ons niet voorstellen, je struikelt er bijna over) dan kun je er tijdens een passage in het erfgoedstadje Kells eentje in volle glorie bewonderen. Op het marktpleintje staat een goed bewaard kruis – het Market High Cross – op jou te wachten om bewonderd te worden. Het kruis wordt beschermd door een plastic dakje, en dat doet het kruis geen eer aan: het ziet er eerlijk gezegd een beetje cheap uit. Nu ja, het kruis is al stokoud en kan wel enige bescherming gebruiken. Maar: goed om even te bekijken als je er toch bent – en nog geen kruis gezien hebt – maar Kells is belangrijker om een andere reden: op deze plek werd het legendarische Book of Kells bewaard, het eeuwenoude manuscript geïllustreerd door monniken. In het kerkje kun je een kopie van het manuscript inkijken, het origineel bevindt zich in Trinity College in Dublin (waar het aanschuiven is om het boek te bewonderen).
12. Eeuwenoude cider proeven
Een reis door de geschiedenis van Ierland speelt zich ook af op culinair vlak. We duiken daarvoor de The Cider Mill in Slane in. Daar proeven we de eens beroemde Ierse cider Cockagee die gemaakt wordt op dezelfde manier ze dat in 1664 al deden. Het drankje heeft alvast een lekkere smaak met rijke fruitaroma's en dat ook anderen de cider weten te waarderen, bewijzen de prijzen waar Cockagee mee kan uitpakken. De ietwat vreemde naam komt overigens van het Ierse 'Cac een gheidh' wat zich vertaalt als 'ganzendrollen' en verwijst naar de geelgroene kleur van de appels van de Cockagee appelboom.
13. Rockgoden in het hippe Slane Castle
Een kasteeltje meer of minder, in Ierland draaien ze er hun hand niet voor om. Slane Castle is er wel eentje met een heel hoog hipgehalte want bekend vanwege de concerten die er sinds 1981 in augustus gegeven worden. De grasvelden rond het kasteel vormen een natuurlijk amfitheater waar ruimte is voor zo'n 100.000 mensen. Stonden er al op het podium: Queen, The Rolling Stones, Bruse Springsteen, David Bowie, Guns N' Roses, Neil Young, R.E.M., Robbie Williams, Bryan Adams, U2, Red Hot Chili Peppers, Iggy Pop, Madonna, Oasis en vele anderen.
Leuk weetje: het vierde album van U2, The Unforgettable Fire, werd opgenomen in het kasteel, evenals de video voor Pride (In The Name Of Love). Tijdens ons bezoek hebben we geen enkele rockgod gespot, wel een aardig kasteel waar je een leuke rondleiding door de vertrekken krijgt. Slane Castle werd gebouwd in 1785 en is al meer dan 800 jaar de thuis van de Conyngham-familie.
14. Oorlogje spelen in het Battle of the Boyne Visitor Centre
Het Battle of the Boyne Visitor Centre is volledig opgezet rond de historische Battle of the Boyne uit 1690, toen koning William III and en zijn schoonvader Koning James II één en ander moesten uitvechten.
De Battle of the Boyne was één van de grootste oorlogstreffen in Ierland, met de Britse troon, Franse dominantie in Europa en religieuze belangen in Ierland als inzet. We mogen er dus gerust van uitgaan dat het een vrij belangrijke slag was. En dat alles dus op deze plek. Informatief bezoekje als je into oorlogsgeschiedenis bent.
15. Terug naar het prille begin: de Hill of Tara
Onze reis doorheen het verleden van Ierland eindigt bij het prille begin van het land: bij de Hill of Tara. Een mythische plek die al belangrijk was nog voor de Kelten er waren. Ooit was deze heuvel dit het centrum van het land. Veel meer dan een paar heuvels, oude ringforten en wat opgravingen rest er niet, en toch is dit een indrukwekkende waar je het (hele) verre verleden als het ware tot leven voelt komen.
Hier zou het mythologische volk van de Tuatha Dé Danann (Landen van de godin Danu) ooit geleefd hun hebben. Voor alle duidelijkheid: tot in de 12de eeuw werd aangenomen dat dit volk echt bestaan zou hebben, later werd aangenomen dat het eerder om goden en elfen ging en onder andere J.R.R. Tolkien heeft vond inspiratie in de verhalen van dit volk voor het schrijven van zijn beroemde boeken. In elk geval was Tara wél de zetel van de Hoge Koningen (de koningen van Ierland van de prehistorie tot ongeveer 1200 na Christus) en het bleef hun verblijfplaats tot de zesde eeuw. Het was het politieke en spirituele centrum van Keltisch Ierland.
Op de heuvel staat een pilaarsteen waarvan wordt aangenomen dat het de mythische Lia Fail (steen van het noodlot) is waarop de Koningen van Ierland werden gekroond, al beweert ook Schotland over de legendarische steen te beschikken. Op de site werd verder ook een standbeeld opgetrokken van Saint Patrick en even verder vind je nog een aardig kerkje.
Tot op vandaag blijft de heuvel van Tara voor de Ieren een mythische plek met verwijzingen naar goden en elfen, waar de ziel van Ierland geboren werd en waar alle verhalen beginnen.