I know. I've always said I would never ever go cruising. Because it's just not me: too big, too crowded, too artificial… But all it needed was just one cruise to have a complete change of heart. We embarked on a Dubai/United Arab Emirates with Costa Cruises: a 7-day cruise filled with Italian flair (our Italian Costa ship) and Arabian fairy tales (the destination). And this is what happened.
The ship: Italian glamour
Our ship was the Costa Atlantica, a floating five-star hotel with lots of bling bling, glitter and glamour. More experienced cruise travelers had already warned us. "The atmosphere is a bit different", they said. "You know, Italian passion and a tons of glamour" Which works perfectly for me: in my opinion there can never be enough bling bling (if they let me I would even wear glitter pants to work), why go for grey if you can sparkle?
The vessel was indeed a joy for the eye, and all the glitter, tinsel and glamour made me enormously happy. I mean, if you're staying for a full week on a ship, it might as well be fun and a bit over the top.
Each deck of the Costa Atlantica is named after a film by the Italian director Fellini, there was an Italian pizzeria on board and even a very good imitation of the Venetian Café Florian. And of course all the other things you would expect to be on a big cruise ship, were present: swimming pools, hot tubs, gym, spa, casino, disco, many restaurants and bars…
And our cabin? Larger than expected. It looked and felt like a spacious hotel room, including flat-screen TV, sofa, bathroom, safe, mini-bar… (today the Costa Atlantica sails on a different route, if you book this cruise, you'll probably staying on the Costa Fortuna).
A different port every day
The nicest thing about cruising is that you can have a taste of different places in a relative short time.
And this was our route:
day 1: Dubai (arriving)
day 2 & 3: Oman
day 4: Fujairah
day 5: Abu Dhabi
day 6 & 7: Dubai
Visiting Oman: city tripping and nature
We had two stops in Oman: the first day we visited its capital Muscat, the next day our ship sailed to Khasab.
Muscat has a relatively small city center with souks where you can easily wander on your own. However, the various interesting sites (like the Grand Mosque, the Sultan's Palace or the Royal Opera House) are situated slightly apart from each other; if you want a thorough city tour, it might be a good idea to meet up with a private guide or participate in a group excursion.
If it's action you're after, there are numerous possibilities to get the adrenaline going, like desert racing (dune bashing) or spectacular helicopter flights. No, it's not cheap (in fact: all excursions you book aboard are quite expensive) but you'll definitely have an interesting story to tell when you get back home.
Khasab is a town on a small peninsula, an enclave in fact that's clinging to the United Arab Emirates. The region is known as the Norway of Arabia , because of its extensive fjord-like inlets. A boat trip with a dhow (a traditional boat from Oman) is one of the popular things to do, so we hopped from our big cruise ship on to the small boat and went sailing around the fjords.
A good choice as the fjords were indeed spectacular and big bonus: we spotted some playful dolphins during this little trip, always so much fun to meet these lovely creatures.
All in all the boat trip was a very cool experience, although we did had some bad luck with the weather. During our trip back with the dhow it suddenly started to rain, not just a few drops but like in: gigantic water masses pouring from the sky.
Back in Khasab, we found shelter in the Qasar fort, an interesting – and dry – little museum where we learnt all about the history and traditions the region. By the time we left the fort, the sky had cleared and hello sun.
Relaxing in Fujairah
After two stops in Oman our Costa ship proceeded to Fujairah, a small emirate with a very interesting archeological museum filled with spectacular hidden treasures. Well, so I've been told because I didn't leave the ship and never saw the museum. After two busy days with new impressions and many excursions, I decided it was time to experience life on board to the fullest: enjoy an extensive breakfast, inspect the gym (fitness with a sea view), doubting whether I should try the workshop 'shake your own cocktail' or the 'arts & crafts', having a chat with the crew (lots of Filipinos), having a chat with the other guests (lots of Italians) and spent a couple of hours in the spa (which was like heaven!). A relaxing and good day.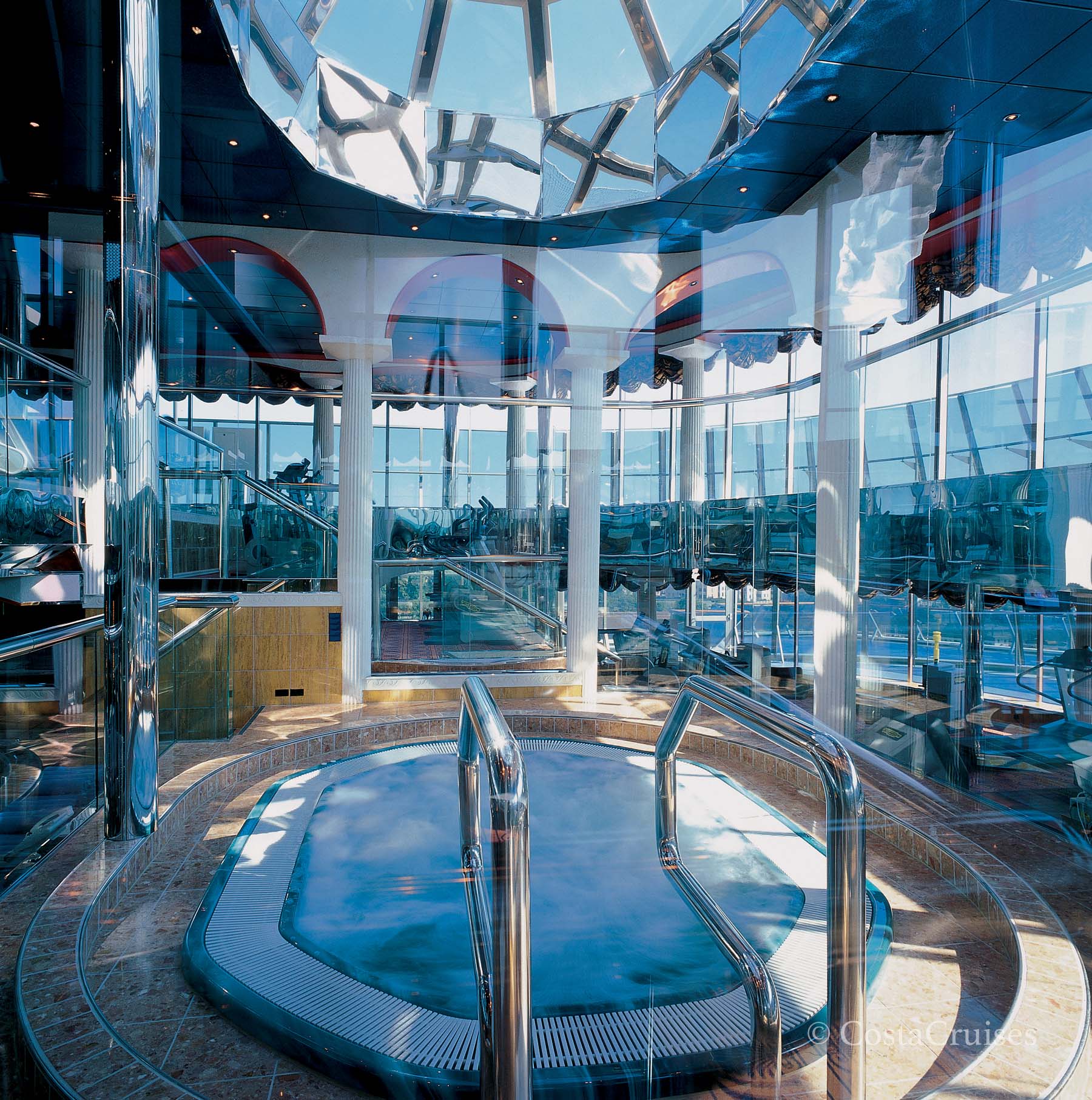 Abu Dhabi: visiting the biggest mosque in the world
The next morning I woke up to the beautiful view of the skyline of Abu Dhabi (that's the greatest thing about cruising: every day a different view to admire!).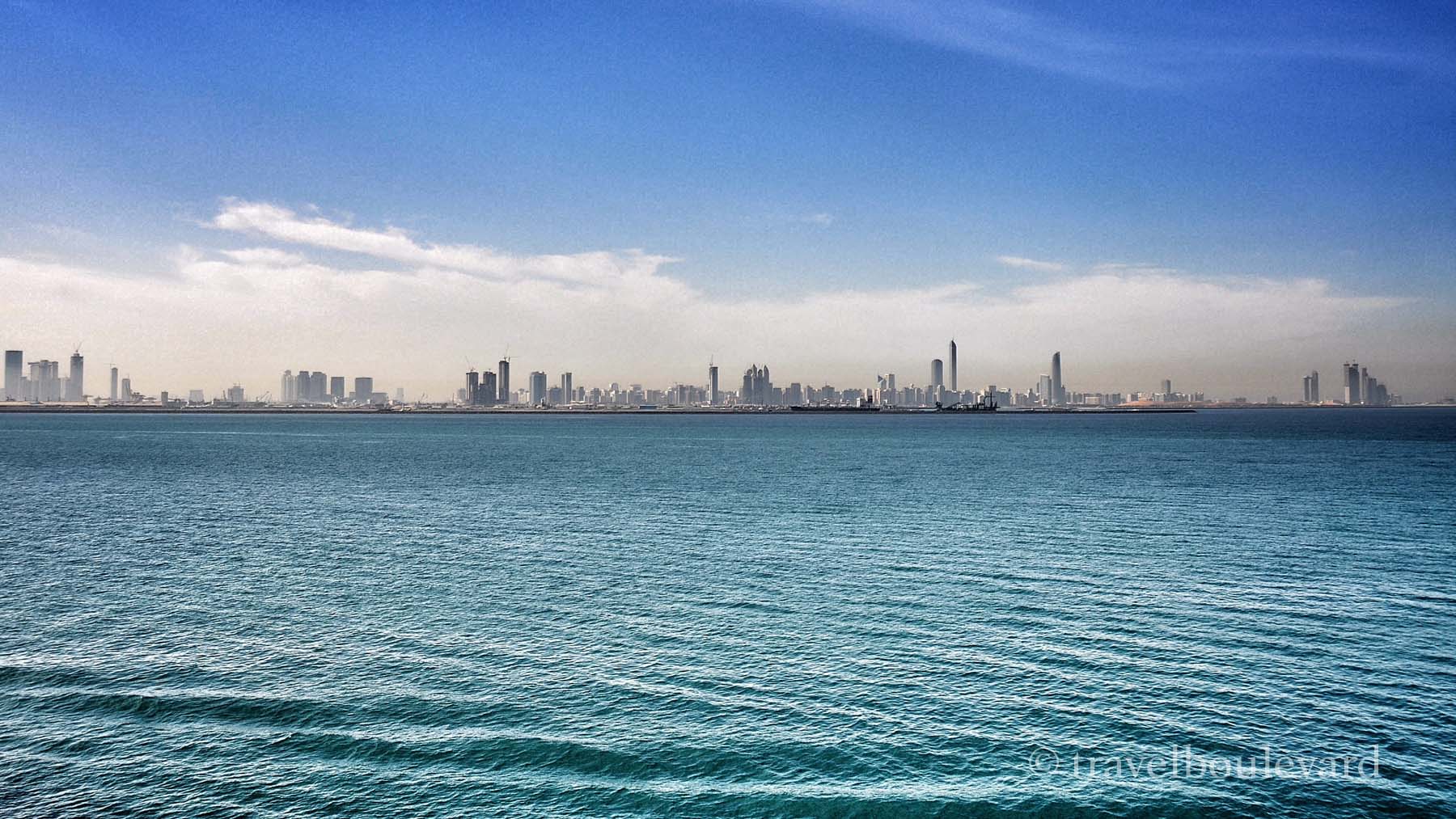 Again there were a lot of things to do (Ferrari Park, woehoe!) but because Abu Dhabi takes great pride in its Sheikh Zayed Mosque, that's what we decided to visit.
Sheikh Zayed Mosque is one of the most beautiful mosques in the world and absolutely an absolute must:
the mosque boasts the largest carpet in the world; it covers an area of ​​5627 m2, weighs 47,000 kilos and counts no less than 2.268 billion knots.
of course there's no way you can hang a simple lamp above the world's largest carpet. So here you have it: the world's largest chandelier! It truly is an enormous thing of beauty, with a diameter of 10 meters, a height of 15 meters and completely made of copper and gold.
Dubai and the end of the cruise
Our cruise was coming to and end and the ship brought us back to Dubai, where we had two days before going home.
I had visited Dubai a couple of times before and was in no rush to hit the city again. So I took it slow, went for a walk in the winding alleys and souks of Old Deira, the old part of Dubai. And I ended the day by tackling the Dubai Mall, one of the ultra-modern shopping malls in the new part of town.
Life on board
Apart from the destination and daily discoveries, it's the atmosphere and life on board that's most important when going on a cruise. During the day there are a variety of activities for the young and old and there was never a dull moment. And although there were more than a thousand people on board, I never felt it was overcrowded. And if you feel the need to have some really quiet time: and there always were little hideaways to spent some time by yourself, in peace and silence.
And the nightlife? An intimate diner in one of the à la carte restaurant, making new friends in the bars of having a blast in the disco… make your choice, it's all up to you.
My conclusion? Waking up to the spectacular Dubai skyline. Having breakfast the next morning while admiring the rocky landscape of Kashab, enjoying the early sun on deck while arriving in Abu Dhabi… To me this cruise was a fab way to escape to escape the cold European winters and have a little preview of the beauty of the Persian Gulf. And of course the destination of a cruise is important, but cruising is in fact a destination in itself. I didn't feel like I was 'traveling' and did worry if a cruise was something I could appreciate. But here you go: I had a great time and a fab holiday. To me it was the perfect way to relax, forget about work and daily stuff, and just enjoy myself. Need to go on a cruise very soon again! 🙂
More pictures? Here they come:
How do you feel about going on a cruise? Don't hesitate to share your opinions with us.