Cruising the lesser known Caribbean Leeward Islands with Star Clippers
We've already wrote about how much we enjoyed sailing with Star Clippers (read about it here) but we never actually gave a full review of the itinerary itself. Star Clippers offers sailing cruises around the world – even oceans crossings – and we opted for the 7-days sailing and exploring the Caribbean Leeward Islands. Here's how we spent that week.
Day 1: Philipsburg – Saint-Martin/Sint-Maarten
Our first cruise day started in busy Philipsburg, where the Star Clipper was waiting for us to embark along the new pier, about a kilometre from the town center. We've already spent some time exploring Saint-Martin (read about it here) and Philipsburg was definitely the most touristic place on island. Looking at the large number of restaurants, pubs and duty-free shops it's obvious this is a very much a place for sun-seeking tourists and bargain hunters. We didn't mind all the hustle and bustle and enjoyed watching the crowds, but if you're looking for a more relaxed atmosphere it may be a good idea to take a taxi to the beaches on the western side of the island.
Day 2: Charlestown – Nevis
Our plan was to visit Charlestown but since it a Sunday and we were told there's nothing much to do, we just took one of the Star Clippers tenders to the beach. It was a lazy afternoon filled with sunbathing, a bit of water sports and enjoying the surroundings. My favourite kind of Sunday.
Day 3: Cabrits – Dominica
Dominica is often called the 'Nature Isle of the Caribbean' because of its unspoiled and rich beauty, its mountainous rain forest, waterfalls, rivers (365, one for each day of the year) and natural pools. There are no touristic hot spots, a true little paradise for nature lovers. Star Clippers took us to Coconut beach, on of the beaches with black sand.
Fun fact: Christopher Columbus discovered this island on a Sunday and therefore named it Dominica (Latin for Sunday).
Day 4: Terre de Haut – Iles des Saintes
Our favorite island! Iles des Saintes (or Islands of the Saints) is an archipelago made up by seven islands. Only the two larger ones (Terre de Bas and Terre de Haut) are inhabited all year round. The islands are part of the French Antilles and are a dependency of Guadeloupe – and an overseas department of France. Star Clippers anchored in front of the tiny sea-side village and capital Bourg (French for 'town', how easy is that to remember!). It's a nice little island with goats running across the road, lovely beaches and a French atmosphere.
Day 5: Deshaies – Guadeloupe
Because we had a snorkelling tour planned our stop in Guadeloupe was very short and we didn't get to see much of the island, we only had time to take a short stroll in the fishing village Deshaies.
Snorkeling was fun and afterwards Jempi kayaked around the ship until we all got dizzy. That's also one way to spent the day. 🙂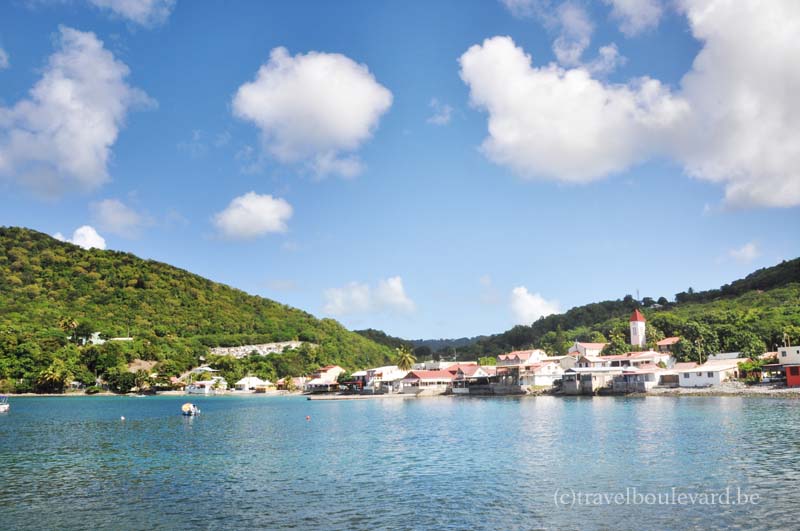 Day 6: Falmouth harbour – Antigua
Antigua is very much a jet set destination and when we visited Falmouth Harbour there was certainly no shortage of luxurious yachts to admire. Famous people like Oprah Winfrey, Eric Clapton or Richard Branson have a house on Antigua and we can't blame them: Antigua is beautiful! There are 365 beaches on Antigua – again one for each day! We spent our time exploring the harbour and enjoyed a lovely picnic on the beach.
Fact: Antigua was also one of the very first nations to legalize on-line gambling and it's one of the Caribbeans largest offshore banking centres.
Day 7: Gustavia – St-Barthelemey/St-Barths
St. Barths is another playground for the rich and famous. The Star Clippers tender took us to Gustavia, the principal town where luxury shopping has been turned into an art (don't forget your credit card!). We took a tour of the island and were surprised by the diversity of the island. Yes, it is a key destination for the jet set, but there's also plenty of nature and lovely beaches to discover.
Day 8: back to Saint-Martin – end of cruise
The worst day of the cruise: saying goodbye to the staff and all the friends we made. It was a full week of enjoying the beauty of the Caribbean, falling in love with sailing and tall ships, experience new and exciting things and admiring all those jaw dropping sunsets at sea.
Our time on Star Clippers was fantastic. If you fancy discovering unspoiled beaches and lesser known islands then this kind of cruise is certainly right up your sleeve. You can book excursions every day (snorkeling, rain forest hiking, canopy, kayaking on a mangrove, eco tours…) or you can explore the islands by yourself. Sailing with Star Clippers is both relaxing and adventurous, you'll never get bored.