Roadtrippen langs de mooiste plekjes op Rhodos: 5 dingen die je absoluut niet mag missen
Rhodos stond nooit echt op ons verlanglijstje, maar toen we als Neckermannambassadeur uitgestuurd werden om dit Griekse eiland te ontdekken, was de verrassing groot: mooie strandjes, verrassende bezienswaardigheden, warme gastvrijheid en bakken sfeer. Onze week ter plekke was veel te kort!
Toegegeven: de voornaamste reden waarom we zo uitkeken om een paar dagen op Rhodos door te brengen, was de zon en de rust. We hadden een drukke periode achter de rug en wilden gewoon wat genieten en lekker niets doen. Althans, dat was de bedoeling. Hoewel het idee van eindeloos zonnen met een cocktail in de hand aantrekkelijk lijkt, blijken zowel Jempi als ik beide veel te rusteloos om lang niets te doen. Eén dag op onze luie kont in de zon liggen, dat is nog volop genieten. Dag twee willen we er alweer volop op uit trekken. Gelukkig is er op Rhodos voldoende leuks te beleven om twee hyperactieve vakantiegangers dik tevreden te houden. En dit zijn onze 5 dingen die je zeker niet mag missen tijdens een bezoek aan Rhodos.
1. Rhodos-stad: een reis naar het verleden
Rhodos-stad bestaat in feite uit twee delen: de oude, Middeleeuwse stad en de 'nieuwe stad'. Vooral de oude stad heeft heel wat troeven: je kunt er urenlang verdwalen door de kronkelende steegjes en per toeval charmante pleintjes ontdekken, je struikelt er over de archeologische bezienswaardigheden en er zijn tal van interessante musea waar je uren zoet bent. Wij trokken zonder plan de stad in en genoten er met volle teugen van de sfeer en de prachtige omgeving.
Tip: Rhodes-Stad is één van de belangrijkste bezienswaardigheden van het eiland, en tijdens ons bezoek was het er vrij druk. Een wandeling langs oude wallen zorgt echter niet alleen voor rust, maar ook voor heel wat koelte.
2. Lindos: het witte dorp met de Akropolis
Lindos wordt ook wel het witte dorp genoemd en heeft die bijnaam te danken aan de – uiteraard – witte huizen die kriskras op elkaar gestapeld lijken.
Het is één van de meest bezochte sites van het eiland, en een echt pareltje. Vanuit het dorp kun je helemaal tot boven op de berg wandelen, waar je de prachtige Akropolis kunt bezoeken. Ben je minder goed te been of vind je het simpelweg te warm om tot boven te klimmen (in Lindos worden elk jaar de hoogste temperaturen van het eiland gemeten!) dan brengt een ezeltje je tot boven.
3. Een rondrit met de huurwagen
Pure vrijheid! Met de wagen rijden in Rhodos is een makkie, de wegen zijn er prima en met een goede kaart (of gps) vind je zo je weg. Wij huurden voor de gelegenheid een Mini cabrio (want met de wind in je haren over het eiland zoeven is zoveel leuker :)) en bezochten het zuiden van Rhodos, waar het toerisme nauwelijks doorgedrongen is en je in schattig kleine dorpjes hartelijk ontvangen wordt door de lokale bewoners.
Terwijl het noorden vrij druk is en de meeste toeristen daar ook blijven rondhangen, zal je in het zuiden pure rust ervaren en een authentieke sfeer. Toppertje!
4. De zeven bronnen
Voor we vertrokken stond een bezoek aan de Vlindervallei op ons verlanglijst: een natuurgebied in een vallei waar vlinders – in feite zijn het nachtvlinders, of motten – in grote getallen naartoe trekken. Tot we hoorden dat je dit spektakel enkel tijdens de maanden juli en augustus kunt bewonderen – en wij waren er in juni – gingen we op zoek naar een alternatief. En die was vlug gevonden. We verbleven in het prachtige Casa Cook Rhodes, gelegen aan de badplaats Kolymbia. Het hotel – aanrader mensen, lees erover hier! – organiseert elke morgen een wandeling naar de Zeven Bronnen, of Epta Piges in het Grieks, en dus gingen wij mee op stap. De wandeling – ongeveer een dik uur – leidde ons over kronkelende zandweggetjes langs olijfbomen en kleine kerkjes (die niet oud bleken te zijn maar juist heel erg nieuw!) tot we op het kleine natuurgebied arriveerden.
Om één of andere reden had ik verwacht zeven watervallen te zien, maar in feite gaat het dus om zeven bronnen die samenkomen op één punt. Bijzonder leuk was overigens de zogenaamde 'tunnel of love', een 185-meter lange smalle tunnel die slechts 170 centimeter hoog is.
Er stroomt water door, maar je kunt er – met je op blote voeten door het ijskoude water – makkelijk door wandelen (lange mensen moeten zich een beetje bukken). Het is er wel stikdonker dus als je claustrofobisch bent, is dit misschien niet zo'n goed idee.
5. De waanzinnig mooie stranden
Rhodos is een populaire strandbestemming en dus je kun wel vermoeden dat er flink wat indrukwekkende stranden te ontdekken valt. En die vindt je inderdaad in alle soorten en vormen. Sommige zijn groot en uitgestrekt, andere klein en verborgen in een baaitje. Veel stranden bestaan uit kiezels, maar de schoonheid ervan – gelegen in een een kleine baai – maakt veel goed. En er zijn genoeg zandstranden te vinden indien je echt niet op kiezels wil zitten.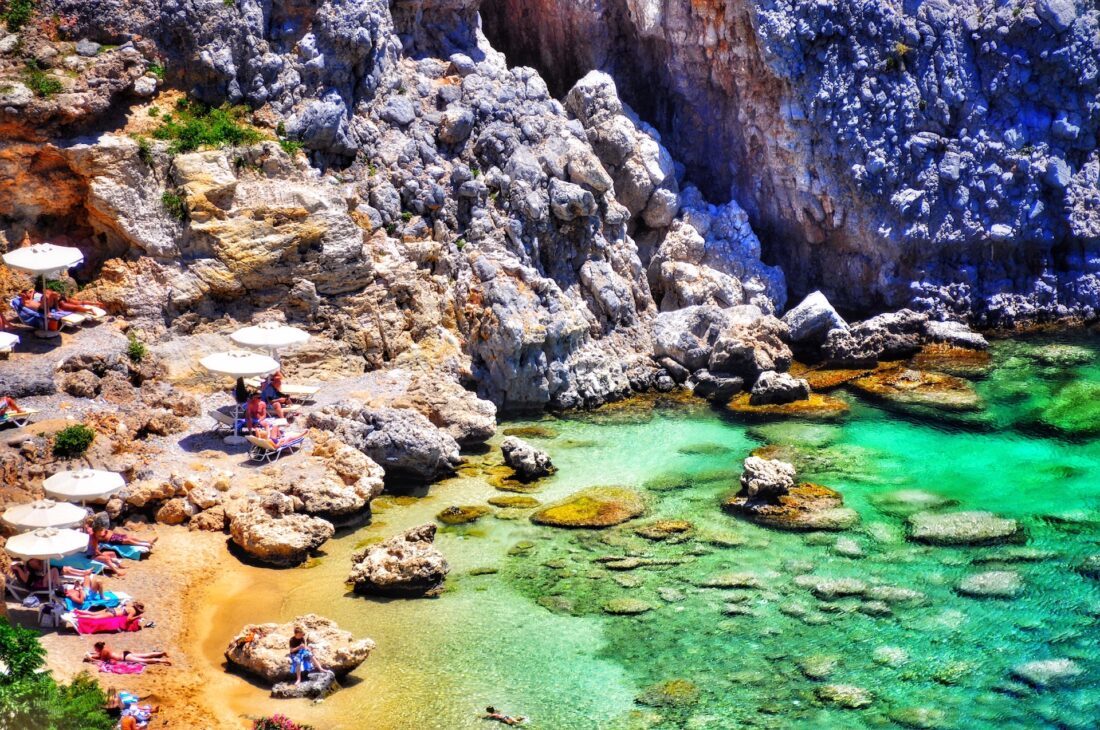 Onze favorieten: St. Pauls Bay bij Lindos (te zien vanaf de Akropolis van Lindos), Tsambika Beach (gelegen in de buurt van Kolymbia en genoemd naar het klooster in de buurt) en de drie kleine stranden rondom de Thermes Kallithea.
Deze post kwam tot stand in samenwerking met Neckermann.