Voor op je bucketlist: de bruisende festivalzomer van de 9 charmante stadjes van Nedersaksen
De 9 steden van Nedersaksen blinken niet alleen uit in charme en schoonheid, ze weten er ook hoe je een aardig feestje moet bouwen. Een zomer lang kun je er de leukste stadsfestivals ontdekken en dat betekent genieten van concerten, street art, circusacts, toneelvoorstellingen en (bier)feestjes in een übergezellig kader.
Voor een bruisende festivalzomer moet je in Braunschweig, Celle, Göttingen, Goslar, Hameln, Hannover, Hildesheim, Lüneburg of Wolfenbüttel zijn! En het leuke is: deze 9 stadjes liggen op ongeveer 5 uur reizen van België, ideaal voor één (of meerdere) uitstapjes naar Nedersaksen. Ziehier onze tips voor deze zomer:
1.
Dansen met de rattenvanger van Hameln
Hameln is natuurlijk legendarisch vanwege de geheimzinnige 'rattenvanger van Hamelen'. De legende van de ratten vangende snoodaard stamt uit de middeleeuwen, toen Hameln gebukt ging onder tegenslag en veel jonge mensen en kinderen zag vertrekken. De Gebroeders Grimm kruidden de legende met nog wat extra fantasie, en de Rattenvanger werd wereldberoemd.
Hameln zelf is alvast een plaatje: het stadje ligt aan de oevers van de Wezer, telt amper 60.000 inwoners maar heeft heel wat te bieden. Er is een prachtig oud centrum met gebouwen uit de 16de – 18 de eeuw, en de 'rattenvangerstad' organiseert tal van events waarin de rattenvanger een hoofdrol speelt. Niet te missen is de Pied Piper Musical Rats. Deze moderne musicalversie van de beroemde Rattenvanger-saga wordt elke woensdag opgevoerd op een podium voor het Hochzeitshaus. De toegang is gratis.
2.
Wijnen proeven in stijl in Celle
Ben je een wijnliefhebber, hou dan de data van 25 tot en met 29 juli vrij om naar Celle af te zakken. Dan organiseert het stadje een stijlvolle wijnmarkt waar je een waaier aan wijnen kunt proeven, in combinatie met geselecteerde hapjes die uiteraard perfect matchen met de wijn. Bijzonder is dat de wijnboeren zelf ook aanwezig zijn om hun wijntjes van tekst en uitleg te voorzien. En behalve wijn en spijs is er live muziek om ook de geest te voeden. Voeg er nog een spectaculair decor bij (Celle is één van de mooiste stadjes van Duitsland!) en je weet dat het op deze wijnmarkt volop genieten is.
3.
Magische tuinen in Hannover
In Hannover is altijd wel iets te beleven en de stad is misschien het meest gekend om z'n internationaal vuurwerkfestival. Maar wist je ook dat de tuin van Herrenhausen (waar het vuurwerkfestival plaatsvindt) van mei tot oktober na zonsondergang sprookjesachtig verlicht wordt? Zodra de zon onder gaat, lichten de fonteinen en standbeelden op en baadt de hele tuin in een magische sfeer. Op de achtergrond speelt barokke muziek en dat maakt de beleving nog meer sprookjesachtig. Tip: op bijzondere data kun je zelf deelnemen aan het lichtspektakel door papieren lantaarnen mee te brengen. Een half uurtje voor de lichten aangestoken worden, mag je met de lantaarn door de (dan nog donkere) tuin wandelen. (zie foto boven)
4.
Het festival van de oude stad in Goslar
Drie dagen en drie nachten lang feesten, dat doen ze in Goslar tijdens het Altstadtfest. Het schilderachtige oude centrum van Goslar behoort al sinds 1992 tot het Unesco Werelderfgoed, en dat maakt het bijwonen van het stadsfestival des te leuker. Tijdens het Altstadfest verandert Goslar in één groot openluchttheater met verschillende podia. Het programma beperkt zich niet tot één genre, maar zowat alle muziekstijlen passeren de revue: soul, rock, Latin, jazz, volksmuziek… wat je maar kunt bedenken.
En omdat je van muziek en dans honger krijgt, bieden tal van eetkraampjes (of foodtrucks) delicatessen van over de hele wereld aan. Tip: behalve muziek en food is er ook een nachtelijke vlooienmarkt, moet je toch even meemaken!
5.
Naar het stadsstrand in Hildesheim
Het knusse Hildesheim is vooral bekend om z'n schattige, traditionele huizen in oude stijl en imposante kerken die tot het Unesco Werelderfgoed behoren. Hildesheim kent heel wat interessante monumenten en musea; ben je een cultuurliefhebbers, dan zal je hier zeker in je nopjes zijn.
Nu is Hildesheim niet meteen een plek die je associeert met beachbars en palmbomen. En toch moet je hier zijn om jezelf onder te dompelen in tropische vibes. Tijdens de zomer zorgt Citybeach er namelijk voor dat Hildesheim het Miami van Duitsland wordt, met een zandstrand compleet met palmbomen en een uitgebreide beachbar. Uiteraard kun je hier gewoon met je voeten in het zand ontspannen en van een cocktail slurpen. Maar Citybeach is ook een heerlijke plek om aan strandsporten als beachvolley of badminton te doen. Zalig om hier met vrienden te chillen.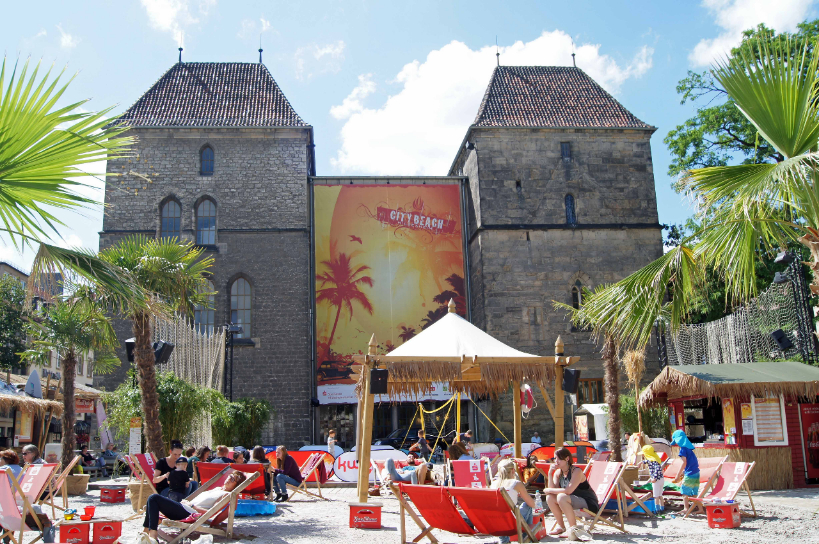 6.
De culturele zomer in de stad van de kennis
Göttingen bestaat al sinds het jaar 953 en mag zich een Hanzestad noemen; de vele imposante gebouwen in de binnenstad herinneren nog aan de welvaart uit de middeleeuwen. Göttingen is tevens een stad van kennis want het is de thuishaven van een leidinggevende universiteit waar Nobelprijswinnaars gestudeerd, gewerkt of zelf les gegeven hebben. Ook de bekende gebroeders Grimm waren als hoogleraar letterkundige aan deze universiteit verbonden!
Dat ze in Göttingen dol zijn op cultuur, hoeft dan ook niet te verbazen. De stad staat bekend als een echte festivalstad waarbij theater, muziek en literatuur een hoofdrol spelen. Tijdens de zomer wordt de Göttingen Summer of Culture georganiseerd, met concerten, voordrachten en festivals.
7.
Het feest van het witte goud in Lüneburg
Het middeleeuwse Lüneburg was ooit één van de rijkste stadjes van Duitsland, met dank aan de zoutmijnen die er welvaart en voorspoed brachten. En die rijkdom weerspiegelt zich in de imposante gebouwen en het knappe stadscentrum. Lüneburg is ook een universiteitsstad, met als aangenaam neveneffect de vele bruisende pubs en restaurantjes.
Omdat zout zo belangrijk was voor de welvaart van Lüneburg, wordt dit 'witte goud' gevierd met een jaarlijks festival. Van 27 tot en met 29 juli zijn er de Salt days, met een brede waaier een activiteiten: rondleidingen met een gids, meevaren langs de oude zoutroutes rond het stadje, museumbezoeken en zoveel meer.
8.
Het 900-jarig verjaardagsfeestje van Wolfenbüttel
Wolfenbüttel wordt ook wel eens het 'little Venice' van Nedersaksen genoemd, vanwege de vele grachten in het westen van de stad. Wolfenbüttel bestaat 900 jaar en viert dat – uiteraard! – met een geweldig driedaags festival waarbij zowel locals als toeristen zich mogen verwachten aan flink wat feestgedruis. Tijdens dit Altstadtfest wordt je in het stadscentrum verrast met verschillende optredens op verschillende podia. Topper is de band MIA die op zaterdagavond trakteert met een spectaculaire show. Waar is dat feestje? In Wolfenbüttel!
9.

Een date met Carmen in Braunschweig
In het sympathieke Braunschweig vergaap je je aan de prachtige kathedraal St Blasii en het kasteel Dankwarderode. Tijdens de zomer krijgt je er nog een extra reden bij om dit sympathieke stadje te bezoeken: de jaarlijkse klassieke concerten en opera's in openlucht. Het Staatstheater Braunschweig brengt nu al 14 jaar populaire opera's en musicals op het historische kasteelplein, en de concerten zijn uitgegroeid tot ware klassiekers. Deze zomer staat 'Carmen' van Bizet op de agenda: een topper want deze opvoeringen zijn echt onvergetelijk, niet alleen vanwege de kwaliteit van de opera, maar ook omwille van de setting. Een unieke ervaring!
10 (of liever 9+1). Festivalities in Autostadt Wolfsburg
Oké, we hebben het in deze post vooral over de 9 stadjes van Nedersaksen, maar eigenlijk moet dat 9+1 zijn. Autostadt in Worlfsburg hoort immers ook in dit lijstje aangezien een trip naar Autostad gewoon een must is als je in Nedersaksen aan het toeren bent. Autostadt bevindt zich naar de fabriek van Volkswagen in Worlfsburg en trekt elk jaar meer dan 2 miljoen bezoekers. Die komen niet alleen op de auto's af, maar ook op de mooie architectuur en de vele attracties. Tijdens de zomer is er nog een extra reden om Autostadt te bezoeken; van 18 tot 26 augustus wordt het langune-landschap getransformeerd in een wereld vol avontuur en plezier. De eerste vier weken treden op het groot openluchtpodium acrobaten, acteurs, muzikanten en trapeze-artiesten aan voor een betoverende Cirque Nouveau-voorstelling. Verder verandert het het Autostadtpark in een spectaculaire avonturenzone voor jongeren. En dat is niet alles; Autostadt organiseert namelijk Europa's meest spectaculaire waterschow met bijna 70 meter hoge dansende fonteinen, licht- en vuureffecten, videoprojecties en muziek. Wil en moét je zien!
Nedersaksen is makkelijk te bereiken met het vliegtuig (vanuit Brussel met Brussels Airlines, iets meer dan een uur vliegen) of de eigen wagen (ongeveer 5 uur rijden).
Voor meer informatie over deze en andere evenementen in de 9 stadjes van Nedersaksen, surf naar 9staedte.de.