Triptip om eens goed met de vriendinnen uit de bol te gaan: ga met je girl squad citytrippen in het hippe Madrid. Een weekendje Madrid met vriendinnen is er namelijk pure fun want terwijl je de stad op gezapig tempo ontdekt, kun je schaamteloos urenlang bijkletsen en lekker doen waar je zelf zin in hebt. Samen met een stel meiden mocht ik trendy Madrid verkennen, een trip die voor herhaling vatbaar bleek.
Wanneer airliner Air Europa voorstelt om Madrid samen met vriendinnen te ontdekken, dan kun je niet anders dan in je nopjes zijn. De hoofdstad van Spanje is immers een bruisende metropool waar je je vergaapt aan bijzondere architectuur, struikelt over de hippe adresjes en gewoon meegesleept wordt door de bijzondere charme van de stad. En dan hebben we het nog niet gehad over Madrid after dark, wanneer de stad na een lange siësta opnieuw energie opgedaan heeft om te feesten tot het ochtendgloren. Wij dachten dus: Madrid + meidenweekend = perfect match.
Al bleek zo'n weekendje achteraf niet geheel zonder gevolgen. Denk: op onweerstaanbare koopjes botsen en daardoor de creditcard overuren laten draaien, iets ronder rond de heupen vanwege al die lekkere Spaanse hapjes die ze maar blijven aanvoeren (hardcore foodporn, maar echt) en achteraf een serieus geval van heimwee naar zo'n prachtig weekend (Madrid is echt een zalige stad, geloof me maar).
1. In de voetsporen van de meest illustere vrouwen van Madrid
Hoe beter een stad leren kennen dan met een stadswandeling met gids? We moesten daarvoor vrij vroeg uit de veren. Pijnlijk want de hadden de avond ervoor – vlak na onze aankomst – meteen al van Madrid by night geproefd en we zijn best wel wat moe na het nachtje feesten. Maar: de zon schijnt, de stad leeft en slapen kunnen we thuis, niet?
Een stadswandeling door deze bruisende stad is overigens een enorme aanrader. Madrid is een architecturaal pareltje met grote, statische gebouwen, brede elegante lanen en knusse oude straatjes. Wij werden door onze gids op sleeptouw genomen langs de belangrijkste bezienswaardigheden van de stad en omdat het een vrouwenweekend was, lag de nadruk op de markante vrouwen die de geschiedenis van Madrid kleur gaven.
Deze illustrious women of Madrid-tour neemt ongeveer 2 uur in beslag en kun je boeken bij www.esmadrid.com/guided tours of madrid. Tijdens de wandeling passeer je onder andere langs het Koninklijk Paleis, de Almudena kathedraal, de Plaza Mayor, Plaza de la Villa (één van de mooiste pleinen van Madrid), Plaza de la Cibeles en nog veel meer coole plekjes die je zeker moet zien.
2. Een rondje cultuur
Madrid kent flink wat indrukwekkende musea en dan zou het zonde zijn om tijdens je citytrip geen streepje cultuur te trekken, ook al lonken de modieuze boetiekjes en lekkere tapasbars nog zo hard. Madrid kan namelijk uitpakken met enkele echte pareltjes. Meest bekend is wellicht het Prado, met meer dan 8.600 schilderijen en 700 beeldhouwwerken één van de meest verbazingwekkende musea ter wereld. Je kunt je er vergapen aan meesterwerken van de Spaanse, Italiaanse en Vlaamse kunstenaars en vooral de liefhebbers van Goya en Velasquez beleven hier de tijd van hun leven.
Nu is het Prado natuurlijk een must visit in Madrid, maar de stad beschikt over nog meer culturele hoogtepunten, zoals het Thyssen-Bornemisza museum, waar wij een tentoonstelling bezochten die volledig rond vrouwen en hun rol in de geschiedenis en kunst draaide. Perfect voor een meidentrip want de verhalen die we te horen kregen, bleken enorm boeiend en zelfs amusant.
Het Thyssen-Bomemisza bevindt zich in de omgeving van het Prado, in een buurt die de 'Gouden driehoek van Kunst' genoemd wordt aangezien behalve de twee eerder genoemde kleppers ook de befaamde Reina Sofia National Galleries (met hedendaagse kunstwerken van Dali, Liro en Picasso) vlakbij zijn.
Relatief nieuw in de omgeving is het CaxiaForum Madrid, een sociocultureel centrum boordevol hedendaagse kunst en ruimte voor kunst- en muziekfestivals allerhande. We zijn er niet binnen geweest, maar de indrukwekkende groene muur en bilboards aan de buitenkant oogden alvast veelbelovend. Iets voor een volgende keer.
Tip: museumbezoeken kunnen een aardige hap uit je reisbudget halen, maar op sommige dagen geraak je er gratis en voor niets binnen. Het Prado bezoeken bijvoorbeeld kost normaal zo'n 15 euro, maar tussen 18.00 en 20.00 uur kun je er van dinsdag tot zaterdag zomaar gratis naar binnen. Op zondag is het museum van 17.00 tot 20.00 uur gratis toegankelijk. Ook andere musea zijn op bepaalde tijdstippen voor nul euro gratis te bezoeken. Kijk het dus in elk geval even na indien je een museumbezoek tijdens je trip wil inlassen.
3. Zalige wellnessbehandelingen
Citytrips zijn heerlijk maar ook flink vermoeiend. Stadswandelingen, uitgaan, shoppen, musea bezoeken…. allemaal heel erg leuk maar 's avonds doen je voeten pijn van het vele stappen en ben je pompaf. Aangezien dit een verwenweekend voor meiden moest worden, was er ook gedacht aan een paar uurtjes relaxen in de wellness en een massage, kwestie van in een tiptop conditie Madrid verder te verkennen. En gewoon omdat het leuk is natuurlijk.
Nu zijn er wel wat hotels in Madrid die een aangename wellness en spa aanbieden maar omdat het voor ons wel wat meer mocht zijn, trokken we helemaal naar het Occidental Aranjuez, een klein half uurtje rijden van Madrid (met een taxi ben je er in no time). Dit viersterrenhotel biedt een heel uitgebreide spa aan, compleet met verschillende relax- en massagebaden, sauna's en een hamam.
Ik heb ze allemaal geprobeerd en na heel wat partijtjes stomen, zweten, drijven en badderen durf ik zonder aarzelen het zoutbad als absolute must do uitroepen. Het water van zo'n bad is zo dik en zwaar van het zout dat je er gewoon op blijft drijven (een beetje zoals in de Dode Zee). In combinatie van rustige muziek en fonkelende kleurtjes belandt je zo in snoezelmodus. O ja, en de massage waarmee ik dit spa-bezoek mocht afsluiten, was Z.A.L.I.G!
4. Het zomerpaleis en de tuinen bezoeken: naar het Palacio Real de Aranjuez
Nu waren we natuurlijk niet enkel voor de wellnessbehandeling helemaal naar Aranjuez getrokken, want in dit plaatsje bij Madrid vind je tevens het Palacio Real de Aranjuez, ofte het koninklijke zomerpaleis.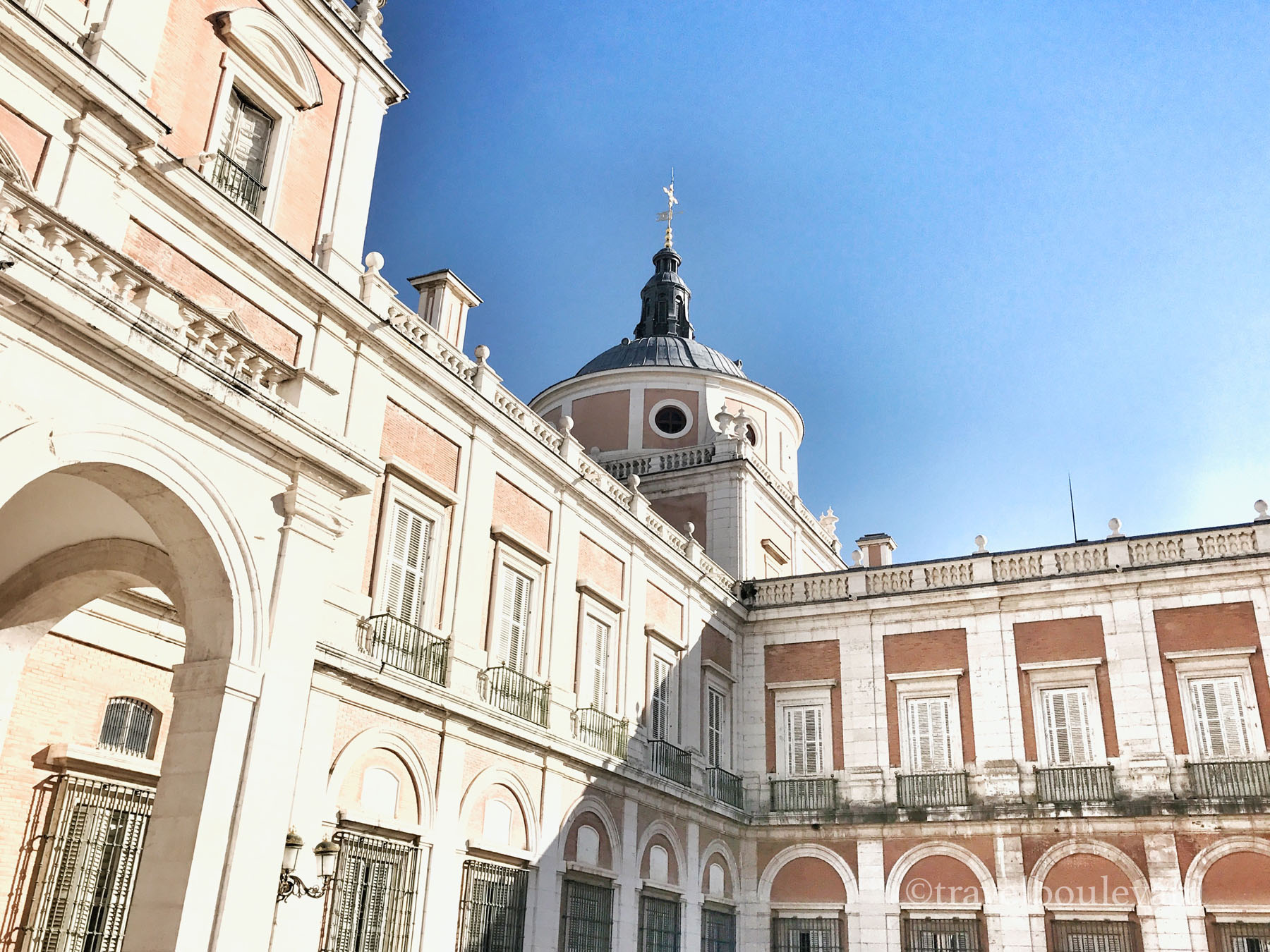 Dit enorme complex werd oorspronkelijk voor de jacht gebruikt en groeide later uit tot een lustoord voor al wie van adel was.
Vandaag hoef je geen blauw bloed meer te hebben om het paleis en de bijhorende tuinen te bezoeken, ze zijn toegankelijk voor iedereen. Vooral bij mooi weer zijn de tuinen een echt paradijs: het staat er propvol fonteintjes en kleine prieeltjes, zalig om er door te kuieren.
5. Schaamteloos veel eten en drinken
Iedereen weet ondertussen wel dat je in Spanje enorm lekker kunt eten en drinken. Ook wij lieten ons in Madrid van onze meest gulzige kant zien en schepten zonder schuldgevoel het bord veelvuldig op. Er komt nog een uitgebreide post aan over al het lekkers dat ons werd voorgeschoteld maar geloof ons: ga vooral niet op dieet wanneer je een stad als Madrid bezoekt, dat zou doodzonde zijn!
In Madrid vind je een combinatie van het beste van de Spaanse keuken, met heel veel lekkere stoofpotjes. Ik heb mij laten wijsmaken dat de callos a la Madrilena onweerstaanbaar is; een pikant stoofpotje met de snuit, een stuk van de maag en de poten van de koe. Klinkt bizar, maar volgens kenners (want zelf niet geproefd) is het verdomd lekker.
Waar ik niet van af kon blijven (en nog steeds watertanden aan terugdenk, waren de broodjes met gefrituurde inktvis, ofte een bocadillo de calamares. Veel lichter van smaak dan bij ons en ongelooflijk lekker!
Wil je lekker uit eten gaan in Madrid, dan moet je overigens wel even wennen aan de tijdstippen waarop de Madrilen rond de tafel gaan zitten: aangezien lunchen pas om 13 uur gebeurt (en deze makkelijk tot 16 uur kan uitlopen) en er nog een deugddoende siësta gehouden moet worden, lopen de meeste restaurants pas tegen 22 uur vol. Je zal je dus even moeten aanpassen maar vooral tijdens de zomer, wanneer het 's avonds laat minder warm is dan overdag, is dit een heerlijk ritme om op te leven.
De eerste avond van ons verblijf al trokken wij de stad in voor een heuse tapastour en dat was een uitstekend idee want zo konden we meteen letterlijk al proeven wat de stad te bieden heeft. Op het menu: verse olijven, pulgas (een stukje belegd brood met ham of chorizo), caracoles (slakken), patatas barkas (gebakken aardappeltjes in pittige tomatensaus), ansjovis, aardappelkroketjes met ham en tortilla en gebakken sardines. Je drinkt er een typisch Spaans wijntje bij, of una serveza natuurlijk. De tapastour die wij volgden, was behalve lekker ook leerrijk, aangezien de avondlijke tocht ons langs een aantal historische plaatsen in Madrid bracht. Een toffe manier om kennis te maken met Madrid. Aanrader!
6. Schaamteloos veel shoppen
Madrid is een hippe metropool met voldoende winkels om tijdens je volledige trip retailtherapie te doen. De Calle Gran Via is natuurlijk de bekendste winkelstraat, met hippe modeketens als H&M en Zara. Voor designerlabels moet je in de Calle de Jose Artega zijn en de Calle de Fuencerral is dan weer jouw place to be als je kleine, hippe boetiekjes zoekt.
Heb je alle winkelstraten helemaal onder de voet gelopen, dan kun je verkasten naar het outletdorp even buiten Madrid. Makkelijk want je vindt er een knappe selectie van toplabels op één locatie, en voordelig want alles is er aan outletprijzen (lees: onweerstaanbare koopjes!). Wij lieten de creditcard wapperen in het designer outletdorp Las Rozas Village. Nu ja, wapperen… het is shoppen met outletkorting (wat wil zeggen: collecties van vorige seizoenen voor een zacht prijsje) en dat verzacht de uitgavepijn én verhoogt de koopvreugde. Het aanbod bestaat uit high end designerlabels, maar evengoed kun je er een Vans of SuperDry vinden.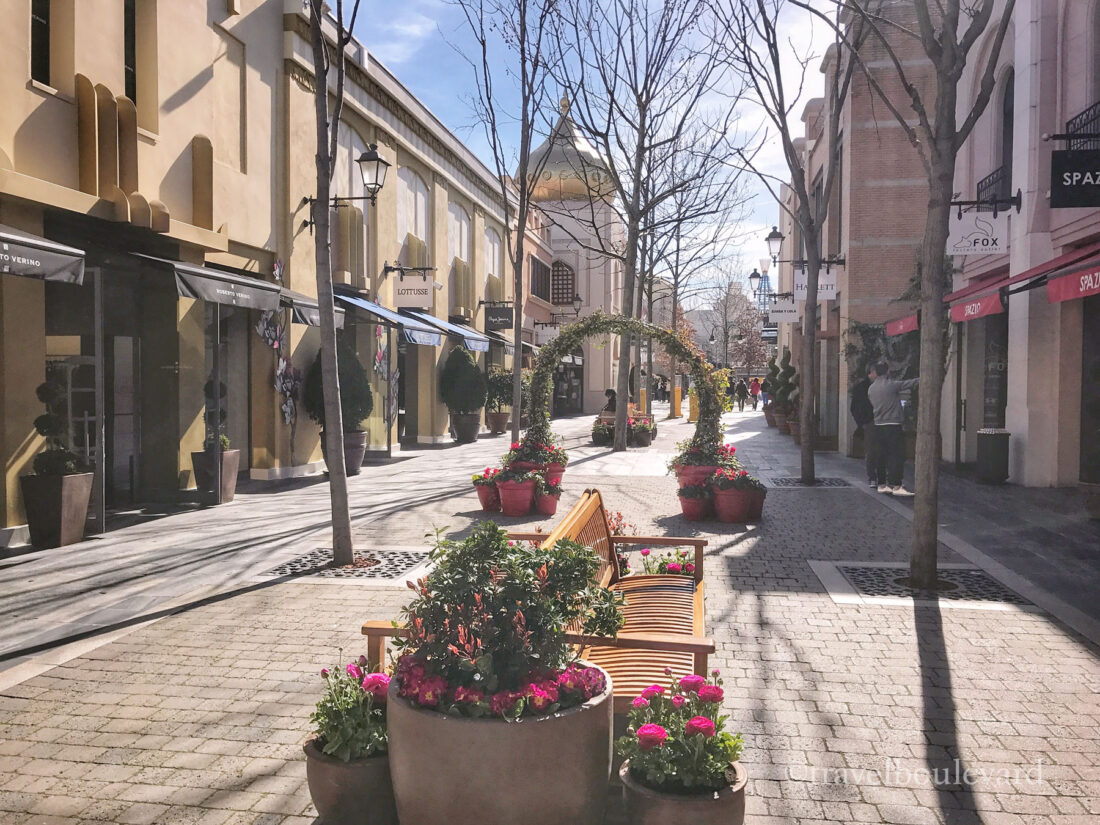 Je geraakt er makkelijk met de trein of de wagen (op een klein half uurtje) of je neemt de Las Rozas luxebus die dagelijks vertrekt vanaf Plaza de Oriente (recht tegenover het koninklijk paleis).