Alpine chic: slapen in de luxueuze Les Suites du Nevada in Tignes
Tignes is gelegen in het hart van de Franse Alpen en kennen we vooral als een populaire bestemming voor wintersporters die graag hun grenzen verleggen. Zelf ben ik niet zo'n held op de latten maar Jempi was vroeger ski-instructeur en wou al langer nog eens voluit door de sneeuw ploegen. Wij naar Tignes dus, en als niet-skiër heb ik er mij ook prima geamuseerd. We sliepen immers in het sjieke maar gezellige Les Suites du Nevada, en dat was een toppertje.
Voor bijzondere hotels die meer zijn dan zomaar een slaapplek voor de nacht, heb ik een ferme boon. Een klein boetiekhotel met een apart verhaal, een sjieke chalet in the middle of nowhere, een hutje op het strand of een luxe hotel waar je als een baby in de watten gelegd wordt: ik ben er dol op. Ik ben een verzamelaar van bijzondere overnachtingen. En met mijn verblijf in Les Suites du Nevada is mijn verzameling alweer wat uitgebreider geworden.
Les Suites du Nevada is een 5 * hotel en absoluut een wow-plek om te verblijven tijdens een vakantie in de sneeuw. Nergens zal je in Tignes en omgeving een plek vinden dat aan de luxe van Les Suites kan toppen, en dat heeft niet enkel met de inrichting te maken maar ook met de manier waarop de zaak wordt uitgebaat. Les Suites is eigendom van Jean-Michel Bouvier en zijn echtgenote Catherine Bouvier; Jean-Michel is een bekroonde chef-kok en gastronomie maakt dan ook een groot deel uit van de Suits du Nevada-ervaring. Gastvrouw Catherine heeft bovendien een echt talent voor stijl en design: een perfecte match.
Een droom voor wintersporters
Tignes maakt deel uit van het skigebied Espace Killy, een echt paradijs voor de doorwinterde wintersporter die graag voluit uit en hiervoor op een high-tech ski-infrastructuur rekent. Dit is de plek bij uitstek om jezelf uit te dagen op sportief gebied; met meer dan 300 kilometer aan prachtige skipistes is dat beslist geen probleem.
Het hotel: hip en gezellig
Hotel Les Suites du Nevada ligt op 2100 meter hoogte, in het hart van de wijk Val Claret, op minder dan 150 meter van de pistes en op 200 meter van de skilift.
De houten gevel van het hotel verbergt een decor dat de perfecte mix is van trendy loungen en ouderwets plezier. De verfijnde bar/theesalon Le Whitney Bar (naast de receptie van het hotel) doet denken aan een grote maar gezellige woonkamer, compleet met open haard en comfortabele zetels. Overdag wordt hier zelfgemaakte cake geserveerd, 's avonds is dit een plek om samen met de vrienden van een drankje te genieten. De ideale hangout om te ontspannen na een avontuurlijke dag op de besneeuwde hellingen.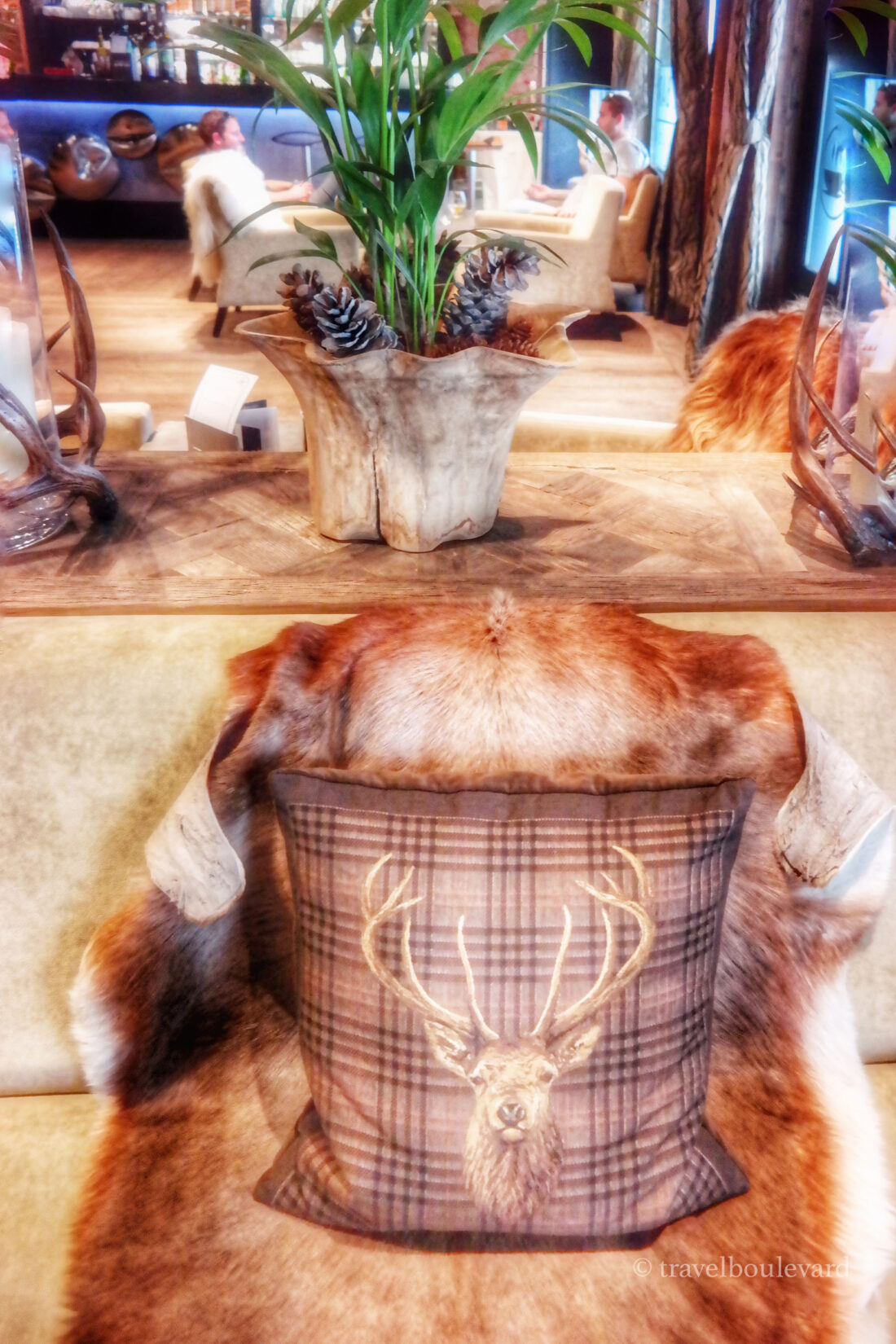 Genieten en ontspannen is overigens geen probleem in Les Suites du Nevada: behalve de übergezellige bar beschikt het hotel beschikt ook nog over een verwarmd binnenzwembad met bubbelbad, verschillende sauna's en een fitnessruimte die alleen toegankelijk is voor hotelgasten.
Sweet suites
Met een naam als Les suites is het vrij duidelijk dat je hier geen gewone hotelkamers zult vinden. Elke kamer is een volwaardige suite met slaapkamer, zitgedeelte en badkamer en ze zijn fantastisch ingericht: kingsize bed, aparte badkamer met bubbelbad en regendouche, een lounge met led-tv, blue-ray-speler, iPod-dock … Noem maar op.
Er is een hotelconciërge beschikbaar 24u/24u en wi-fi is gratis. Boek je er een suite, dan krijg je er gratis een verwarmde en afsluitbare ruimte bij waar je je ski's en snowboards veilig kunt opbergen.
Gastronomische troeven
Het restaurant van het hotel heet La Table en Montagne en dineren is hier een ervaring op zich. Op de kaart prijken vooral specialiteiten van de Savoie, gebracht op een moderne manier. De chef-kok maakt – uiteraard – alleen gebruik van de beste lokale ingrediënten en de gerechten ogen en smaken verrassend en creatief. Zelfs het ontbijt is een gastronomisch feest.
Chef-kok Jean-Michel Bouvier is dan ook niet de minste: meer dan 25 jaar stond hij aan het hoofd van verschillende grote gastronomische restaurants in Parijs en de Savoye, in 2003 vestigde hij zich permanent in Tignes.
Behalve het hotel en bijhorende bar en restaurant, biedt Jean-Michel Bouvier nog een aantal andere topzaken in Tignes aan, zoals het comfy eethuis Chalet Bouvier en het legendarische restaurant Le Panoramic, spectaculair gelegen aan de Grande Motte-gletsjer op 3032 meter hoogte (leuk feit: op de top van deze gletsjer opende echtgenote Catherine Bouvier ook nog een kleine boetiek, het is de hoogste winkel in Europa).
Ons besluit na een paar nachten in Les Suites du Nevada? Dat dit de ideale plek was om in alle luxe van Tignes te genieten. En behalve alle luxe was het vooral de vriendelijke en gastvrije sfeer die ons een welkom en ontspannen gevoel gaf, een plek waar genieten een hoofdrol speelt.
Meer lezen over Tignes: Voor sportieve wintersporters: een weekje in sneeuwzeker Tignes – Getest: ijsduiken in Tignes