Wij doen ook eens een outfit post (en wat we daaruit geleerd hebben)
Als A.S.Adventure ons vraagt of we soms geen zin hadden om een favoriete outfit uit de nieuwe fashion collectie te kiezen en daar een voor woordje over te bloggen, moeten wij daar nauwelijks over nadenken. We houden van reizen én van mode en A.S.Adventure is zowat onze favoriete hub als het om shoppen gaat. Een outfitpost dus, en dat hadden we nog nooit gedaan. Wat we ervan geleerd hebben? Dat A.S.Adventure nog veel meer modemerken aanbiedt dan we al dachten. En dat bloggen over mode iets helemaal anders is dan bloggen over reizen.
De uitdaging
Voor wie het nog niet zou weten (kunnen we ons echt niet voorstellen, maar goed): A.S.Adventure is de enige shop waar je zowel uitgebreide outdoor- en reiscollecties vindt als een hele waaier fashion labels. Outdoor & travel meets fashion & lifestyle dus. De winkel is één van onze favoriete shoppingadresjes. Voor onze reisoutfits natuurlijk, maar ook om er de sfeer van reizen en avontuur op te snuiven en nieuwe hebbedingen te ontdekken. En de fashion afdeling is een ongelooflijke meerwaarde: je loopt op reis tenslotte ook niet altijd rond in je technische outdoor-uitrusting.
A.S.Adventure vroeg ons uit de nieuwe modecollecties een lievelingsoutfit samen te stellen, en toegegeven: we wisten op voorhand niet goed waar we aan precies begonnen, maar voor alles is een eerste keer, niet?
De outfits
Mijn outfit: een ernstig geval van keuzestress
Bleek moeilijker dan verwacht. In normale omstandigheden ga ik shoppen met een doel: voor een strandvakantie, een citytrip, een feestje… Dat beperkt de keuze al een beetje en maakt het beslissen makkelijker. Maar nu mocht ik zomaar een outfit kiezen, whatever ik mooi vond. Kijk, daar krijg ik dus acute keuzestress van. Waar te beginnen? Een stoere outfit? Iets elegants? Of eerder gekleed met jurk? Na meer dan een uur dwalen door de rekken had ik vijf bloesjes vast. Niet zo'n goed idee eigenlijk want vijf bloesjes vormen samen geen outfit natuurlijk. Uiteindelijk is het wel gelukt – met de hulp van de heren en dames die bij A.S.Adventure werken en het ene kledingstuk na het andere aansleepten, waarvoor dank! – en dit is het dus geworden: jeans – bloesje – bomberjasje – zilveren sneakers.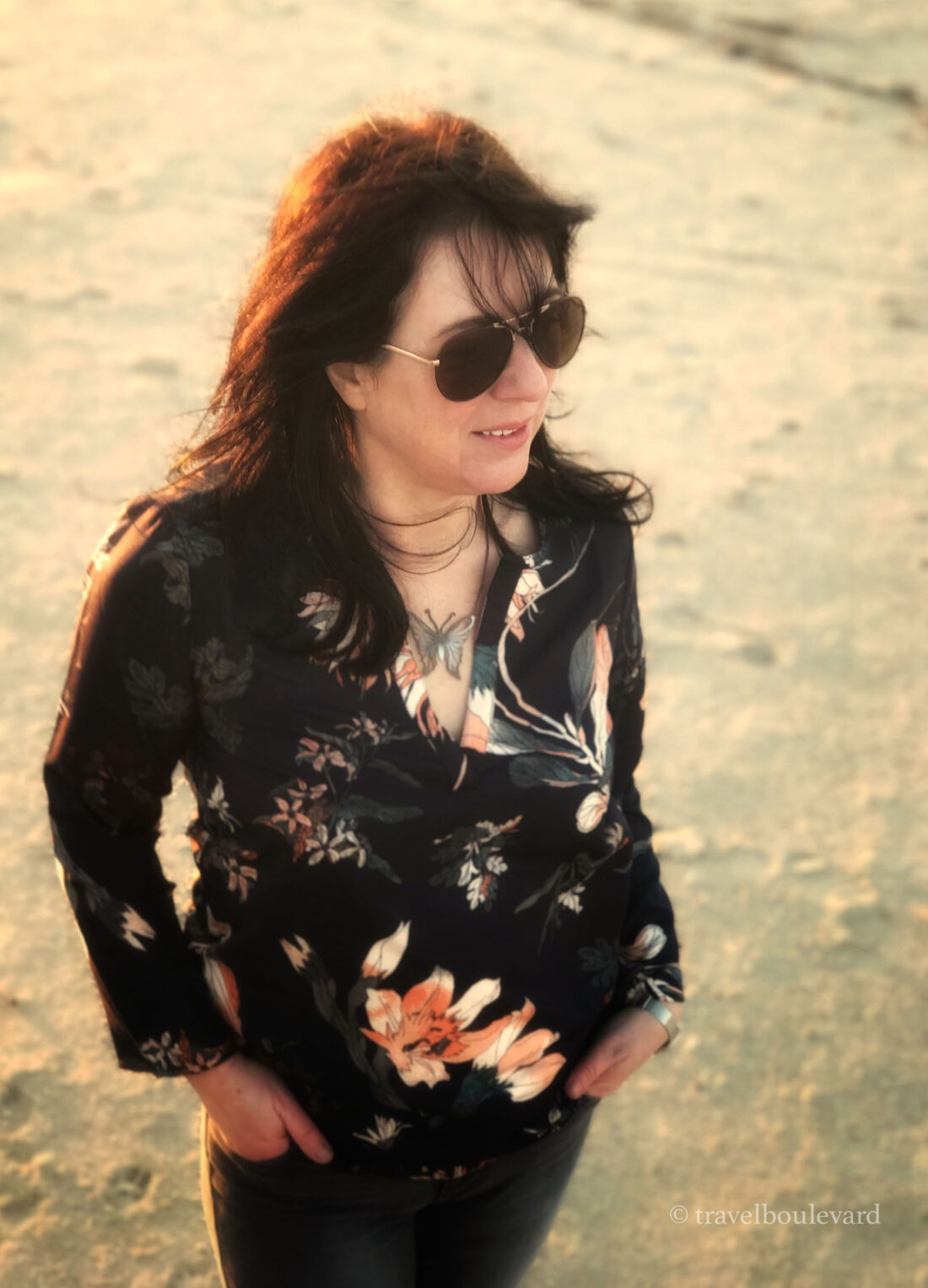 Waarom deze outfit?
Ik ben een echte jeansjunkie en in mijn kleerkast kan er altijd wel eentje bij. Nu ben ik niet zo groot (een kleine 1m60) en vaak duurt het toch wel even voor ik een jeans vind die perfect past. Deze is van Levis en zat tot mijn verbazing meteen goed. Het leuke aan dit model is dat de broek gemaakt is uit een super stretch jeansstof; heel erg tof om te dragen. Het bloesje is van Vera Moda en het was liefde op het eerste zicht; sowieso draag ik liever bloesjes in plaats van T-shirts en dankzij de toffe bloemenprint kun je dit exemplaar zowel casual als gekleed dragen. Verder was het kaki jasje een echte ontdekking: van Tom Tailor Denim (nieuw bij A.S.Adventure). Het merk zou eigenlijk bedoeld zijn voor tieners en jonge twintigers maar ik heb het toch maar even vrolijk geconfiskeerd. De zilveren sneakers van SPM Shoes and Boots heb ik gepast op aanraden van een medewerkster van A.S.Adventure. Ik had er een beetje mijn twijfels over maar vond ze uiteindelijk echt top. En de halsketting en zonnebril? Beide gekocht in Rhodos, Griekenland. Als we op reis al souvenirs kopen dan zijn het kleine juwelen of andere hebbedingen; leuk als dagelijkse herinnering aan onze reizen.
De dingen die we geleerd hebben
1. Outfitfoto's nemen is nog zo makkelijk niet
En dan moesten er nog foto's genomen worden. Van die outfits. Met ons erin natuurlijk. Eerste bedenking: waarheen om deze foto's te nemen? Thuis is een no go, wegens geen plaats en veel te veel rommel vanwege verbouwingen. Omdat de kust maar een boogscheut verwijderd is en het die dag net prachtig weer was, trokken we naar Zeebrugge. Beetje poseren met de zee op de achtergrond, vonden we niet slecht. Alleen: de zon scheen wel volop maar ook de vriestemperaturen deden hun best. Bij ongeveer min 6 °C deden we alsof het gewoon lekker warm was. Geloof me: het was gewoon berekoud, ik had het gevoel alsof mijn ogen eraf gingen vriezen.
2. Poseren is nog zo makkelijk niet
Ook het poseren bleek ingewikkelder dan gedacht. Ik bedoel: duw in normale omstandigheden een camera voor onze neus en we beginnen spontaan gekke bekken te trekken, kunnen we gewoon niet laten. Het bedroevend lage aantal foto's waar we min of meer deftig op staan, is daarvan het trieste bewijs. Leuk vonden we deze shoot zeker wel – zoals kinderen met een nieuw speeltje hé – maar pas toen we min of meer spontaan deden, leek het een beetje te lukken met poseren. Respect voor alle modebloggers die poseren à la naturelle: in de toekomst gaan we hun poses toch maar eens wat beter bestuderen.
3. Samen poseren is nog zo makkelijk niet
Probeer maar eens beide samen op een foto te staan als er één groot is (hij) en de ander klein (ik). Hoe hard we ook ons best doen en welke poses we ook aannemen: het leek steevast alsof Jempi naast een kabouter (ik dus dus) stond. Voortaan nemen we enkel nog foto's waarbij we samen zitten/liggen/hangen. Alles behalve rechtstaan naast elkaar.
4. Je moet een beetje schroom overwinnen om outfitfoto's te nemen
Dat we blij waren dat het die dag bitter koud was: er was nauwelijks volk op het strand. Behalve een moedige wandelaar – die bijzonder veel interesse had in het hoe en waarom wij daar in een veel te lichte outfit aan het pronken waren – was er geen kat, en dat was toch een beetje een opluchting. Toegegeven, hoe meer je poseert en hoe vaker je dergelijke foto's neemt, hoe minder je je iets aantrekt van loerende voorbijgangers.
5. Winterdagen zijn kort en de zon zakt snel
Andere les die we geleerd hebben: tijdens de winter zijn de dagen kort. Je moet behoorlijk snel zijn tijdens het fotograferen, voor je het weet is de zon onder. Ja, die zonsondergang in Zeebrugge was een plaatje, alleen zorgde dat er wel voor dat de foto's waar we samen op stonden (die we als laatste namen en het licht dus bijna helemaal weg was) absoluut onbruikbaar bleken. Twee silhouetten hand in hand op het strand, heel erg romantisch maar je ziet geen steek van de kleren, en dat was hier net de bedoeling. Tja, hebben we dus ook weer geleerd.
Zo. Dit was 'em dan: onze allereerste outfitpost. Wat vonden jullie ervan? Nog meer van dit of toch maar liever niet? Tips? Laat maar komen!
There are no posts to show right now.