Noem mij nostalgisch, maar het Zuid-Franse departement Vaucluse doet mij altijd een beetje dromen over lang vervlogen tijden. Wellicht spelen de Franse chansons waar mijn moeder vroeger (en ik dus als kind) naar luisterde hierin een rol, of misschien ligt het aan het feit dat de Vaucluse gewoon alles in de aanbieding heeft voor een reis naar het verleden. Hoedanook: wij trokken op roadtrip doorheen de Vaucluse, en als eerbetoon aan wat ooit was (en omdat het eens iets anders is) deden we dat in onvervalste retro-hippiestijl.
Vakantie begint op de Route de Vacances
De snelste manier om met de wagen het zuiden van Frankrijk te bereiken, is via de Autoroute du Sud en de Autoroute du Soleil natuurlijk. Terwijl we richting zuiden snorren, zucht Frankrijk onder een hittegolf, maar erg vinden we dat niet. De airco in de wagen draait op volle toeren, het is vakantie, en bij een snelweg die 'Autoroute du Soleil' getiteld werd, hoort absoluut een stralende zon, niet? Echter, de Autoroute du Soleil is niet de weg die we tot diep in het zuiden gaan volgen; omdat we in een nostalgische bui zijn (en we willen natuurlijk ook een beetje in het thema blijven) draaien we af richting Route Nationale 7. We zijn immers op zoek naar naar het verleden, en dat kunnen we langs die route volop vinden.
De N7 werd aangelegd in 1824 en was ooit de meest populaire route tussen Parijs en de Azurenkust. Deze Route de Vacances, zoals de N7 liefdevol genoemd werd, verloor aan belangstelling toen eind de jaren '60 de snellere Autoroutes aangelegd werden, maar dat betekent niet dat je de oude vakantieroute volledig links moet laten liggen. Toegegeven, onze tocht langs de N7 verloopt duidelijk wat langzamer dan op de snelweg, maar wat we aan snelheid moeten inboeten, winnen we aan panoramische vergezichten en een typisch Franse sfeer.
De vergelijking tussen de N7 met de beroemde Amerikaanse Route 66 is niet ver weg: beide routes raakten in onbruik na de komst van de snelwegen, en net als bij Route 66 voel je ook langs de N7 een nostalgische sfeer. We passeren kleine dorpjes die leeg en stil lijken (wellicht zoekt iedereen binnen de koelte op) en cafés en winkeltjes lijken zo uit een jaren '60 film te komen.
Het kleine dorpje Piolenc, gelegen op zo'n 6 kilometer van Orange, is goed voor onze eerste stop tijdens deze roadtrip. Hier vinden we het bijzonder sympathieke Musée Mémoire de la route nationale 7, een charmant museum dat de herinnering aan de hoogdagen van de N7 in stand wil houden.
Hier worden we pas echt terug gekatapulteerd in de tijd; het museum staat volgestouwd met oldtimers, kilometerpalen, reclameborden, foto's, vintage posters en retro caravans. De tijd is er niet alleen blijven stilstaan, maar meteen ook verzameld, ingepakt en gecatalogeerd.
Het museum wordt gerund door vrijwilligers met een passie voor de N7, en dat merk je aan de verzameling. Hier geen wetenschappelijk en historische desplays met een ingewikkelde uitleg, maar een – soms rommelig – allegaartje van items die ooit met liefde gekoesterd werden en hier een tweede leven krijgen. Het geheel oogt als een reusachtige schatkamer van een vervlogen tijdperk, je bent hier toch enkele uurtjes zoek met het snuisteren tussen de herinneringen.
Het VW-busje komt zo
Klassieke must do tijdens een bezoek aan de Vaucluse: wijn proeven en een wijngaard bezoeken. De regio is goed voor een jaarproductie van maar liefst 150.000 hectoliter wijn en kan uitpakken met klinkende Grand Cru's als Châteauneuf du Pape, Gigondas en Vacqueras. Ook wij kunnen daar niet aan weerstaan, en een wijnproeverij stond dan ook hoog op ons lijstje. Wij lieten ons oog vallen op het wijndomein van Gigondas, niet alleen omdat deze tot de beste ter wereld behoort, maar ook omdat wijnproeverij hier een bijzondere beleving is. Wijnmaker Frédéric Haut heeft namelijk een grote voorliefde voor de jaren '70 en alles wat daarbij hoort. "Behalve van wijn hou ik heel erg van de sfeer en de muziek uit de seventies", zegt hij. "En ik heb mijn twee passie's kunnen combineren dankzij de wijnde- gustaties die ik op het domein aanbied, die gebeuren namelijk in een vintage jaren '70-auto."
Bij de ingang van het domein pronken inderdaad twee vintage Volkswagenbusjes en een VW Kever, alle drie uit de jaren 70. Of we een keuze willen maken? Makkelijk, het busje dat als retro camper ingericht werd natuurlijk, we zijn er meteen verliefd op! We installeren ons en enkele tellen later snorren we langs de wijngaarden, op de tonen van gitaalheld Jimi Hendrix nog wel.
Anderhalf uur lang verkennen we het domein van Gigondas, met nu eens de pieken van de Dentelles de Montmirail en dan weer de Mont Ventoux op de achtergrond. Het degusteren van de wijnen zelf doen we tijdens een lome picknick in de schaduw, met zicht op een adembenemend landschap. De wijnen zijn zonder meer uitstekend, de hapjes om duimen en vingers bij af te likken. Dat het leven goed is hier, in hartje Vaucluse.
Op (vintage) schattenjacht
Tijdens onze Vlaucluse-trip overnachten we in charmante B&B's en opvallend: alle uitbaters pochen dat ze voor het decoreren van hun B&B zijn gaan snuisteren in de brocante- en antiekwinkels van L'Isle-sur-la-Sorgue. Onze nieuwsgierigheid is gewekt en we willen dit dorp absoluut zelf ook ontdekken. Een prima idee want het blijkt een echt pareltje: gelegen op de oevers van de rivier de Sorgue, met een levendige ambiance en – inderdaad – ontelbare antiekzaken die vintageschatten uit de jaren '50, '60 en '70 aanbieden. Leuk is dat je in sommige van die zaken ook iets kunt eten: ideaal om volop van de sfeer van vroeger te genieten.
L'Isle-sur-la-Sorgue dankt haar naam aan de Sorgue, de rivier die een paar kilometer verder in het al even mooie Fontaine-de-Vaucluse ontspringt. De rivier bestaat uit verschillende 'kanaaltjes' waarrond L'Isle-sur-la-Sorgue als een groep eilandjes werd gebouw. Het stadje wordt daarom ook wel eens het Venetië van het Comtat Venaissin genoemd. Het water zorgde in vroegere tijden ook voor dat er heel wat watermolens gebouwd werden (maar liefst zo'n 70!), en hier en daar vind je daar nog restanten van. L'Isle-sur-la-Sorgue is een heerlijke plek voor lome wandelingen, genieten van verkoeling aan het water en eindeloos aperitieven op één van de vele terrasjes.
Tip: elke zondag is er in Isle-sur-la-Sorgue een immense antiek- en curiosamarkt. Neem voldoende euro's mee want je botst er beslist op iets wat je mee naar huis wil nemen.
Vooruit met de geit
Met een 2CV – beter bekend als het 'geitje'- langs Provençaalse wegen bolderen? Worden we heel blij van! Laurent Estibal is helemaal dol op deze Franse pareltjes; hij restaureerde zijn 2CV's eigenhandig en verhuurt ze per (halve) dag. We ontmoeten hem tijdens onze passage aan Isle-sur-la-Sorgue en spreken meteen af om zelf ook plankgas te geven zo'n 2VC-tje (ter info: plankgas geven is echt wel noodzakelijk, we komen nauwelijks vooruit!).
En zo tuffen wij dus met ons geitje langs pittoreske plekjes met het dorpje Gordes en de Abbaye Notre-Dame de Sénanque – prachtig gelegen tussen de lavendelvelden – als fotogenieke hoogtepunten. Een pastis als afsluiter maakt het plaatje compleet. Geef toe, meer à la française wordt het niet.
www.location-deuche-forever.com
Praktisch
Over de Vaucluse
De Vaucluse is een departement en telt drie arrondissementen: Apt, Avignon en Carpentras. Het geheel ligt binnen de regio Provence-Alpes-Côte d'Azur. De regio kent een grote verscheidenheid aan landschappen en staat vooral gekend om de wijngaarden, de romantische lavendelvelden, typische gastronomie en charmante steden en middeleeuwse dorpjes. De Vaucluse is hiermee één van de populairste toeristische streken van Frankrijk.

Eten, drinken en slapen
Au Chineur in L'Isle-sur-la-Sorgue is een levendige bistro met mooi terras, gelegen aan het water. De perfecte plek voor een lekkere Provençaalse aïoli.
Maison d'hôtes de charme Chez Justin de Provence: prachtig gerestaureerde Provençaalse boerderij met zowel een buiten- als een binnenzwembad, fitnessruimte, een hammam en een jacuzzi. Ruime kamers in traditionele stijl. Gelegen nabij Orange.
Bastide La Buissière Chambre et Table d'Hôtes: mooi gerenoveerde woning uit de 18de eeuw met veel barroke elementen. Gelegen in het stille Provençaals dorpje Caderrouse.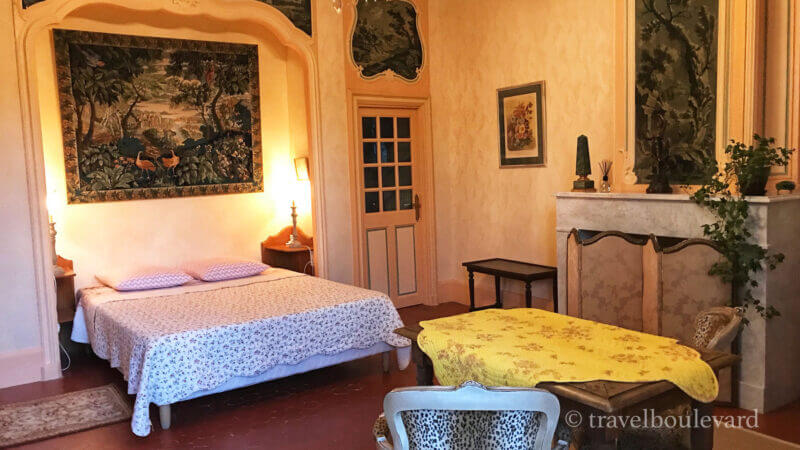 Chambre d'hôtes Le Coeurisier: charmant landhuis met een prachtige weelderige tuin, zeer rustig gelegen.
Voor uitgebreide info over de regio, surf naar: www.provenceguide.com