Vraag mij naar de bestemming die mij de afgelopen maanden het meeste heeft verrast en ik antwoord zonder aarzelen: het Ruhrgebied in Duitsland. En ik weet al wat je denkt: het Ruhrgebied, is dat niet die grauwe regio vol hardcore industrie waar de lucht zwart ziet van het roet? Inderdaad, maar dat was vroeger. Vandaag struikel je in het Ruhrgebied nog steeds over fabrieken en aanverwanten, maar nu zijn het musea, culturele centra en coole ontspanningsplaatsen. En de lucht, die is helemaal opgeklaard.
Nooit had ik gedacht ooit een weekendje in het Ruhrgebied door te brengen, laat staat dat ik het nog leuk zou vinden ook. Want huh, het Rhurhgebied, dat is die Duitse grauwe industriegebied waar gigantische koolfabrieken voor stank en smerigheid zorgen en waar donkere stofwolken het zonlicht verjagen? Inderdaad, maar die tijd ligt al lang achter ons, al mag het Ruhrgebied dat duistere imago nog niet helemaal van zich afgeworpen hebben. De realiteit is dat de regio vandaag een groene parel is met heel bijzondere must sees waar je niet omheen kunt. Er bestaat zoiets als een Route der Industriekultur, een toeristische themaroute doorheen het Ruhrgebied en die is helemaal gewijd aan alle bezienswaardigheden die met de industriële glorie van weleer te maken hebben. We bezochten daar enkele hoogtepunten van en toegegeven: ook wij waren een beetje sceptisch, want geef toe: fabrieken?? En toch vonden we deze trip meer dan de moeite waard want wat we te zien kregen, was echt heel bijzonder. Ziehier onze 6 aanraders voor een weekendje Ruhrgebied.
1. Dortmund: industriestad wordt cultuurstad
Onze tocht doorheen het Ruhrgebied startte in Dortmund. We spoorden met Thalys op een paar uurtjes van Brussel naar de Duitse stad, vanuit het station is het amper zo'n 10 minuten wandelen naar het hotel. Onderdak vonden we in het Top Hotel Esplanade Dortmund, een modern en centraal gelegen stadshotel en hoewel de kamers ietwat klein waren – maar dat is vaak het geval bij stadshotels – hadden we er een heerlijk verblijf (we brengen nog een volledige review van het hotel online, hou onze blog in het oog).
Dortmund was tijdens de Middeleeuwen bekend als een bedrijvig handelscentrum en groeide later vanwege de rijkdom aan steenkool en de staalproductie uit tot bedrijvige industriële stad. Tijdens de Tweede Wereldoorlog was Dortmund dan ook heel belangrijk voor Duitsland, maar daar diende uiteindelijk ook een prijs voor betaald te worden: de stad werd grotendeels plat gebombardeerd en vele mooie en grote gebouwen werden vernietigd. Het nadeel: veel charmante hoekjes in de stad gingen verloren. Het voordeel: de plaatsen waar de bommen de grootste gaten sloegen, werden tot parken omgetoverd, waardoor Dortmund vandaag bekend staat als de groene parel van Noordrijn-Westfalen.
→ Een wandeling door de stad
Naar Duitse normen is Dortmund vrij klein: de stad telt slechts om en bij de 570.000 inwoners, maar dat wil niet zeggen natuurlijk dat er niet veel te zien en te doen is. Een wandeling door de stad is zeker en vast een must. Je ontdekt er hoe heden en verleden moeiteloos naar elkaar bestaan, en de stad zit boordevol kleine ontdekkingen.
Vraag je je af waarom je tijdens je bezoek aan Dortmund zoveel gevleugelde neushoorns op je weg vindt? Dat zit zo: er moest een nieuw concertgebouw opgetrokken worden en als mascotte werd gekozen voor een neushoorn. Dit dier ziet misschien wel slecht, maar kan des te beter luisteren. En dankzij zijn vleugels (die verwijzen naar een vleugelpiano) bereikt het muzikale dier steeds hogere – artistieke – hoogtes. In Dortmund zijn de mensen in elk geval dol op hun gevleugelde neushoorn. Overal in de stad kom je exemplaren tegen, sommige versierd met reclame, andere heel artistiek opgemaakt door kunstenaars.
→ Ga er zeker even shoppen (want goedkoper)
Bij Dortmund denk je niet zo vlug aan 'lekker shoppen' en toch is deze stad beslist de moeite waard om er even de creditcard te laten wapperen. Onze gids beweerde namelijk bij hoog en laag dat het hier stukken goedkoper is dan in de rest van Duitsland (over het waarom bleven we een beetje op onze honger zitten, als iemand een verklaring heeft: shoot!). Wij namen de som op de proef, struinden een klein uurtje de winkelstraten af en inderdaad: gloednieuwe sneakers aan een heel zacht prijsje gescoord, top.
Om te schoppen in Dortmund moet je naar de Hellweg trekken, dit is de oude handelsstraat die het centrum doorkruist. Verder kun je in de overdekte Thier-Galerie meer dan 160 winkels vinden om je shoppingkoorts aan te pakken. En ook interessant om te shoppen zijn de vele winkels gelegen in de parallelstraten, de Ostenhellweg, de Kampstrasse en de Brückstrasse.
→ Neem de hop-on hop-off
Wil je Dortmund verkennen maar weet je niet goed waar te beginnen, dan is een ritje met de Citytour Hop On – Hop Off altijd een goed idee. De bus vertrekt aan het treinstation en brengt je voorbij 12 belangrijke bezienswaardigheden. Daar kies je er zelf voor om uit te stappen, een bezoekje te brengen aan de omgeving en later met de volgende bus de route te vervolgen. Of je blijft gewoon zitten tot aan de volgende halte natuurlijk. Een ticket kost tussen de 12 en 15 euro.
Toen wij er waren, was het weer niet zo best en om toch nog op een leuke manier de stad wat te leren kennen, was deze beslist hop on-hop off een mooie optie. Al werd de Nederlandstalige uitleg van onze elektronische gids (via de koptelefoon) compleet overstemd door de enthousiaste uiteenzettingen van de Duitstalige gids. Waardoor we twee keer niets meer hoorden maar wel de slappe lach kregen. In elk geval: we passeerden onder andere langs de Kreuzviertel Area, de universiteit, het historische stadscentrum, de Signal Iduna Park Football Stadium en veel andere bezienswaardigheden en kregen zo een mooi overzicht van hoe Dortmund in elkaar zit.
Nergens in Duitsland gaan zoveel mensen naar voetbal kijken als in Dortmund; gemiddeld mag de 'lokale' ploeg Borussia rekenen op zo'n 75.000 bezoekers bij een thuismatch. Het stadium – de Signal Iduna Park – staat ook bekend als de Yellow Wall.
→ Bezoek de U-toren
Met zoveel voetbalfreaks in de stad hoeft het ook niet te verbazen dat Dortmund de trotse eigenaar is van een heus Voetbalmuseum waar behalve permanente tentoonstellingen ook wisselende expo's te bezoeken zijn. Altijd over voetbal natuurlijk, of wat dacht je?
Maar wij waren naar het Ruhrgebied gekomen om de oude industrie te ontdekken en hoewel het voetbalmuseum beslist interessant is voor de liefhebber en de stad over heel wat andere bijzondere musea beschikt, trokken wij stante pede naar de Dortmunder U. Je kunt er naast kijken want het logo (een grote U) torent hoog boven de stad uit en is van mijlen en ver te zien.
Het gebouw was in vroegere tijden ook een vestiging van de Union Brewery, ondertussen is het een centrum voor kunst en creativiteit. Je vindt er een mooi overzicht van de hedendaagse kunst en vooral: het is een heel erg levendig kunstcentrum waar ook kinderen en kunststudenten welkom zijn en aan verschillende projecten werken.
De U-toren werd gebouwd in 1927 en was ooit een brouwerij. Toen het in 1994 gedaan was met brouwen, werden de gebouwen afgebroken. Bedoeling was om ook de toren neer te halen, maar omdat die destijds één van de eerste 'wolkenkrabbers' van de stad was – en dus een echte landmark – bleef het behouden. Ruim 14 jaar lang land stond de toren leeg, tot het in 2008 een opknapbeurt kreeg en omgevormd werd tot een museum, ontmoetingscentrum en onderzoekcentrum in één.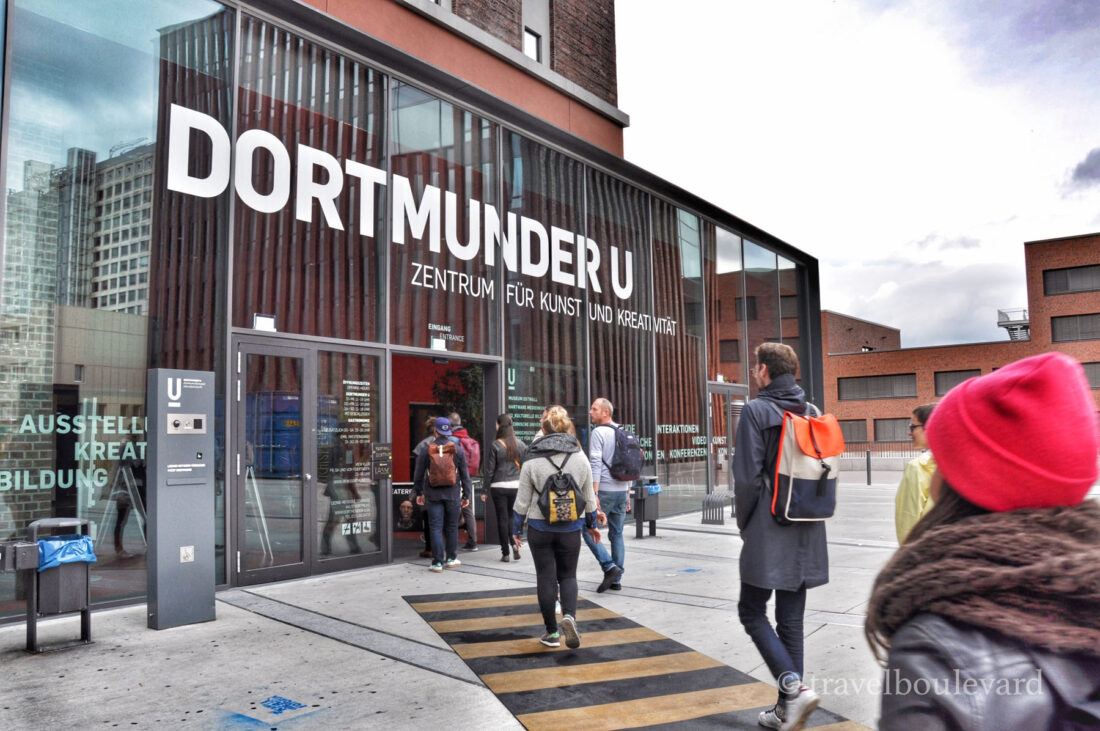 Zelf houden ze niet zo van het woord 'museum' omdat ze zeer dynamisch, vernieuwend en levendig willen zijn, terwijl het woord museum eerder aan een muffe, doodse plek doet denken. Een bezoek aan Dortmunder U is in elk geval geen suffe bedoening: je dwaalt er door een overdaad aan moderne kunst en je kijkt je ogen uit bij de projecten die de locals er zelf op poten gezet hebben. De kunstwerken zijn overigens heel erg toegankelijk en een beetje humor is er nooit ver weg.
Tip: neem zeker een kijkje op het dak van het U-gebouw. Er is een klein terrasje waar je een mooi zicht over de stad hebt.
2. Zie hoe een Phoenix herrijst
Op reis wordt ik vooral heel erg blij als er palmbomen en cocktails aan te pas komen en als temperatuur boven de 25 stijgt (minstens!). Maar daar stond ik dan: in de regen naar een oude Duitse fabriek te staren. En toch was ik gefascineerd; Phoenix West ziet er uit als een monster, één brok staal en ijzer en imposant dat het eerder op een bizar kunstwerk van een gekke artiest lijkt dan op een hoogoven.
In 1854 was de vraag naar ruwijzer zo groot dat er her en der hoogovens gebouwd werden. Phoenix West is een 110 hectare groot fabrieksterrein dat in 2002 uitgeroepen werd tot nationaal monument. Tegenwoordig kun je er een avontuurlijke rondleiding volgen doorheen de hoogovens.
De fabriek is een doolhof en bijna psychedelisch kluwen van metaal en ijzer, om maar te zeggen: ik kreeg een heel erg Mad Max-gevoel bij dit bezoek. Het was de eerste keer dat ik van zo dichtbij een verlaten fabriek bezocht en nooit gedacht dat ik het ooit zou zeggen, maar: dit was toch wel een unieke ervaring. De fabriek bezoek je overigens niet zomaar: er is een heuse skywalk aangelegd waarbij je bovengronds naar de Phoenix kunt wandelen. Het panoramisch zicht krijg je er zomaar bij.
Goed om weten: op eigen houtje de fabriek bezoeken is verboden en echt niet aan te raden, je verdwaalt meteen in de wirwar van trappen en gangen, en sommige stukken zijn niet veilig.
Onze gids vertelt ons dat niemand ooit kon vermoeden dat deze fabrieken ooit toeristische attracties zouden worden. En ook bizar: bijna om de hoek van de fabriek – na een korte wandeling door het groen – stuiten we op een nieuwe, moderne wijk met een kunstmatig aangelegd meer, het Phoenix meer. Het contrast met hoe het vroeger wat, kon niet groter zijn.
3. De verboden stad bezoeken: Hansa coking plant by night
De schoorstenen van deze fabriek spuwden van 1927 tot 1992 dag in dag uit grote walmen stoom en donkere rook uit. De opdracht van de Hansa Coking Plant – gelegen iets buiten Dortmund – was het omzetten van kolen naar cokes en de site is dan ook één groot gevaarte van buizen, leidingen, stookkamers, motoren, bunkers en ovens. Ooit was dit een verboden stad voor wie er niet hoorde te zijn, en eerlijk gezegd: behalve de mensen die er dag en nacht moesten zwoegen, wou niemand er ook zijn. De plek was een symfonie van lawaai, stof en kolen en de enorme hitte van daverende ovens was ondraaglijk.
De Hansa Coking Plant is één van de meest belangrijke industriele monumenten uit de regio. Je kunt er met een gids een rondleiding van ongeveer 2 uur boeken waarbij je tot in het hart van de fabriek gebracht wordt.
Wij bezochten de site 's nachts en dat zorgt dankzij de donkere sfeer en goed geplaatste verlichting voor een spooky gevoel, ook omdat we de enige mensen in een enorme fabriek waren. Max, onze gids, heeft hier zelf jaren gewerkt en hij vertelde uitgebreid over het harde leven dat ooit was en hoe hij en zijn collega's moesten zwoegen om dit monster van staal en ijzer te voeden. Toch is hij trots op 'zijn' fabriek en hij deed zijn uiterste best om tot tonen hoe mooi de hele constructie eigenlijk wel is.
Tijdens de nachtelijke rondleiding was er ook een natuurgids mee, om te duiden hoe de natuur langzaamaan bezit neemt van de site. Gras en onkruid steekt de kop op, bloemen – vooral fuchsia en seringen – groeien tussen de fabriek door en ook beukenbomen laten zich zien. Hoog boven de grond, op een plateau in de fabriek, heeft zich zelfs een klein beukenbos ontwikkeld.
De natuurgids vertelde dat beuken de eerste bomen zijn die je op dergelijke site zult zien; de zaadjes van een beuk zijn vederlicht, en ze hebben maar weinig nodig om te groeien. En eens de beuken er staan, kan de natuur verder werken om er nog meer 'nieuwe' flora te introduceren.
4. Een berg beklimmen om kunst te beklimmen
Na een weekendje in het Ruhrgebied is het duidelijk dat dit een regio vol tegenstellingen is: geschiedenis versus moderne kunst, industrie versus natuur… Het smelt moeiteloos samen tot één bruisend geheel. En dat werd nog maar eens duidelijk bij een bezoek aan de Tetraëder, een stalen constructie op de top van de steenberg Beckstrasse in Bottrop.
De vele steenbergen waar je her en der in de regio op botst, zijn eigenlijk stapels restanten – kolenresten – van de steenkoolindustrie. Vandaag zijn het geen 'afvalbergen' meer, maar groene heuvels – sommige tot 200 meter hoog – waarop je kunt fietsen en wandelen, en waar bij wijze van eerbetoon kunstwerken op geplaatst werden.
Toegegeven: we hadden de Tetraëder liever onder een stralend blauwe hemel bezocht maar de weergoden beslisten anders en dus aanschouwden we het gevaarte doorheen een gordijn van regen. Nu ja, het bleef er indrukwekkend uitzien.
De steenberg is door koolresten gevormd komende van de nabijgelegen steenkoolmijn Prosper-Haniel, waartussen 1963 en 1980 aan steenkoolwinning gedaan werd. Het kunstwerk kun je helemaal tot boven beklimmen maar dat heb ik wegens acute hoogtevrees netjes aan mij voorbij laten gaan. Het piramide is weliswaar heel erg veilig maar je moet er toch stalen zenuwen voor hebben: de trappen lijken op bepaalde momenten ondersteboven te draaien (wat in feite gezichtsbedrog is) en de constructie beweegt mee met de wind. Ik stond al angsten uit door er gewoon maar naar te kijken! Jempi daarentegen kon niet wachten om naar de top van deze bizarre uitkijktoren te klimmen, en hij had er het mooiste zicht ooit, ook al was het kwakkelweer.
Leuk weetje: de Tetraëder ziet er bovenaards uit en die indruk werd lange tijd nog benadrukt doordat er op de grond afbeeldingen van buitenaardse wezens aangebracht waren, te zien vanop de toren. In 2009 werden de afbeeldingen echter verwijderd.
Tip: wil je nog meer 'kunst op een berg' zien, dan kun je de Bramme für das Ruhrgebiet van Richard Serra op de Schurenbach-steenberg in Essen bezoeken, het Horizontobservatorium en de zonnewijzer/obelisk op de steenberg Hoheward (Herten/Recklinghausen) en het amfitheater op de steenberg Haniel in Bottrop.
5. Ademloos de hele wereld aanschouwen in de Gasometer
Vraag: wat doe je als je een gigantische gashouder op overschot hebt en je wil het ding niet afbreken? Antwoord: dan maak je er een indrukwekkend expositiecentrum van natuurlijk. En dat is precies wat ze in Oberhausen met hun Gasometer gedaan hebben.
De Gasometer dateert uit 1927 en was met zijn hoogte van 117,5 meter en 67,6 meter doorsnede de grootste gastank van Europa. Toen de cokesindustrie instortte, was er ook geen behoefte meer aan dergelijke gastank en de Gasometer sloot z'n deuren in 1988. Tja, en daar sta je dan met zo'n mastodont in je achtertuin! Na veel discussie en wikken en wegen werd besloten om het ding om te bouwen tot een tentoonstellingshal en ziehier dus de Gasometer, hét symbool van Oberhausen en een onwaarschijnlijk coole plek om gigantische tentoonstellingen te organiseren. En dat doen ze daar op indrukwekkende wijze.
Wij bezochten er Wonderen der Natuur, een verbluffend visueel spektakel over de groei en het zijn van onze planeet. We hadden maar een uurtje de tijd om de tentoonstelling te ontdekken en dat was spijtig want deze expo is beslist de moeite waard. Heel erg indrukwekkend vonden wij bijvoorbeeld de projectie van de aarde gezien vanuit de ruimte, op zo'n manier gebracht dat je er als een astronaut naar kunt kijken. De 'aarde' zweeft als een 20 meter grote aardkogel in een hoge luchtruimte, en je ziet op een paar minuten hoe de dag nacht wordt en hoe de jaargetijden veranderen.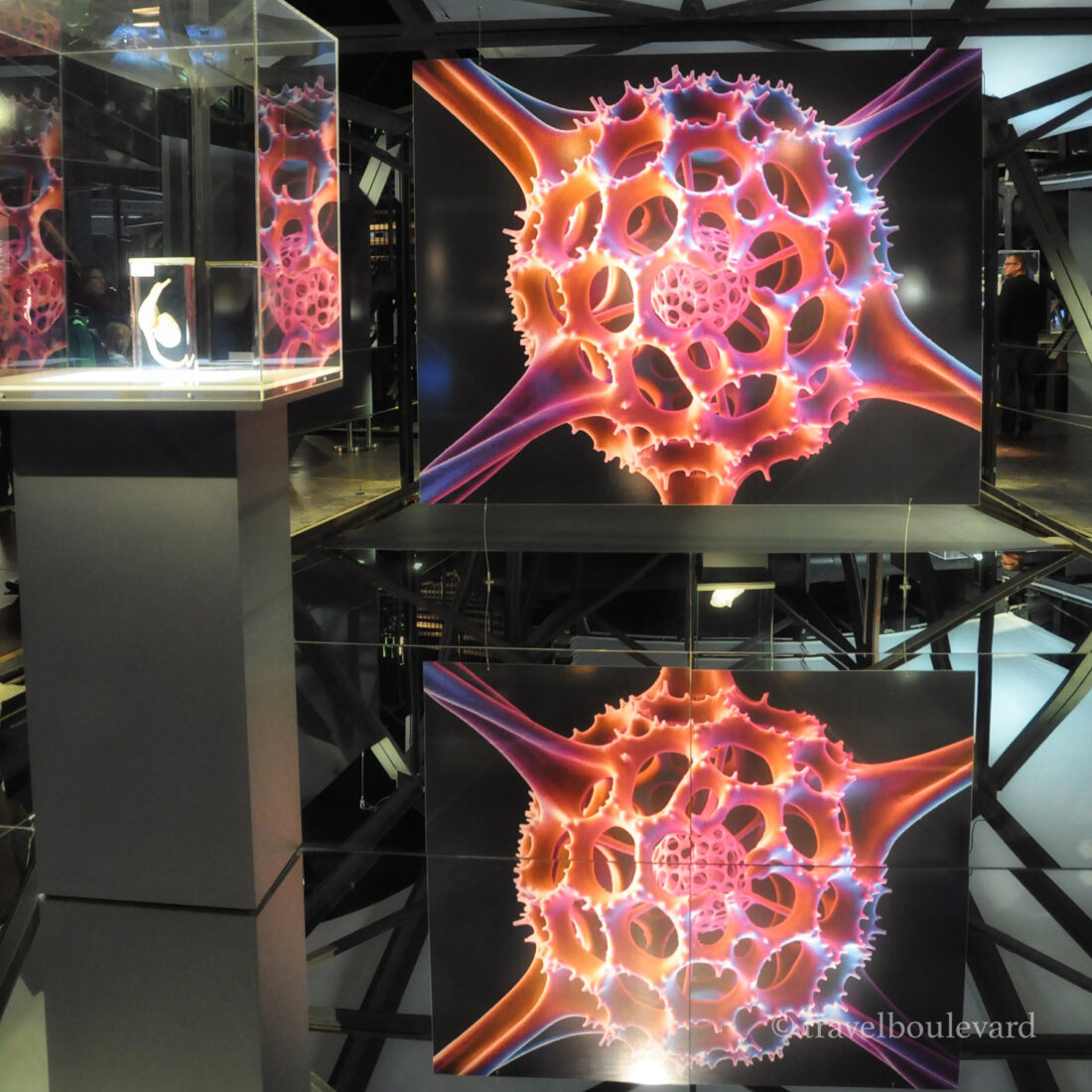 Tip: vergeet niet de glazen panoramalift tot net onder het dak van de Gasometer te nemen. Via een tweede lift en een paar trappen kun je het dak bereiken. Je kunt er genieten van een uniek panorama over het het gehele westelijke Ruhrgebied.
6. De mooiste kolenmijn ter wereld
Het beste moet je altijd bewaren tot het laatste wordt wel eens gezegd en hoewel we na een weekendje industrietoerisme dachten dat we het nu wel gezien hadden, moesten we Zollverein in Essen nog tackelen. Zollverein is een grote industriële site in Essen en staat al sinds 2001 op het lijstje van de UNESCO World Heritage Sites. Verplichte kost dus.
De eerste kolenmijn op de site dateert al van 1847, en gedurende de jaren werd er uitgebreid en gebouwd tot een immense grote site vol industriële bedrijvigheid. Zollverein is 's werelds meest iconische kolenmijncomplex, en vooral Schaft XII staat bekend als de mooiste kolenmijn ter wereld. Niet alleen omdat hij er geweldig uitziet maar ook omdat het een uitzonderlijk knap staaltje van industriële architectuur was.
De site is uitgegroeid tot een must see in de regio en één van de meest bijzondere 'musea' die ik ooit bezocht. Trek gerust een paar uurtjes uit voor een bezoekje, er valt veel te zien.
Uiteraard leer je er alles over de industrie en hoe het leven er voor de arbeiders uitzag in die tijd en ik moet toegeven: dat klinkt behoorlijk saai (vooral na een weekend waarbij je al tig oude fabrieken achter de kiezen hebt) maar het geheel oogt echt wel bijzonder indrukwekkend en fotogeniek. Bereid je voor op pure industriële hardcore: gigantische machines, transportbanden, kolenbunkers, kolenwasserijen, eindeloze rijen cokesovens en veel meer.
Er is ook een leuk restaurantje en een cafetaria aanwezig in de fabriek; je kunt er tussen de stalen buizen en machines een hapje eten of van een deugddoende cappuccino genieten.
Overigens vind je op de site ook het Regionale Museum van het Ruhrgebied en het Red Dot Design Museum, dat elk jaar de bekende prijzen uitreikt voor de meest inventieve designs allerhande en 's werelds grootste collectie in eigentijds design herbergt. Verder is de plek ook een populaire hub voor tentoonstellingen, concerten, theaterstukken, dansvoorstellingen, designmarkten… Noem maar op.
En heel héél bijzonder: tussen de gebouwen en fabrieken wordt tijdens de zomer een heus openluchtzwembad geïnstalleerd.
En tijdens de winter opent er dan weer een gigantische ijsbaan. Geef toe: niet slecht voor een oude cokessite.
Praktisch: de goedkoopste en meest comfortabele manier om naar Dortmund en omgeving te reizen, is met de trein. Wij spoorden met Thalys van Brussel Zuid naar Dortmund en waren iets meer dan 3 uur onderweg. Ter plekke zijn alle hoogtepunten van de regio makkelijk te bereiken via het openbaar vervoer of met de huurwagen. Meer info op
www.thalys.com
. Info over Dortmund op
dortmund-tourismus.de
en info over het Rurhgebied op
germany.travel
.