Een weekendje Hasselt: genieten in de hoofdstad van Limburg
Hoog tijd om de hoofdstad van Limburg, Hasselt eens onder de toeristische loep te nemen. Via de E313 tuffen we gezapig de provincie Limburg in om halt te houden in Hasselt, stad aan de Demer. De opdracht: ontdek, proef en beleef Hasselt.
Onze allereerste halte – zoals zo vaak wanneer we een stad gaan ontdekken – is uiteraard de dienst toerisme (Visit Hasselt) in de Maastrichterstraat te hartje Hasselt. We worden er ontvangen met die die typische Limburgse openhartigheid, het ijs is meteen gebroken.
Een half uurtje later staan we weer buiten met een schat aan informatie over wat er zo allemaal te beleven valt in de bruisende stad van de smaak en vooral: met de 48u-kaart in de hand.
Shoppingstad
Hasselt nodigt uit om de beentjes in beweeg-modus te zetten en al wandelend (of in ons geval: al slenterend) op ontdekkingstocht te gaan. Dat Hasselt een echte shopping stad is, zal je vlug geweten hebben wanneer je hier op ontdekking gaat. Alle soorten winkeltjes (de ene al groter dan de andere) kom je hier tegen, van strak klassiek tot ultra-hip en uiteraard ook voor ieders budget.
Street art ontdekken
Behalve shoppen er is natuurlijk veel meer te zien en te ontdekken in Hasselt. Wat dacht je bijvoorbeeld van een stevige portie street-art? Al enkele jaren nodigt Hasselt street art artiesten van over de hele wereld uit om gevels in en rond de stad aan te pakken.
Bij Toerisme Hasselt kun je een wandelroute ophalen die de mooiste werken van de stad bundelt.
Wij trokken naar de Kempische Kaai en de buurt van de Mouttoren en bewonderden keicoole kunst recht uit de graffiti spuitbussen van MYMO, Steve Locatelli & Polak, RESTO en ROA.
De absoute topper vind je op een muur van de PXL-campus aan de Vilderstraat, een gigantische octopus uit de getalenteerde hand van Bart 'Smates' Smeets.
Onze wandeling afsluiten deden we met het iconische gelaat van CHAS in de Dorpsstraat.
Van wandelen krijg je een rammelende maag en nu we toch in de buurt zijn stillen we onze honger in de meest gezellige en hippe pasta-bar van Hasselt, Pocomatto.
Hip & cool
Over hip en trendy gesproken, de wijk rond de Dorpsstraat is de place-to-be voor wie op zoek is naar toffe, coole adresjes. Hier troepen jong en oud samen om gezellig te shoppen en te tafelen in de meest hippe winkeltjes & restaurants.
In de Fietsbar aan de Minnebroedersstraat kan je je stalen ros – lees: fiets – onder handen laten nemen terwijl gezellig zit te keuvelen bij een lekkere tas koffie of een smaakvolle bereide lunch. Ook in Schrijnwerkersstraat is het leuk om te vertoeven bij wijnbar Dito, en cocktailbar Koks & Tales.
Heel leuk ook vonden wij de Walputsteeg, een overdekt straaltje achter het stadhuis dat ook wel eens het gezelligste straatje van Hasselt genoemd wordt. Hier kun je als een Bourgondiër genieten van creatieve gerechten en een biertje, wijntje of ander lekker drankje.
Vind je ook daar je gading niet, tackel dan gewoon het centrum van Hasselt, je struikelt er over de toffe en gezellige eethuisjes en hippe winkeltjes.
Mode onder de loep
Alles super-cool, hip en trendy, zo hebben we het graag. We zijn volop in de 'mood' dus is het hoog tijd om de fashion-geschiedenis eens onder de loep te nemen in het Modemuseum aan de Gasthuisstraat.
Behalve de permanente collectie – ruim 18.000 items gaande van kleding en schoenen over handtassen en accessoires tot ondergoed, daterend uit de periode van 1750 tot vandaag – lopen er ook geregeld interessante tentoonstellingen. Tijdens ons bezoek mochten we een expo Japanse invloeden in de mode meepikken, maar check zeker de agenda voor updates over nieuwe tentoonstellingen.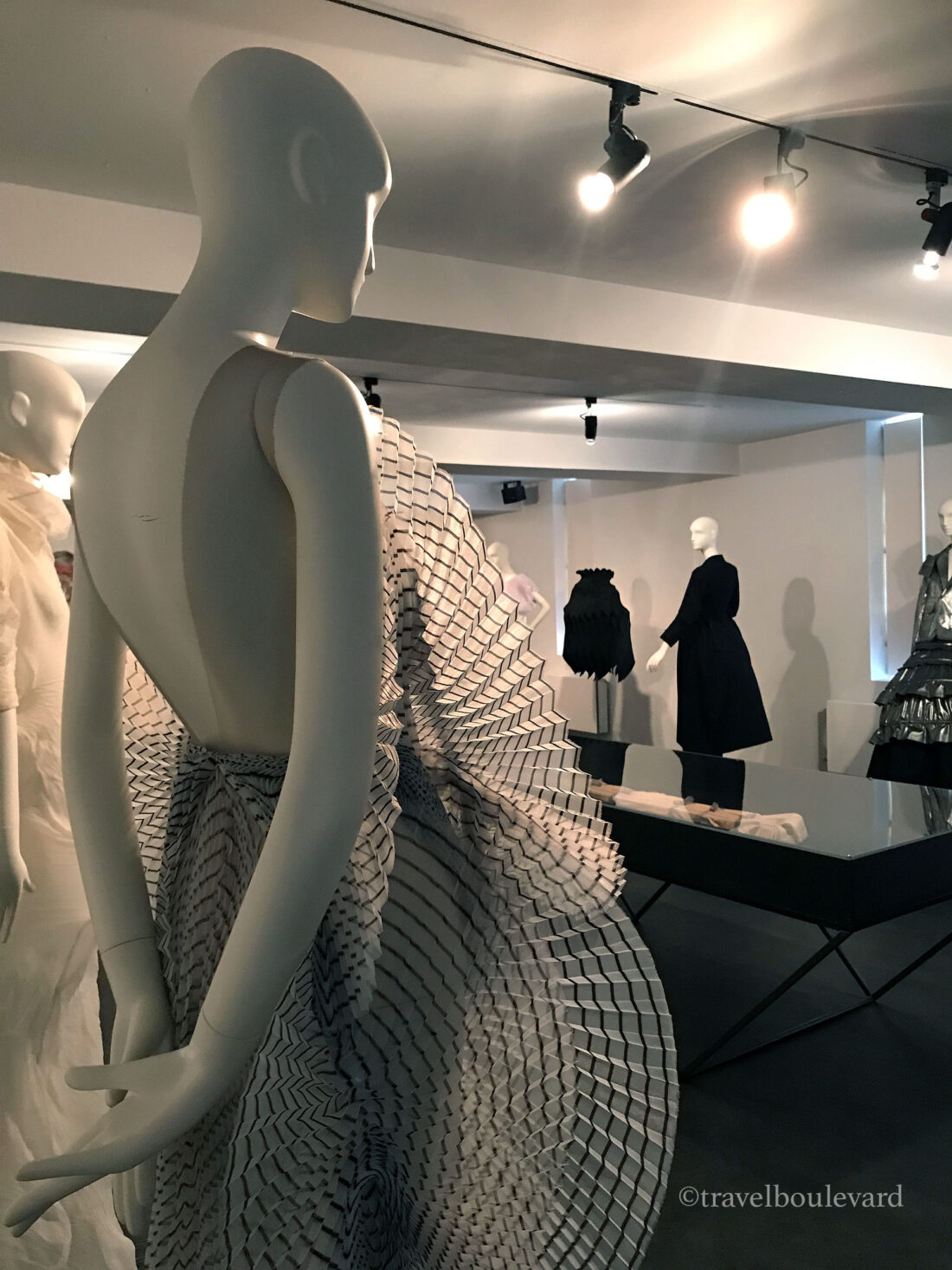 Ook Z33, het kunstencentrum ter hoogte van de Zuivelmarkt is goed te pruimen, als je van concept-art houdt tenminste. Wij vonden het alvast een aanrader!
Eten en drinken
Tot hiertoe mogen we wel spreken van een leuke en bijzonder tof weekend, en het is bijlange nog niet gedaan. Het weer zit al heel de dag en avond geweldig mee, dus troepen de meeste Hasseltenaren samen op en rond de gezellige Zuivelmarkt waar er geen gebrek is aan restaurants, bars en meer etablissementen om een zaterdagavond in door te brengen.
Na een dagje rondslenteren en sightseeing in Hasselt, begint de maag alweer aardig te knorren. Maar: op een zaterdagavond nog zonder reservatie een plaatsje vinden in één van de restaurantjes, het is geen gemakkelijke taak. Alles zit er propvol, de horeca in Hasselt floreert en wij hebben geleerd dat we in de toekomst echt wel op voorhand even een reservatie moeten maken, willen we nog lekker uit eten gaan. Na wat rondslenteren vinden we uiteindelijk nog een tof tafeltje op het terras van Café Latino op de Zuivelmarkt.
Dit Mexicaans restaurant is een heuse hotspot waar je niet enkel van de lekkerste authentieke gerechten (de enchilada's en fajitas zijn 'muy sabroso', echt waar) kan smullen, maar de sympathieke eigenaars Ann & Viviana weten ook hoe je een lekkere cocktail moet maken en serveren. Meng dit met de uitbundige Hasseltse sfeer die steeds heerst op de Zuivelmarkt en geloof me vrij, je bent er een paar uurtjes zoet en heel erg gelukkig.
Slapen
De nacht roept en we besluiten om het feestgedruis achter ons te laten en ons hotelbed op te zoeken. En dat bed staat in hotel De Groene Hendrickx, gelegen aan de Zuivelmarkt, pal in het bruisende centrum.
Wat ooit een jeneverstokerij was (voor de liefhebbers: er is ook een heus Nationaal Jenevermuseum in Hasselt), werd trendy en stijlvol getransformeerd tot een heus stadshotel waar het heerlijk vertoeven is. De kamers vallen in elk geval bijzonder in de smaak: we houden wel van de klassiek/moderne stijl en ook de badkamer is een juweeltje. Top!
Wat maakt een verblijf in een hotel geslaagd, buiten een goed bed en comfy room? Het is iets waarvan je achteraf zegt, wel dat was nu eens echt de max…juist ja, het ontbijt. In De Groene Hendrickx hebben ze dit alvast heel goed begrepen, het ontbijt is er zeer goed. Lekkere koffie en – voor mij belangrijk – een lekker spiegeleitje met vers gebakken spek en een pistolet. Daar wordt ik spontaan goed gezind van voor de rest van de dag. Voor de – ik let op mijn lijn – medemens zijn er ook allerhande yoghurts, granola's en een overvloed van vers fruit waar je volledig gezond uit de bol mee kunt gaan. Dit alles wordt geserveerd in een cosy setting aan de achtertuin van het hotel.
Kort gezegd, super om de dag mee te starten en ons verblijf in Hasselt lekker af te sluiten.
Hasselt was voor ons een grote onbekende en we hebben tijdens ons weekendje weg enorm genoten van de relaxte sfeer en toffe verrassingen. Uiteraard is er heel veel te zien en te doen en hebben wij maar een heel klein stukje van de stad ontdekt. Dat laat nog wat ruimte om er nog een paar keer terug te komen, en dat gaan we zeker doen!
Alle info: www.visithasselt.be
There are no posts to show right now.