Lissabon voor foodies: 10 x lekker eten en drinken in de Portugese hoofdstad
Uit eten gaan in Portugal stelt zelden teleur. De Portugezen weten als geen ander hoe ze lekkere maaltijden op tafel moeten toveren én ze maken van hun maaltijd meteen ook een sociaal gebeuren. Samen met een aantal vrienden trok ik naar Lissabon en dumpte er meteen mijn dieet: je zou wel gek zijn om al die culinaire heerlijkheden te laten passeren. Ziehier mijn 10 tips voor een lekkere citytrip naar Lissabon. Smakelijk!
1. Dineren in Restaurant Populi
Omdat we tijdens de vroege avond in Lissabon arriveerden, wat het eerste wat we deden – na het inchecken in het hotel – een lekkere plek zoeken om iets te eten. Restaurant Populi ligt aan de oevers van de Taag en heeft een mooi zicht op de Praça do Comércio – ook bekend als Terreiro do Paço , één van de mooiste pleinen van Lissabon. Ideaal als eerste introductie op de stad én de keuken van Lissabon!
Aangezien het onze eerste nacht in Lissabon was, vroegen we om "een beetje van alles", en dat hebben we ook gekregen: een fijne mix van tapas, die je in Portugal Petiscos noemt. De gerechten waren klein maar fijn en overvloedig in hoeveelheid. Het kostte ons een paar uur om al die hapjes naar binnen te werken. Maar: de petiscos waren vergezeld van een lekker Portugees wijntje, het gezelschap was tof en we hadden een spectaculair zicht over de Praça do Comércio, ideaal niet?
Populi promoot zichzelf als een plek om gezellig samen te eten met vrienden (en dat is het zeker). De menu is een mooie mix van moderne en traditionele Portugese/mediterrane gerechten. Ze pochen ook dat ze het lekkerste chocolade-ijs ter wereld serveren (niet geproefd maar deze uitdagende bewering wou ik wel even meegeven: als iemand binnenkort richting Lissabon trekt en het Populi-ijs proeft, laat mij gerust weten hoe het geweest is).
2. Een biertje drinken in de beroemde Cervejaria Trindade
Het menu zag er veelbelovend uit maar of die belofte ook waargemaakt wordt, weet ik niet want ik heb er enkel maar biertjes gedronken (geserveerd met tremoço's) en die smaakten wel helemaal zoals het hoort. Kan ook niet anders; deze plek is een echte bierfabriek. Cervejaria Trindade was vroeger een klooster (daterend uit de 13e eeuw) en wordt beschouwd als een van de mooiste (en oudste) bierhuizen in Portugal. Het interieur is inderdaad adembenemend, met gewelven en azulejos waarop geestelijken en heiligen afgebeeld staan.
Cervejaria Trindade is eigendom van de Trindade-fabriek, de oudste brouwerij in Portugal. Het begon met het produceren en verkopen van bier in 1834!
Tegenwoordig lijkt de brouwerij een beetje op een typische toeristische bierhal – een deel van het personeel loopt er verkleed als monniken rond, ze zien er niet bijster gelukkig uit – maar desondanks is dit nog steeds een heerlijke plek om te genieten van een biertje (of twee, drie, vier …).
3. Voor hipsters: de foodmarket
Zowat elke stad die een beetje hip wil zijn, opent een foodmarket en dus vind je er in Lissabon ook eentje. De Mercado da Ribeira opende in mei 2014 en werd al vlug één van de populairste places to eat & drink in Lissabon. Met de Mercado moest ook het oude gedeelte van de voedselmarkt een verjongingskuur krijgen en dat is prima gelukt; je wandelt er dus van een stukje oude markt recht in de nieuwe.
De Mercado da Ribeira herbergt ongeveer 35 kleine semi-permanente open keukens, en alle hebben ze dezelfde trendy uitstraling. Uiteraard kun je er een breed scala aan regionale specialiteiten proeven: kaas, ham, sardines, pizza, hamburgers, wijn, chocolade, zeevruchten… Noem maar op.
Bestel gewoon wat je lekker vindt, neem plaats op één van de gemeenschappelijke houten banken in het midden van de markt, en geniet.
De foodmarkt is wat het is: een echte vreetschuur, maar wel ééntje die erg hip en trendy is en waar enkele van de beste restaurants van Lissabon – met Michelin-sterren – aanwezig zijn. Zelf was ik flink aan het lonken naar de hamburgers en pasta's, maar omdat ik die dag zoveel gegeten heb, kies ik toch maar voor iets lichts bij het standje van de Sea Me Peixaria Moderna-Chiado, een populair restaurant dat bekend staat om zijn zeevruchten en Japans-Portugese fusion keuken. Het werd inktvis met zwart inktvisbeslag. Het zag er vreselijk zwart en eng uit, maar het smaakt wel heerlijk.
4. Een shotje Ginja naar binnen werken
Nu ben ik niet zo'n grote fan van likeur in Portugal zijn ze er dol op, en dan specifiek op de Ginjinha, of gewoon Ginja zoals ze het drankje noemen.
Ginja is een typische drank die wordt gemaakt door ginja-bessen (een zure kers) in alcohol te weken. Het wordt geserveerd in een klein shotglas met een kers erin. Een beetje een Mon Cheri praline dus, maar dan zonder de chocolade (al kun je de Ginja ook krijg in een glaasje van chocolade).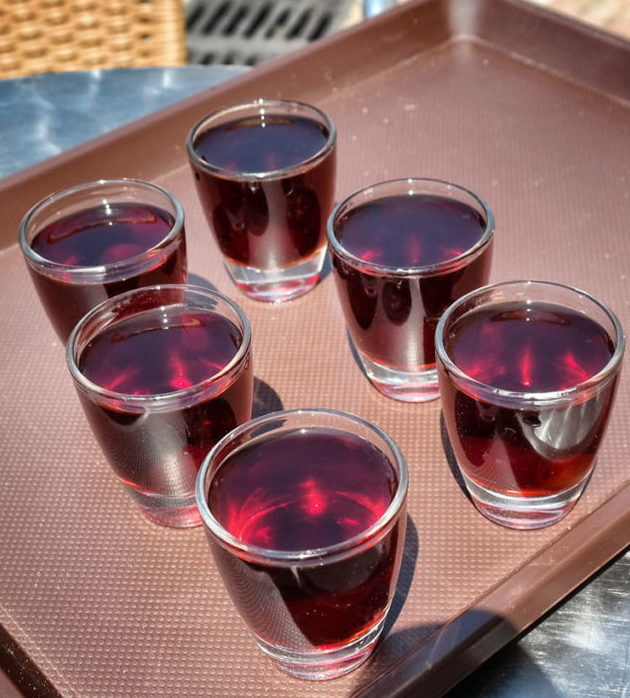 Het drankje werd bedacht door monniken die wat ginja-bessen aan een Portugese brandewijn toevoegde en er nog wat suiker, water en kaneel aan toevoegden. Ginja werd onmiddellijk goed gesmaakt en is nu één van de meest typische drankjes van Lissabon.
In Lissabon zijn er flink wat plaatsen waar je een ginja kunt proeven; ga gewoon naar een van de (heel) kleine Ginja barretjes en bestel je shot. Vraag een 'Ginjinha com Ginja' als je een kers in het glas wilt, of een 'sem Ginja' als je de kers niet wilt. En als je wil doen zoals de locals, dan drink je je Ginja ad fundum, zuig je even op de bes en spuw je de pit uit als je klaar bent.
Zelf vond ik de Ginja zowel zoet als zuur en plakkerig. Niet mijn favoriet, maar mijn vrienden sloegen wél het ene glaasje na het andere achterover.
5. Sardines à volonté
Wie Lissabon bezoekt, kan maar beter liefhebber van sardines zijn, want er is geen ontsnappen aan. Je vindt ze gegrild op een BBQ, als een tapas, ingeblikt, in allerlei soorten en vormen in souvenirwinkels, op vlaggen en zelfs gedrukt op behang van je toilet. We mogen dus gerust stellen dat de mensen van Lissabon dol zijn op hun sardines.
Tijdens de St-Antonio festiviteiten (half juni) gaat Lissabon echt total loss met sardines. Op elke hoek van de oude Alfama wijk (het epicentrum van de feesten) vind je wel een BBQ-standje met sardines (en Alfama heeft veel hoekjes en kantjes, BBQ-mogelijkheden zat).
Gegrilde sardines worden vaak geserveerd met een sneetje brood; bedoeling is dat het brood de olie en de zoute smaak van de vis opneemt.
Tip: Krijg je geen genoeg van sardines? Neem ze mee naar huis; ingeblikte sardines zijn een geweldig souvenir, de perfecte manier om thuis ook een stukje Lissabon te proeven. In Lissabon vind je winkels die geheel gewijd zijn aan sardines en waar de mooie, vintage blikjes netjes gestapeld zijn.
6. De beroemde Pastéis de Belém proeven
Feit: je kunt Lissabon niet bezoeken zonder de wereldberoemde Pastéis de Belém te proberen. Pastéis de Belém zijn taartjes met pudding, maar met een Portugese twist, en die twist is een meer dan 100 jaar oud een geheim recept, in handen van slechts enkele gelukkige insiders.
Wij trokken naar de Antiga Confeitaria de Belém, de populairste banketbakkerij in Portugal waar het allemaal begon. En dat dit een legendarische zaak is, is wel duidelijk: de rij wachtende klanten was ellenlang, de liefhebbers stonden tot op straat om hun geliefde pasteis te kunnen kopen. Wij namen binnen plaats en moesten ook daar even wachten vooraleer er een stoeltje vrij was. Tijdens het wachten konden we wel – van achter een glazen wand – het productieproces van de pasteis mee volgen. Wat het geheime ingrediënt is, kwamen niet te weten, daar hebben ze in deze bakkerij een 'geheime kamer' voor, kwestie van het mysterie wat in stand te houden.
Hoe de pastei smaakt? Zacht en romig maar toch niet te zoet, helemaal perfect dus. De Antiga Confeitaria de Belém is zeker een bezoekje waard, al moet je er vechten voor een tafeltje en is het personeel niet altijd even vriendelijk. We kunnen het hen niet kwalijk nemen: op zondag verkopen ze meer dan 50.000 gebakjes, dat kan nooit zonder de nodige stress veronderstellen we.
Tip: overal in Portugal kun je een pastei de nata kopen, zogezegd een 'imitatie' va de pastei de belem, maar dan zonder het geheime ingredient natuurlijk. Mijn mening: minstens even lekker.
7. Gaan eten in een typische tasca
Voor een eenvoudige maar smaakvolle maaltijd moet je in een tasca zijn, zo simpel is het.
Een tasca is een klein, bescheiden restaurant waarvan het meubilair vaak niet veel meer is danwat toevallig samengestelde tafels en stoelen. Ook het menu is vrij beperkt. Maar: wat je op je bord krijgt, is (meestal) huisgemaakt, typisch Portugees en met veel liefde gemaakt.
Reken op een zacht prijsje (5 tot 10 euro voor een maaltijd) maar dat is niet de reden waarom je hierheen moet: een tasca is de perfecte plek om schouder aan schouder met de lokale bevolking te eten en nieuwe vrienden te maken. De meeste tasca's zijn te vinden in de meer traditionele en authentieke wijken.
Onze tip: Laterna Verda, in het hart van Alfalma. Dit kleine eetcafé wordt gerund door een gezellige oudere vrouw en haar man. Ze kookt met alles wat ze die dag op de markt kan vinden, er is dus er is geen vast menu, maar hoedanook zal je tevreden zijn met wat je op je bord krijgt.
8. Bacalhau proeven
Bacalhau is een gezouten kabeljauw die gedroogd werd onder de mediterrane zon. De Portugezen hebben een lange geschiedenis met bacalhau: het staat er al eeuwen op het menu en wordt zelfs met kerst als hoofdgerecht geserveerd.
Bacalhau kan heel lang (bijna eeuwig!) bewaard worden. Om het te bereiden moet je de vis minstens 24 uur laten weken in zoet water (en het water drie keer verwisselen) om het zout eruit te krijgen.
De Portugezen beweren dat er 365 manieren zijn om bachalhau te bereiden, ééntje voor elke dag dus. Als je het tijdens een bezoek aan Lissabon ergens op een menu ziet staan – en dat zal zeker het geval zijn – dan moet je er toch minstens één keer van proeven.
9. Leer koken van een Portugese mama
En dan kregen we de vraag of we niet graag eens privé kookles van een echte Portugese mama willen krijgen? Tuurlijk!
Onze Portugese mama blijkt een lieve kleine dame te zijn die apetrots is op de lokale keuken en ons graag verwelkomt in haar kookkoninkrijk. Haar Engels (en Nederlands) is net zo onbestaand als mijn Portugees, maar geen enkele taalbarrière kan haar beletten om ons een heerlijke Bacalhau a Bras te laten bereiden, een zeer populair en traditioneel Portugees gerecht. Het is gemaakt van bacalhau (uiteraard), uien, gebakken aardappelen (in ons geval: chips!), eieren, wat kruiden en veel olijfolie. Het gerecht bevat minstens een biljoen calorieën, maar het is wel heel erg lekker. Niet verfijnd, maar stevig en smaakvol.
Tip: deze kookworkshop werd georganiseerd door boostportugal.com. Je zult de kookworkshops niet vinden op hun website, maar als je ze vraagt, regelen ze graag een voor jou. www.boostportugal.com
10. Sjiek eten in een sjiek restaurant
Lissabon kent heel wat hippe en trendy restaurants en onze keuze viel op Largo, een restaurant dat vaak over de tong rolt en uitstekende recensies krijgt. Het interieur oogde in elk geval erg glamoureus en stijlvol, met een groot aquarium vol met kwallen (!) als een bijzondere blikvanger (met dank aan de beroemde Miguel Cancio Martins, hij ontwierp enkele van 's werelds meest trendy bars en restaurants en deed ook fantastisch werk voor Largo ).
En het eten? Dat smaakte voortreffelijk. Chef-kok Miguel Castro e Silva werkte vroeger voor Bull & Bear, één van de iconische restaurants van Portugal, en voor Largo bedacht hij zijn eigen versie van de internationale en typisch Portugese keuken. Voor een diner bij Largo's zal je minstens 50 euro betalen, wat een koopje is voor het lekkers je ervoor in de plaats krijgt.
Tip: ga je eten in Portugal dan komt het vaak voor dat je apart moet betalen voor de zogenaamde couverts. En neen, ze bedoelen hier niet het bestek of de borden, maar wel het brood, de boter of olijven die voor de maaltijd op tafel gezet worden. Eet je hier niets van, dan zal je ook niet moeten betalen.
There are no posts to show right now.