Visiting Bora Bora has always been one of my dreams and I couldn't have been more happier to learn that our Tahiti & her islands-trip came with a couple of days exploring this mythical island. To make the experience even more unforgettable, we stayed at the Hilton Bora Bora Nui Resort & Spa. I had big expectations of this resort and couldn't wait to check it out. Here is my review.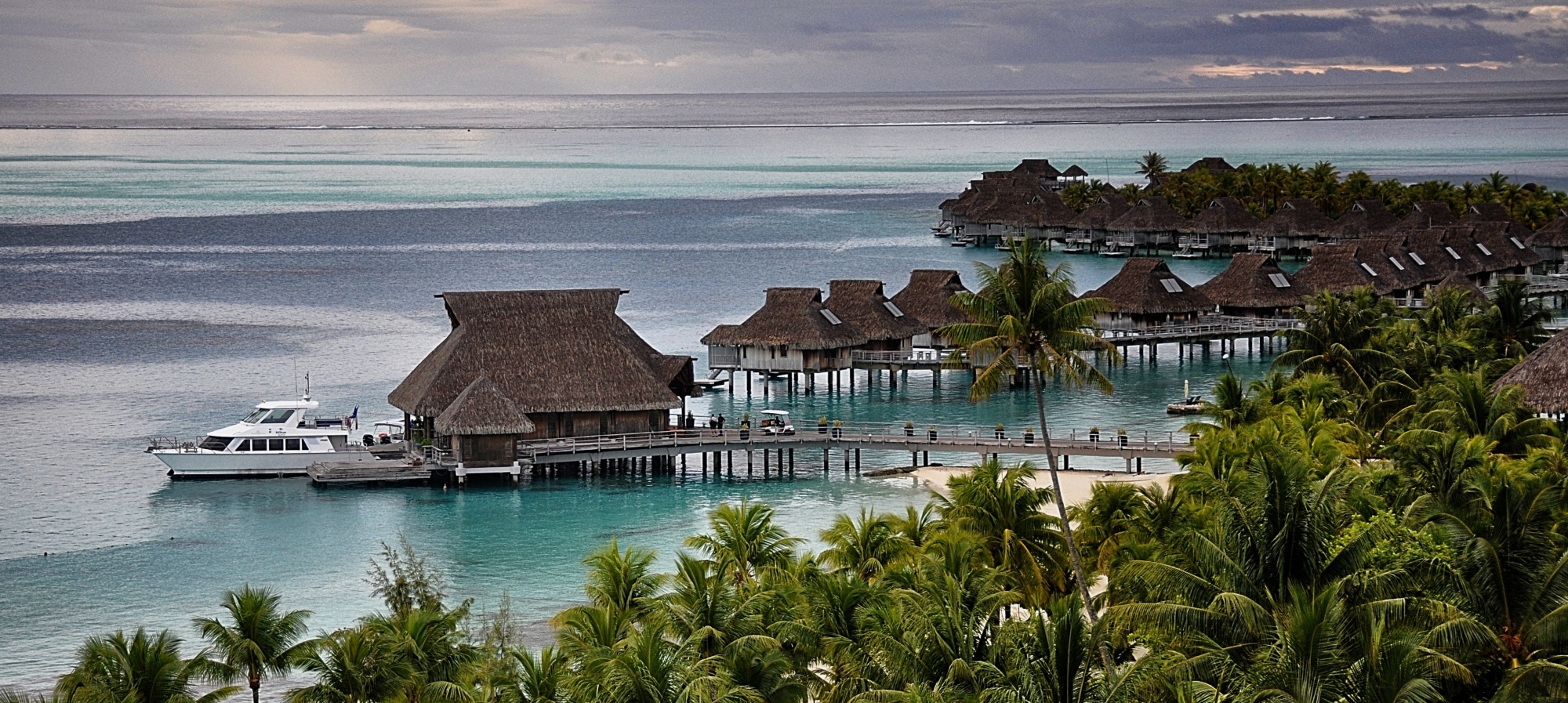 The Hilton Bora Bora Nui Resort & Spa is located on a paradise perfect beach and a stunning blue lagoon. Some say this is probably one of the best locations in Bora Bora and although I have only seen part of the island, I'm sure this must be true: the setting is amazing!
We were picked up at the Bora Bora airport (situated on the islet of Mutu Mutete) by a private catamaran and arrived a short 30 minutes later at the hotel.
The overwater villa: gigantic
The hotel lobby is built over water, which makes the arrival even more spectacular. Check-in was quick and efficient and already 15 minutes later were were ready to go to our room, or better: our overwater villa.
I was stunned by the size of it! There was a separate living room and bedroom, two plasma TV's with DVD player and a gigantic Italian marble bathroom with soaking tub and a separate shower. The floors in the living room and terrace had glass windows (hello colourful fishes!) and outside there were steps leading directly into the water.
But best of all: the view outside was picture perfectl! I looked over a smaller crystal blue lagoon with Bora Bora's tropical hills and volcano peaks in the back. Ow boy, this was one villa I never wanted to leave again.
The food: barefoot in the sand versus posh
There are two restaurant. The main restaurant is the Iriatai Restaurant (Iriatai meaning 'on the surface of the water') where you can choose between a mix of Polynesian, Asian inspired and Mediterranean specialties. On Friday night there is a delicious Mediterranean buffet to enjoy. The restaurant has also amazing views over the lagoon surrounding Bora Bora.
The Tamure Grill is a relaxed, barefoot-in-the-sand-restaurant where you can enjoy your breakfast buffet, lunch or dinner.
Smaller snacks and cocktails are available at two bars: the Upa Upa Panoramic Bare (posh) situated on the hillside and the Ta Ie Ie Beach Bar (casual, near the pool).
A massage with Million Dollar view
If snorkeling and other water sports doesn't get you into shape, there's a modern fitness center to check out. But if it's your body ànd mind that needs pampering, you should try the Hina Spa, nestled on a hilltop. The spa has a couple of treatment rooms and offers Pacific-inspired beauty treatments and massages, but what you really want is the 'Million Dollar View'-experience: a two-hour open-air treatment in a serene and secluded pavilion overlooking the lagoon. Best place in the world to enjoy a massage, especially when the sun sets.
What else should you know?
Wi-Fi in the room is available but expensive, but you can use free Wi-Fi in the lobby.
We think this place is perfect for couples, romance is all around. Still, children are very welcome: the restaurants serve children's menus, there are lots of things to do for kids and there's a babysitting service available.
You can book a lot of excursions and activities through the hotel, at reasonable prices.
It's a large resort and there are hills and stairs to climb. If you don't like to walk a lot, there are electric carts available.
The shuttle ferries to and from Vaitape (the largest city of Bora Bora) runs throughout the day and well into the night: perfect if you want to have diner on the mainland.
The hotel has a nice infinity pool (which we didn't try, we just couldn't drag ourselves away from that beautiful lagoon at the doorstep of our overwater villa)
Big bonus: the hotel has its own private 'deserted' island: Motu Tapu, the most photographed islet in the South Pacific and the best place in the universe to have a romantic dinner.
The Bora Bora Hilton offers several types of rooms and villa's. The standard rooms in the main building have garden view, but the luxurious hillside-, garden- and over watervilla's are a better choice: if you're going to stay in a place like this, you might as well do it right. For those who have some (or better: a lot) money to spent: the Presidential Overwater Villa has a private pool and whirlpool on deck, 3 bathrooms, 2 dressing rooms and a wellbeing room (with sauna!).
This is an expensive place to stay, especially if you want to book a luxurious overwater villa. There are special offers available, check out the rates on the website as these change during the season (tip: Hilton HHoners is the Hilton loyalty program for regular guests: become a free member and start saving HHoners Points. It will get you cheaper rooms and/or free nights, a great way to save money).
Conclusion:
If you're looking for an exclusive and special place to stay: you've found it!
Here are some extra pictures. It was a bit cloudy during our stay (but we only had rain one day, and just for a couple of hours) but it still felt like paradise.
Update 2017: since my stay the Hilton Bora Bora has been undergoing changes and is now know as the Conrad Bora Bora Nui. The luxury retreat looks even more glamorous now!