Happy New Year guys! I hope you're not too bored already with all the 'end of year/new year' -inspired posts that are being published all over the place, because here's another one.
During the new year's holiday Jempi and I hopped over to Dublin to check out the New Year's Festival. Now we all know Dublin is already Ireland's most vibrant city, but when you add a three days festival filled with fun activities, music, art and food the place makes you go 'double wow'.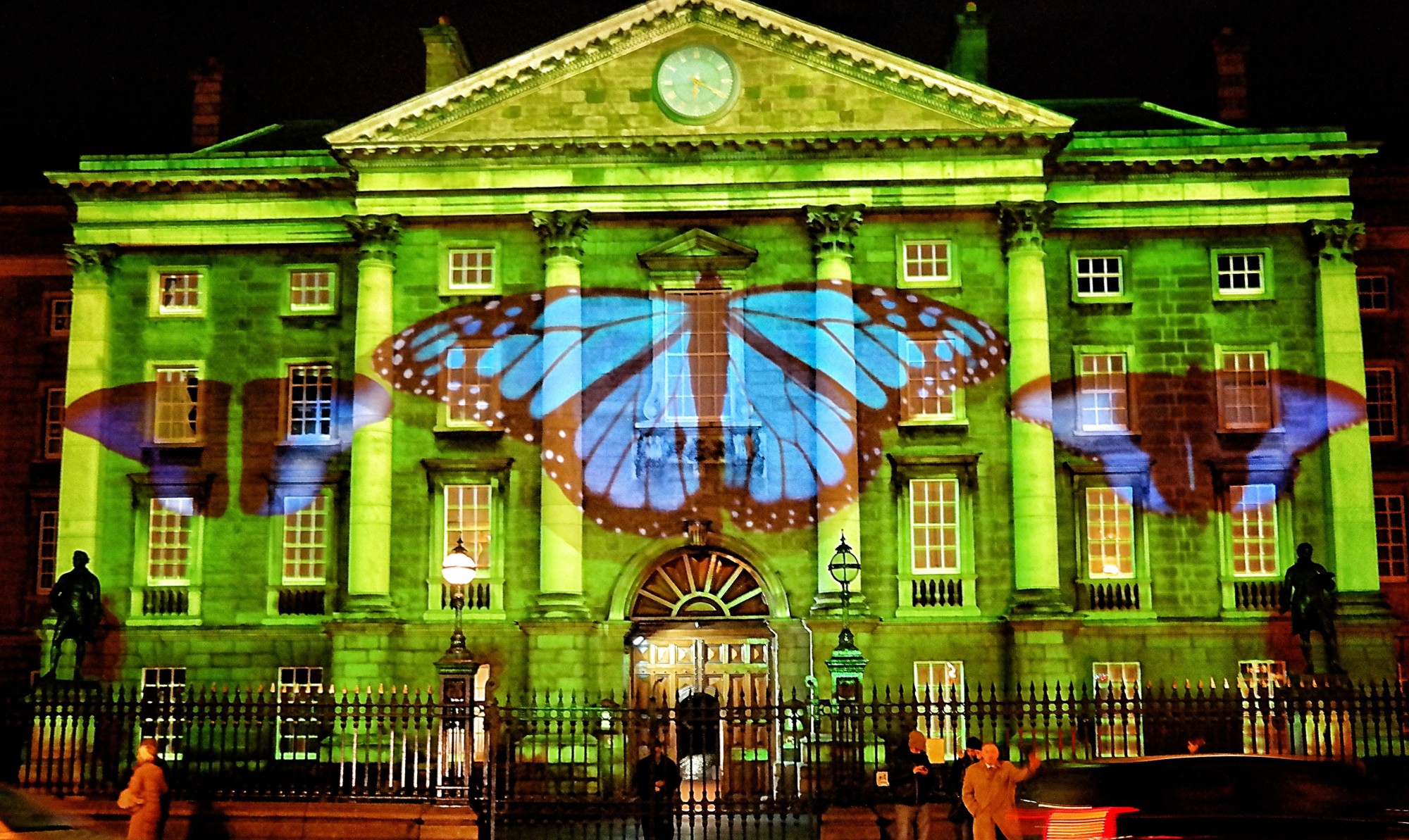 About the festival
New Year's Festival in Dublin, Ireland, is brand new. In the past it used to be just New Year's Eve but the Dubliners thought it would be fun to spice things up with a festival that runs across the city over three days (from 30 December 2014 straight to 1 January 2015), hence the New Year's Festival (NYF). It was the biggest New Year's celebration Dublin's ever seen.
The program was a mix of the best what Dublin has to offer packed in three days and it's impossible to sum up all the activities, so here are just some of the highlights:
All the ingredients for an unforgettable festival experience were present, but in the best thing – in our opinion – was that there was something for everyone: fun families activities, workshops for culture seekers, parties, concerts…you name it.
There were too many activities and too much to eat and drink to give a full review of the weekend, but these were the absolute highlights:
A city full of lights
Dublin was getting ready for the new year with all kinds of things to do and see, and the Luminosity was one of my favorites. The concept was simple: a free spectacle that led up Dublin most famous locations with cutting edge 3D displays. It was beautiful, and I loved it!
Barnardos Square was lit up with a world of magical fairy tale characters
College Green took us on a journey through ancient and contemporary Irish iconography
Wolfe Tone Square was the setting for Urban Voices, an installation based on the sights and sounds of Dublin.
A joy to watch and unforgettable (Bonus: we made our debut on Irish television. If you're Irish and you happened to watch two Belgians on television raving about the Luminosity: that would probably have been us :)).
The Procession of Light
I'm still blabbering on about this one because it was sooooo fantastic! With the Procession of Light on the evening of 31th December the real countdown till 2015 had begun.
The Procession of Light is a stunning street procession with dazzling light installations, music, performers and fire, and guess what: we were invited to take part in this magical parade!
After collecting our lanterns at the Fitzwilliam Hotel we started our illuminating journey through the center of Dublin, from St. Stephans Green through Temple Bar towards Dublin Castle. The procession was led by Lux, Ireland's leading specialists in visually spectacles, and it was breathtaking. Literally a highlight.
People were applauding and cheering and although we had so much fun it all made us feel a bit humble because, well, what had we ever done to deserve an honor like this? There we were, taking part in a magical event, waving a lantern, dancing and singing, feeling blessed to have met so many new friends from all over the world (check out fellow bloggers Pat & Dave from Hungry Travelers!), and even when it started to rain and we arrived totally wed, cold and tired at Dublin Castle, we were still high on the event.
The party & the countdown concert
Time to party! We gathered at the Discover Ireland Center in Andrew St Church on Suffolk Street, just a couple of steps away from College Green where the big Countdown Concert – with headliner Kodaline – took place. It rained for about half of the concert, but it looked like not one of the 12.000 people attending the concert seemed to mind: there was some serious 'sing along' going on. But I have to be honest: I've missed most of the concert since it was just so much fun just hanging around in the Discover Ireland Center. I mean: there was a photo boot, so what's not to like?
A couple of minutes before midnight we decided to join the crowd at the concert for the actual countdown. We headed straight to the VIP-area and maybe that was a little mistake. Yes, there were drinks and all, but absolutely no view at the stage because the area was just a bit too close to the side. But no complaints here: the atmosphere was fantastic and all the new years kisses we got at the stroke of 12 were fab as well. New Year's Day
Our plan was to kick-start 2015 by taking part in the 2,5 km NYF Fun Run. Did we? No, of course we didn't. We couldn't. Too many Guinness the night before, too many miles of walking around the city, too many impressions…we were beat! We desperately needed to recover from the day(s) before so we swapped the run for a really (really!) long brunch.
In the afternoon we felt energized and explored Dublin on our own, doing touristic things like taking Hop-on Hop-off bus en just wandered around the city.
Still, there was one more event to attend and we had no idea what to expect: 'Resolution' in Christchurch Cathedral, presented by the Trailblazery, First Fortnight and NYF Dublin. Not sure how to explain this on: let's say it was a venue with lots of music (an amazing choir!) and people sharing their personal journey about challenges, courage and compassion. All in all a perfect way to reflect on the past and looking forward to new things to come.
See you next year (or sooner)?
So, here you have it: this is how New Years Festival in Dublin looked like. I can honestly say it was the best NY we ever had, maybe we're biased because we simply fell in love with the city and its people, but: Dublin just does it better than any other city. If you haven't made any resolutions for the new year, let us inspire you and plan your next end-of-year-trip to Dublin, it may be one of the best places to celebrate the new year. We're already counting down to the next NYF. So, how about it, will we see you in Dublin next New Year's Eve?
Tip: It's always a good time to visit Dublin, no matter what time of year. There's always something interesting going on (check out Saint-Patrick's Festival, from 14th till 17th March).
Need more info? Check out www.nyfdublin.com – www.ireland.com – www.visitdublin.com